People have different types of skin and also the issues related to it. It's important to tackle such issues in order to take care of your skin and maintain its beauty. Well, since the skin concerns are so varied, it can become tricky to find the right solution for your skin type. One such common issue is having sticky skin. It's not easy to manage it, but we have all the apt remedies for you. If you are dealing with sticky skin, whatever cosmetic product you will use won't give back your beautiful skin shiny look. So, for this reason. It's very important to remove the stickiness problem.
We have covered for you the 8 best natural remedies to get rid of sticky skin. Well, we also have some of the essential tips to maintain skin hygiene. By applying these remedies, it won't be difficult to get rid of skin stickiness. With proper usage of these remedies, you will see the results in a few weeks. Let's get ready to get free from skin stickiness.
What Exactly Is Sticky Skin?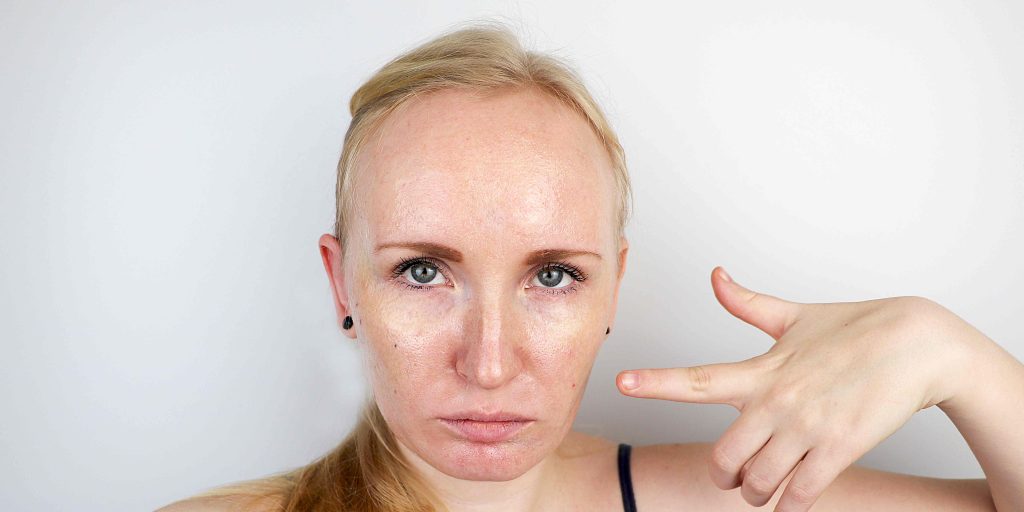 This is a very common question most people ask those who have extremely sticky skin. Because they are not even sure if it's oily skin or sticky. So, the main reason behind sticky skin is oil-based skin. Extreme oil causes stickiness in the skin by absorbing dust and all-around unwanted particles. Basically, Sticky skin is the result of overly active sebaceous glands. These glands increase a waxy and oily substance named sebum. Whereas sebum is a source of skin protection, keeping it healthy and hydrated. But yes, too much sebum leads to oily and further stickiness. Also, this eventually results in acne and other skin problems.
What Causes Stickiness In Skin?
There are several causes behind sticky skin, such as the condition of the heart, heat exhaustion, lowering oxygen and internal bleeding, and something like health issues. Besides this internal problem, there could be a reason for kidney infections, generic infections such as viral gastroenteritis, stomach flu, influenza, and mononucleosis.
Moreover, hypertension, menopause, and anxiety can also be a reason. If you are facing an internal issue of sticky skin, you should consult a doctor for a better cure before heading for any treatment or any natural remedy. But yes, nowadays, it's not difficult to treat sticky skin, as there are plenty of options available for cure.
8 Natural Remedies To Get Rid Of Sticky Skin
Oatmeal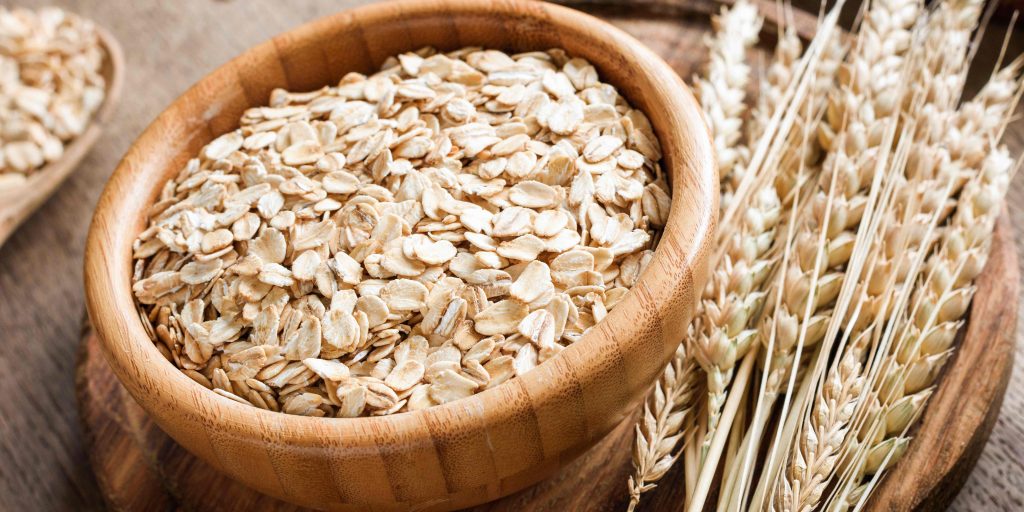 Oatmeal is a wonderful ultraviolet (UV) absorbent. It protects the skin very well from direct sun exposure. Oatmeal also has anti-inflammatory, moisturizing, and cleansing agents. It helps maintain sebum production in the skin and its pores. Thus, this prevents skin acne. It also helps in reducing irritation and redness.
Take ½ tablespoon of ground oatmeal and water as per requirement. Mix one tablespoon of ground oatmeal with a little water to form a thick paste. Apply the paste all over your face. Then, leave it on for 20-30 minutes before rinsing it off with plain water. Use this mask once a day or every alternate day.
Honey And Banana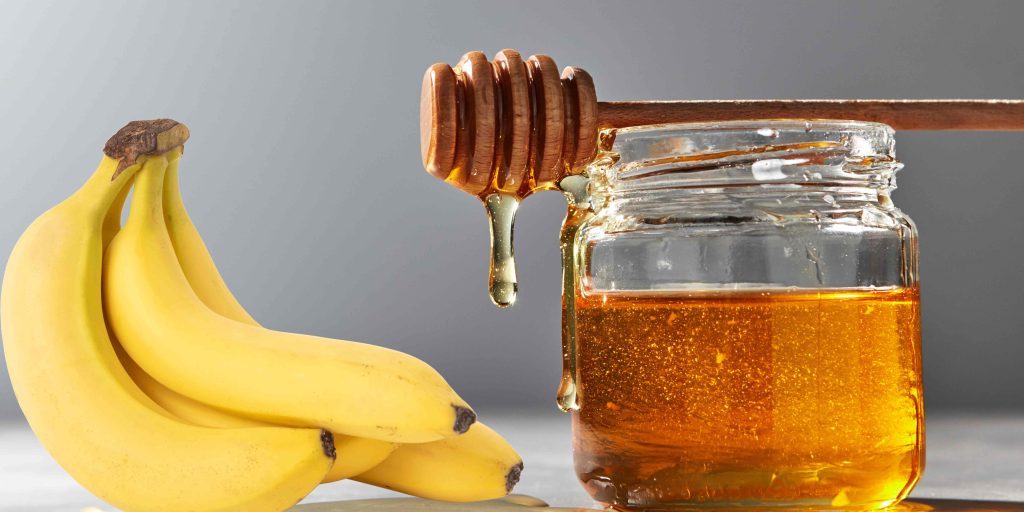 One of the well-known ways to get rid of sticky skin is to apply banana mash mixed with honey. Both honey and bananas have certain beneficial properties that can be used to cure many skin problems.
You need to make banana mash for the mixture, then add one or two teaspoons of honey to the mash. Simply apply the mixture to your skin after that, let it sit for a bit, and then wash it off with water.
Turmeric And Orange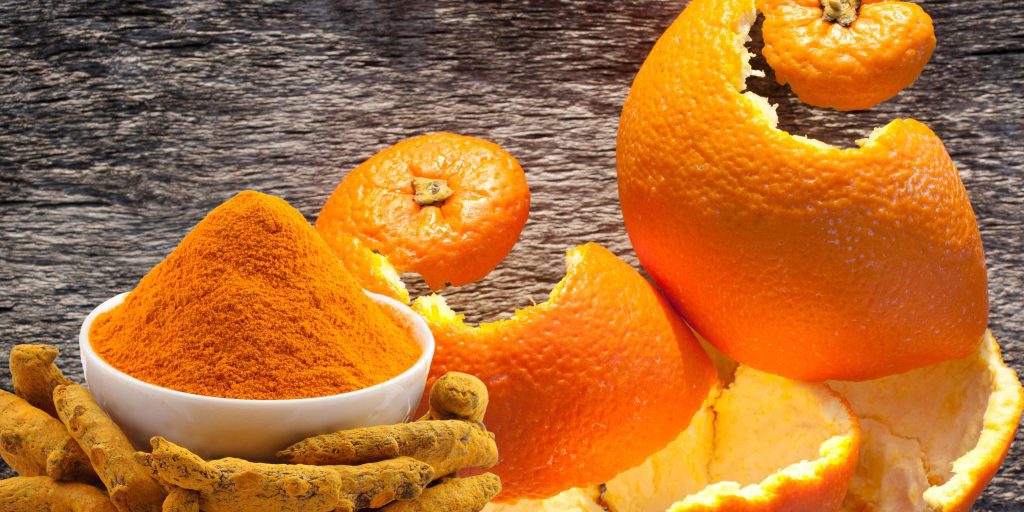 Turmeric and orange peel both have anti-inflammatory effects, which are excellent for reducing sticky skin. And it has been repeatedly shown that these two are beneficial to getting clear and radiant skin.
One tablespoon of orange peel powder and half a tablespoon of turmeric paste are needed to be mixed to create a paste. You can also combine honey with these two if you'd like for a better outcome. Then apply this to your face for not more than 5 minutes, and then rinse it off.
Cucumber And Yogurt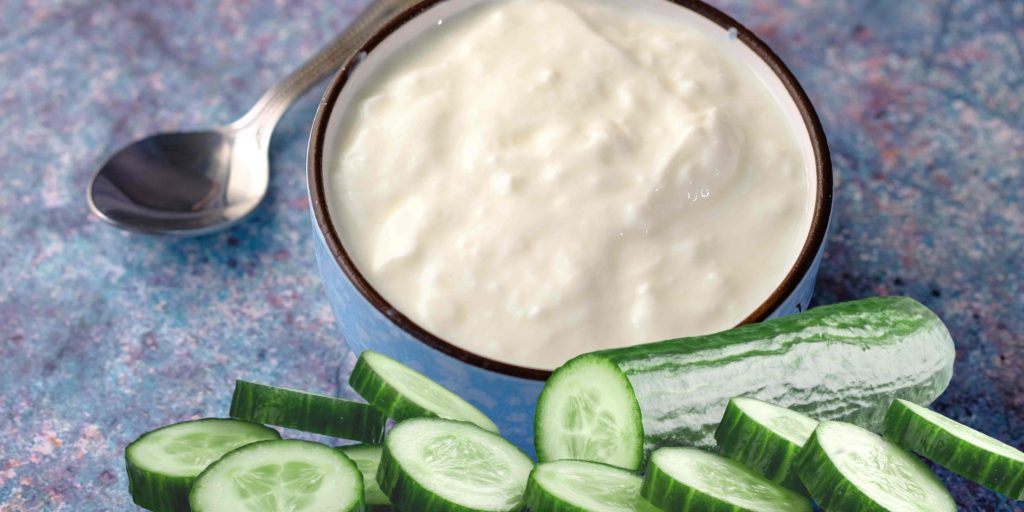 The combination of cucumber and yogurt is quite effective at reducing puffiness and swelling. The two together can play several key roles in protecting against excessive heat, which is why they can effectively cure sticky skin.
In a cup, mix curd and cucumber juice to create the mixture and apply evenly on the face. Cleanse it with lukewarm water after storing it for 5 minutes.
Honey And Sugar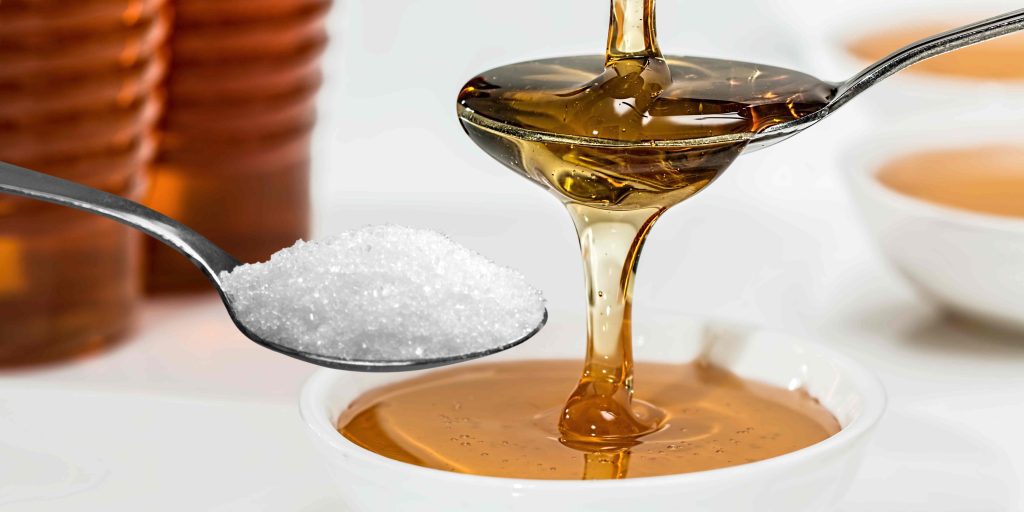 Sugar is not very beneficial in comparison to honey. But yes, one of sugar's advantages is that it accelerates the process of producing new skin cells. Since sugar can penetrate the deep skin layer, this is an excellent approach to getting rid of sticky skin.
Simply combine one tablespoon each of honey and sugar to make an exfoliant, then apply it to your skin. After using the exfoliator for under 5 minutes, rinse with lukewarm water.
Egg White Mask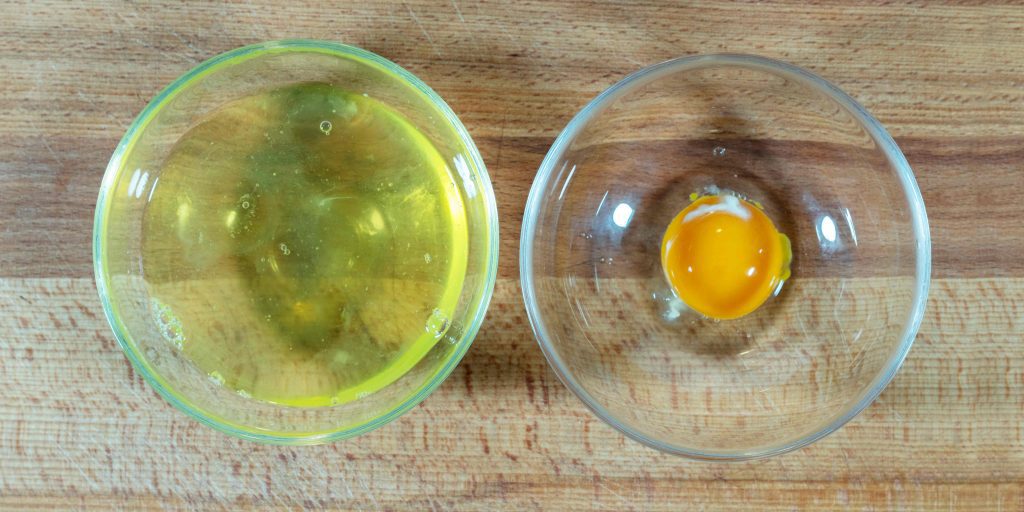 Egg whites can help tighten up your skin by increasing the production of collagen by human dermal fibroblasts. Your pores can get smaller as a result, which will aid with oil management.
Take a cotton ball and 1 egg white. Start by separating the yolk and white of the egg. After that, whisk the egg white. Then, using a cotton ball, apply the mask over your whole face and neck. For best results, use this once or twice each week.
Lemon And Salt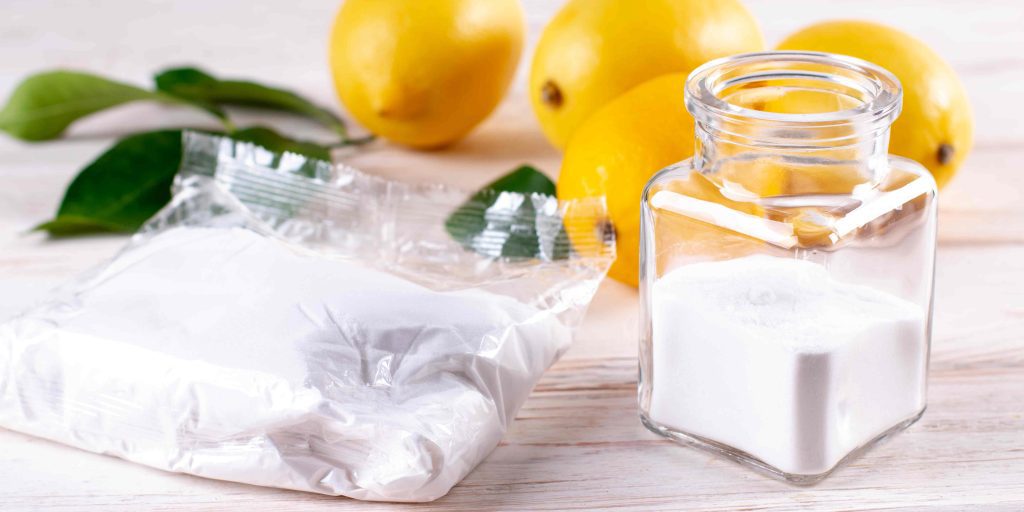 Many people who care about their skin's health use lemon often, but salt is also useful in this respect. Because sea salt can regulate the levels of skin oil and moisture. Therefore, you can be sure that you will be able to get rid of sticky skin if you apply these two things to your skin.
Simply apply a tablespoon of diluted lemon juice and a bit of salt on your face, wait 4 to 5 minutes, and then wash with water that is warm.
Tomato And Cucumber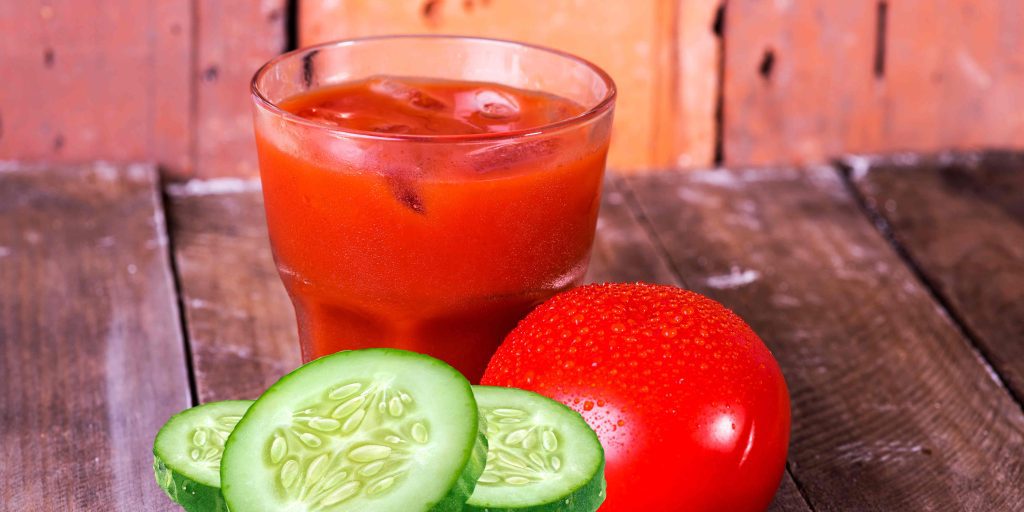 There are several ways that cucumber and tomato juice can benefit your skin. Applying tomato juice to the skin is a particularly effective way to remove dead skin cells.
Its application is easy. All you need to do is mix the cucumber and tomato juice in a cup, apply it to your skin, and then rinse it off. Another option for treating sticky skin is simply to apply tomato mash to your skin. However, you will need to leave the tomato mash on your skin for a considerable amount of time—at least 15 minutes.
Important Skincare Tips For Non-Sticky Skin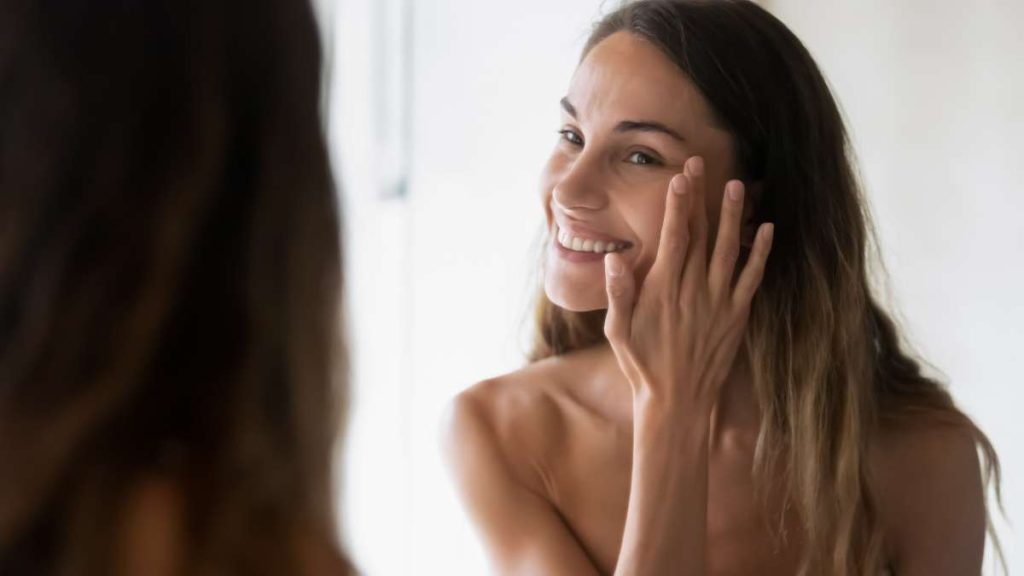 Maintain a balanced diet
A well-balanced meal full of fruits, vegetables, and antioxidants can help in boosting the health of your skin overall. Limit your intake of oily or sugary meals because they could worsen skin problems.
Cleanse your skin
To get rid of sweat, oil, and pollutants that are causing stickiness, use a moderate cleanser twice daily in order to prevent losing your skin of its natural oils. Find a cleanser that is right for your skin type.
Exfoliate regularly
Exfoliation creates smoother, less sticky skin by helping remove dead skin cells and unclog pores. To prevent over-exfoliation and irritation, use a light exfoliator 1-2 times per week.
Hydrate your skin
For skin to remain balanced and non-sticky, proper hydration is important. To keep your skin moisturized without feeling sticky, apply a light, oil-free moisturizer and drink lots of water throughout the day.
Use a lightweight sunscreen
To protect and shield your skin from damaging ultraviolet (UV) rays, use a broad-spectrum sunscreen with at least SPF 30. Choose a non-comedogenic sunscreen that won't clog your pores or leave a sticky residue.
Keep tissue paper with you
It is well-known that sweating that has dried on the skin or that has been left on the skin for a long period may make the skin stickier. Therefore, it's important to always have tissues or blotting paper on hand, especially in the summer or when it's hot outside. It will be beneficial to wipe the sweat off your face or wherever else you choose to prevent skin stickiness.
Avoid excessive makeup
The health of our skin is seriously harmed by heavy makeup. Therefore, you should avoid it at any cost. Additionally, you should keep yourself away from using anything excessively and stay away from beauty products that you are unfamiliar with. In any case, you shouldn't wear makeup to bed at night, even if you have to wear it out of necessity. If you must use makeup, then cleanse those as soon as you can.
Infographic- Face Masks To Get Rid Of Sticky Skin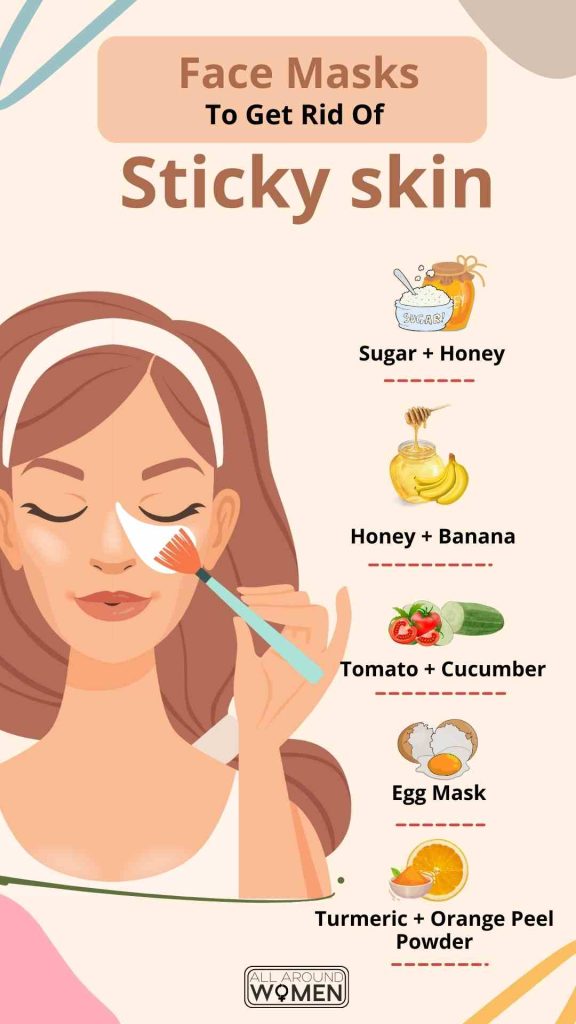 FAQs [ Frequently Asked Questions ]
Q: How can I stop my face from getting sticky all day?
A: Using the above-mentioned natural remedy and sticking to the tips mentioned will help your skin improve with time. Visit a doctor to get to the root cause if nothing helps.
Q: Is it true that oily and sticky skin ages faster?
A: No, oily and sticky skin doesn't age faster. In actuality, sticky skin is more resistant to wrinkling and skin sagging than dry skin.
Q: Does drinking water help oily or sticky skin?
A: Consumption of water helps in keeping your body well-hydrated. This helps reduce your body's need to secrete too much oil (sebum). Try to aim to consume half of your body weight (in lbs.) in ounces of water daily. Such as, a 160lb person would need 80 oz of fluid per day. That's equivalent to 10 cups.
Q: Can infections lead to sticky skin?
A: Sticky skin can develop from internal problems, including kidney infections, pancreatitis, mononucleosis, etc., in addition to extreme heat and cardiac problems. In this situation, you have to deal with the internal complexity before you can get rid of the stickiness successfully.
Q: Can you apply oil or lotion to sticky skin?
A: If your skin is sticky, it is really okay to use cream or oil, but mostly, you should avoid them. Additionally, you have to stay away from anything that has parts you are unsure about. Instead, you should use lotions that can make you feel cold and are a little bit lightweight.
Q: Can applying powder help in sticky skincare?
A: Although the usage of powder is not particularly common in this case, using the proper powder can be useful in this way. If you have sticky skin, you should apply any antifungal powder on it since it works better to treat stickiness.
Q: Do people with oily or sticky skin look younger?
A: People with oily or sticky skin can appear younger than those with dry skin because they age slowly.
Final Words
Here, you have the natural remedies to get rid of sticky skin. Also, here are some tips for better skin. Use these natural effective and follow all the relevant tip guidelines to avoid skin stickiness. These are the best ways to get rid of sticky skin naturally. Also, the process does not involve and include anything harmful to the skin as such. It's advisable and important to do a patch test before using any remedy. Furthermore, treating skin stickiness is good in an early stage.