Lining a toilet seat with paper is a widely adopted practice that is thought to offer protection by creating a barrier between the seat and the person using it. However, it is essential to understand that this practice lacks scientific evidence and can potentially have adverse effects on your health. In fact, it is advised against using paper liners on toilet seats as they may do more harm than good. This article aims to delve into the reasons why you should refrain from lining your toilet seat with paper and how it can increase the risk of illness.
Why should You never line your toilet seat with paper?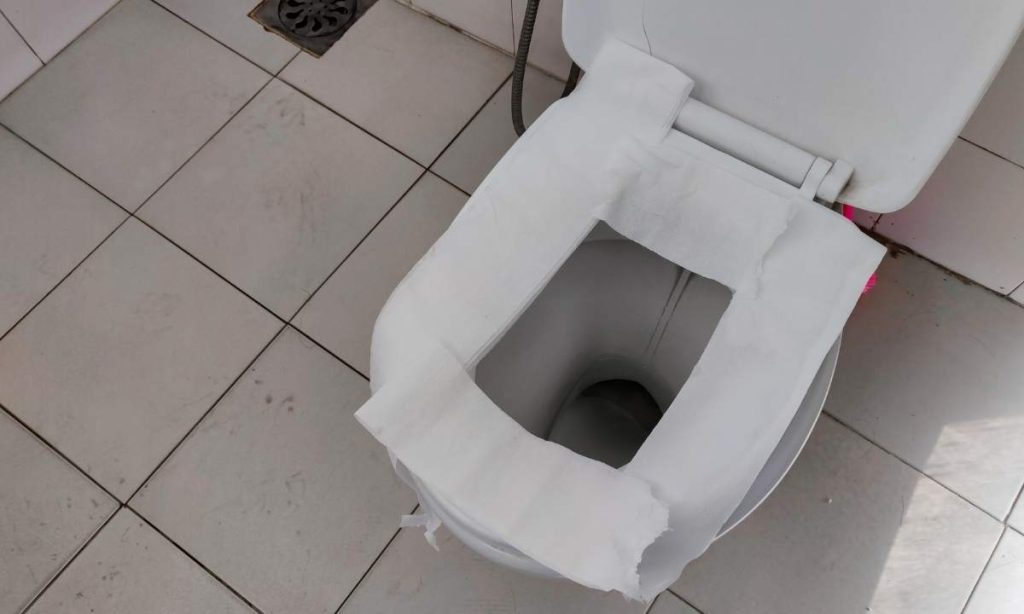 Ineffectiveness of Paper as a Barrier
Lining a toilet seat with paper is often believed to create a protective barrier against germs and bacteria. However, this practice lacks scientific evidence and overlooks the natural protection provided by human skin. While it is true that bacteria and viruses can be found on toilet seats, the risk of transmission through skin contact is generally low, especially on dry surfaces.
The skin of humans acts as a natural barrier, offering a degree of protection against infections or illnesses when in contact with a toilet seat. Therefore, relying solely on paper liners may give a false sense of security and divert attention away from more effective hygiene practices.
False Sense of Security
When people rely on paper liners as a primary defense against germs, they may underestimate the importance of other crucial measures in preventing the spread of infections. One such measure is proper hand hygiene, which includes thorough handwashing with soap and water or using hand sanitizer after using the restroom.
Neglecting proper hand hygiene can significantly increase the risk of contracting and spreading germs. It leads to various illnesses and infections by prioritizing the ineffective practice of lining a toilet seat with paper. You may inadvertently expose yourself to higher health risks.
Contamination Risk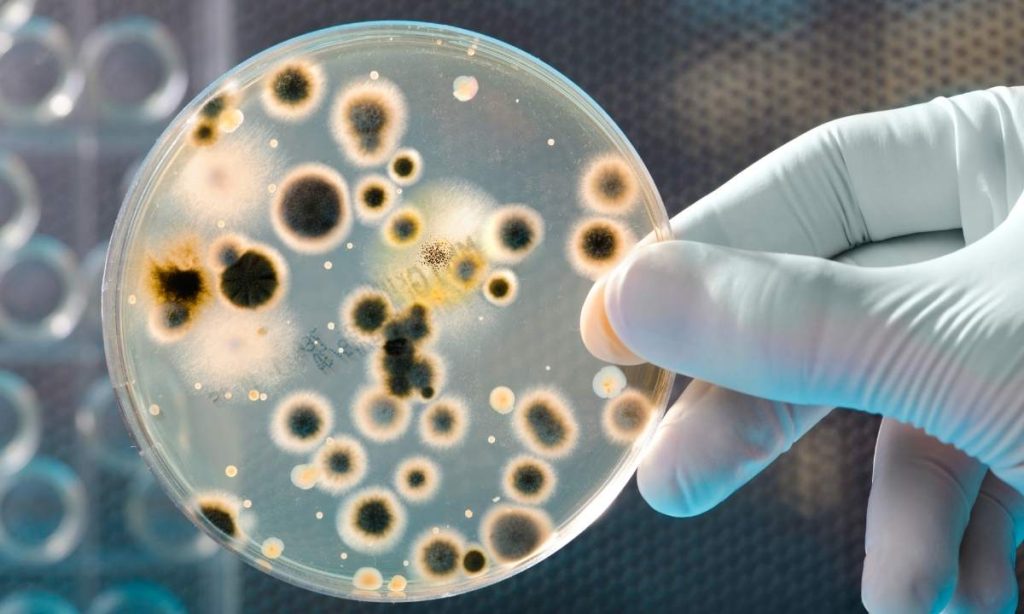 Ironically, the act of handling paper liners and adjusting them on the seat can introduce a contamination risk. Public restrooms are known to harbor various bacteria and viruses on surfaces, including the toilet seat itself. When attempting to line the seat with paper, there is a chance of coming into contact with these microorganisms.
This can either be through direct contact or by transferring them from other contaminated surfaces in the restroom. Consequently, the practice of using paper liners can actually increase the likelihood of transferring germs to your skin. Potentially resulting in a higher risk of infection compared to sitting directly on the seat without a paper barrier.
Environmental Impact
In addition to the limited effectiveness in preventing germ transmission, relying on paper liners for toilet seats can have environmental implications. The excessive use of paper for this purpose contributes to unnecessary waste, placing an additional burden on the environment. Considering the large number of people using public restrooms daily.
The cumulative amount of paper used for lining toilet seats can be significant. This consumption of resources can be avoided by promoting sustainable restroom practices and relying on regular cleaning and sanitization protocols to maintain a clean and safe environment for all users.
Skin Irritation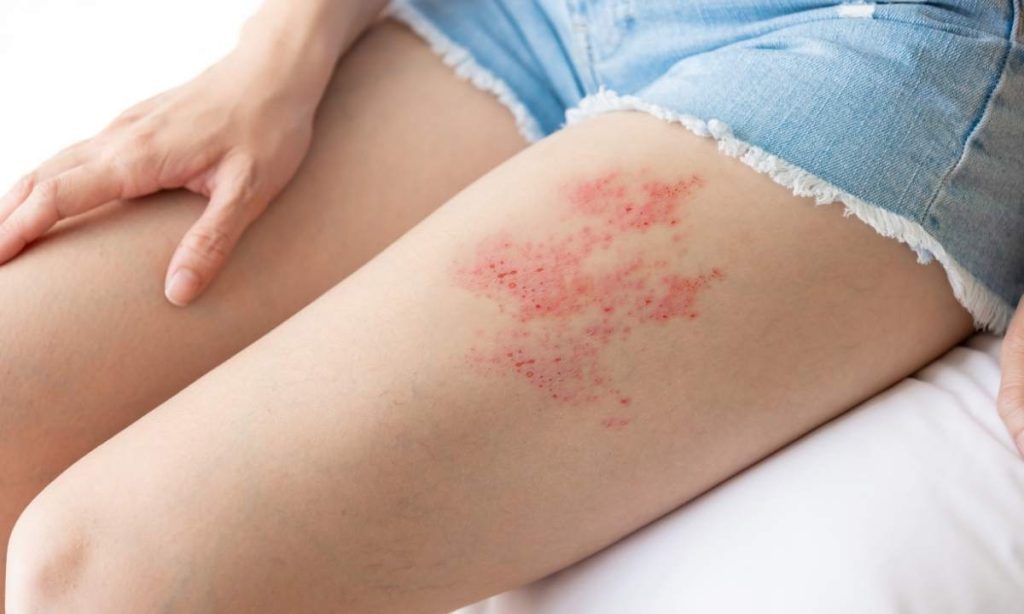 The paper liners typically used to line toilet seats are often thin and may have a rough texture. This can cause skin irritation, especially for individuals with sensitive skin. The friction between the paper and the skin can lead to discomfort, redness, or even small abrasions.
In some cases, prolonged use of paper liners may exacerbate pre-existing skin conditions or cause new ones to develop. It is generally more comfortable to sit directly on the smooth surface of the toilet seat, which is unlikely to cause significant irritation.
Unnecessary Hassle
Lining a toilet seat with paper adds an unnecessary step to your restroom routine, which can be time-consuming and inconvenient. This practice requires handling the paper, adjusting it on the seat, and disposing of it afterward. This extra effort may not provide significant benefits compared to the overall cleanliness of the restroom itself.
Modern public restrooms are designed with hygiene in mind and undergo regular cleaning and sanitization processes to keep and maintain a clean and safe environment for users. Relying on these cleaning practices and practicing good personal hygiene. Such thorough handwashing is more effective in reducing the risk of germ transmission.
Bathroom hygiene Tips you should follow!
Handwashing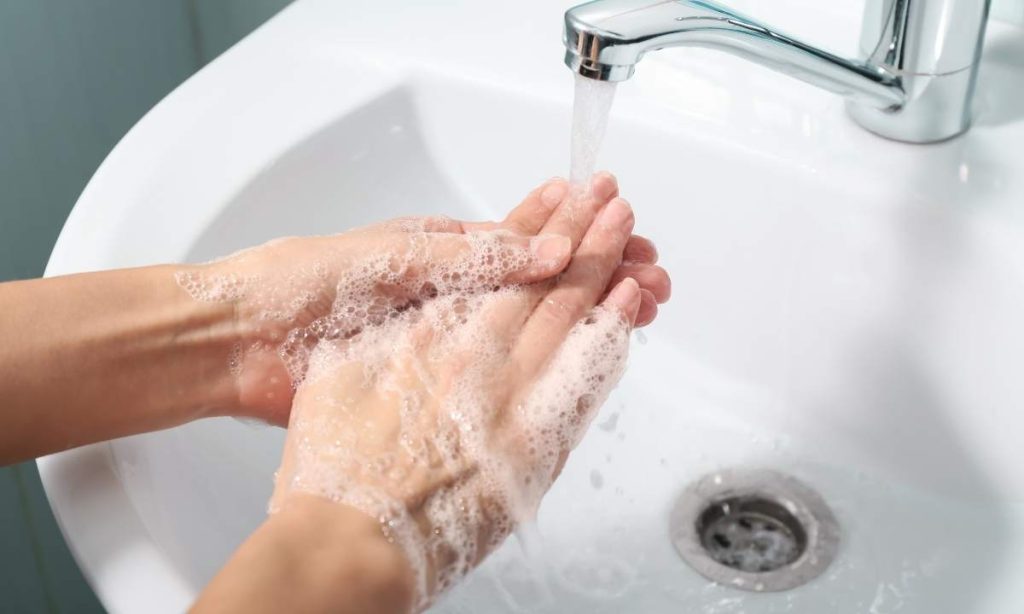 Proper handwashing is the cornerstone of good bathroom hygiene. In at least 20 minutes, wash your hands with soap and water, ensuring that you clean all surfaces between your fingers and under your nails, including the backs of your hands. This should be done before and after using the bathroom, handling waste, touching surfaces, or preparing food. Handwashing effectively removes germs and reduces the risk of transmitting them to yourself and others.
Toilet hygiene
In order to maintain hygiene and cleanliness, and prevent the spread of germs in the toilet area, follow these guidelines:
Flush the toilet after each use: Flushing eliminates waste and prevents the buildup of odors and bacteria.
Lower the toilet seat before flushing: Closing the lid before flushing reduces the dispersion of airborne particles and minimizes the spread of germs.
Clean the toilet regularly: Use a toilet brush and appropriate cleaning products to scrub the bowl, seat, and surrounding areas. Regular cleaning helps eliminate bacteria and maintain a fresh and hygienic environment.
Sink and countertop hygiene
The sink and countertop areas are frequently used for tasks such as brushing teeth and washing hands. It's important to keep these areas clean:
Clean the sink and faucet: Regularly wipe down the sink and faucet with a disinfectant or soapy water to remove any buildup of soap scum, toothpaste, or dirt.
Avoid leaving toothbrushes on the countertop: Store toothbrushes in a clean, dry place or use a covered toothbrush holder to protect them from contamination.
Clean up spills promptly: If you spill any personal care products, such as lotions or cosmetics, clean them up immediately to prevent the growth of bacteria or the attraction of pests.
Hand towel and drying methods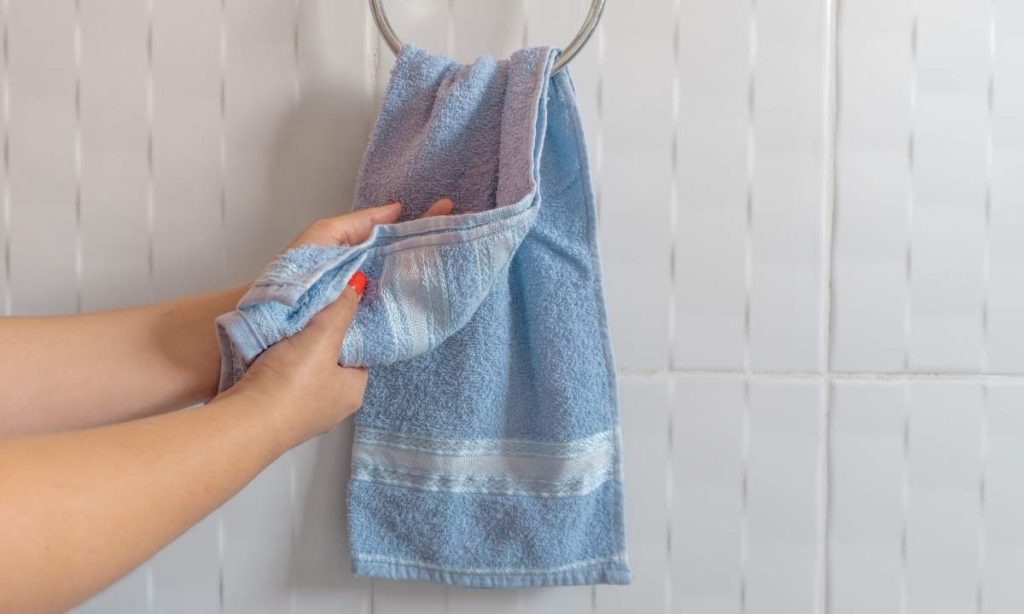 Proper hand drying is crucial to complete the handwashing process effectively. Consider the following tips:
Use individual hand towels: Avoid sharing hand towels with others, as it can lead to the spread of germs. Provide individual towels or paper towels for hand drying.
Regularly replace hand towels: Launder hand towels frequently to maintain hygiene and cleanliness. This prevents the accumulation of germs and bacteria.
Consider touchless hand dryers: Touchless hand dryers can be a hygienic alternative to hand towels. As they minimize contact and effectively dry hands. If using a hand dryer, ensure it is in good working condition.
Floor and surface cleaning
Regular cleaning of bathroom floors and surfaces is vital for maintaining a hygienic environment:
Sweep and mop the floors regularly: Regular sweeping and mopping help remove dust, debris, and spills, preventing the buildup of dirt and potential bacterial growth.
Disinfect frequently touched surfaces: Clean and disinfect high-touch surfaces such as doorknobs, faucets, and light switches regularly. Use appropriate disinfectant products recommended for these surfaces.
Pay attention to grout lines: Grout lines in tiled areas can accumulate dirt and bacteria. Use a grout brush and appropriate cleaners to keep them clean and hygienic.
Personal hygiene products
Proper storage and handling of personal hygiene products can contribute to maintaining good bathroom hygiene:
Keep personal care products in designated areas: Store items such as toothbrushes, razors, and soap in clean and dry areas away from potential sources of contamination.
Replace expired products: Regularly check the expiration dates of personal care products, such as toothpaste and soaps. Replace expired items promptly to maintain their efficacy and avoid potential health risks.
Ventilation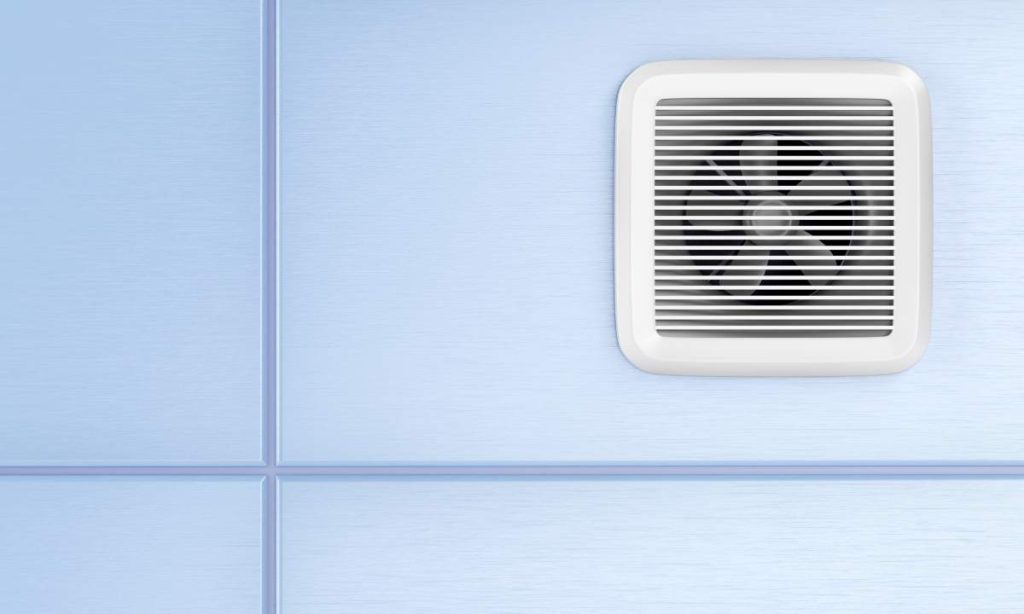 Proper ventilation is essential for preventing the buildup of moisture, controlling odors, and minimizing the growth of mold and mildew:
Keep the bathroom well-ventilated: Ensure there is proper airflow by opening windows, using exhaust fans, or maintaining air conditioning systems. This helps reduce moisture levels and maintain a fresh and hygienic environment.
Regularly clean and maintain ventilation systems: Clean or replace air filters in ventilation systems to ensure optimal performance and minimize the circulation of dust and allergens.
Personal Habits and Etiquette
Promote good personal habits and bathroom etiquette can contribute to a clean and hygienic restroom environment:
Encourage users to practice good hand hygiene: Display signs reminding individuals to wash their hands properly after using the restroom.
Properly dispose of personal hygiene products: Remind individuals to dispose of sanitary products, diapers, and other personal hygiene items in the designated bins and not in the toilet bowl.
Respect shared spaces: Encourage users to maintain cleanliness and tidiness. Such as wiping up spills, flushing the toilet after use, and ensuring the area is left in a sanitary condition.
By following these general bathroom hygiene practices. You may be able to keep the environment clean and safe, lower the risk of illness, and boost overall personal health.
Infographic- Reasons Why You Should Never Line Your Toilet Seat With Paper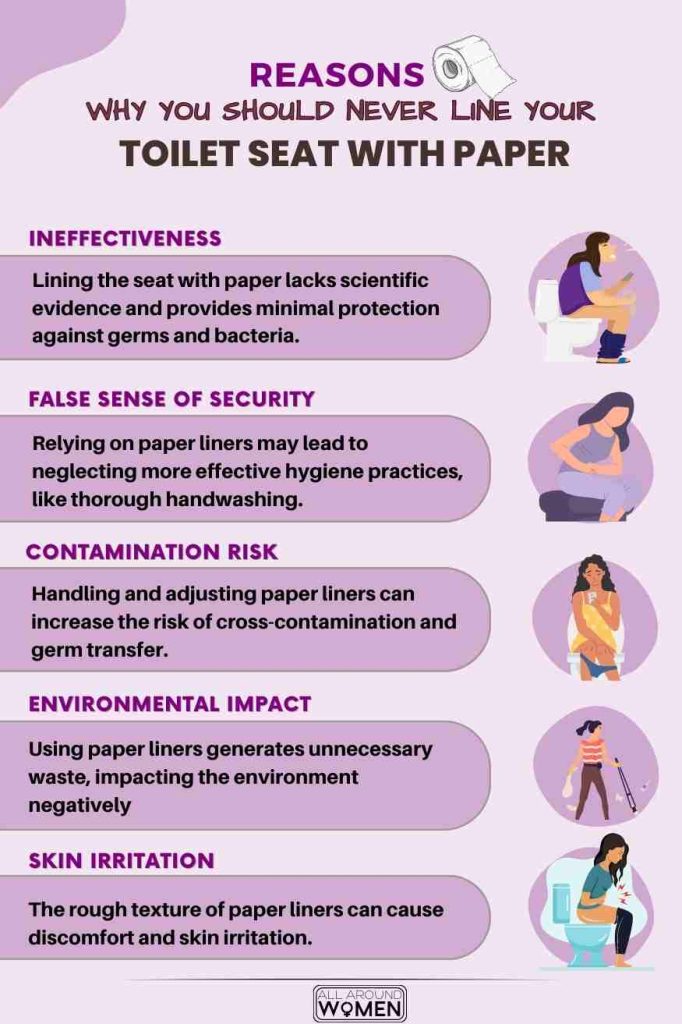 FAQs [frequently asked questions]
Q: Is lining a toilet seat with paper effective in preventing illness?
A: No, lining a toilet seat with paper is not effective in preventing illness as it does not provide a reliable barrier against microorganisms.
Q: Can lining a toilet seat with paper increase the risk of getting sick?
A: Yes, lining a toilet seat with paper can potentially increase the risk of cross-contamination and the transfer of pathogens from the seat to the hands.
Q: Are toilet seats significant sources of bacterial or viral contamination?
A: No, toilet seats are not significant sources of bacterial or viral contamination. Most pathogens causing illness are transmitted through respiratory droplets or direct contact with contaminated surfaces.
Q: What are the potential hazards and risks of using paper liners on toilet seats?
A: The potential risks of using paper liners include insecure fit, tears or shifts during use, and contributing to unnecessary waste.
Q: What are more effective ways to prevent illness in the bathroom?
A: More effective ways include thorough handwashing, avoiding face touching, proper disposal of sanitary items, and regular cleaning and disinfection of surfaces. Pay attention to personal hygiene and practice hand hygiene in public restrooms.
Conclusion
Lining a toilet seat with paper may seem like a hygienic precaution, but it is ultimately ineffective and can potentially contribute to health risks. Toilet seats are not significant sources of bacterial or viral contamination, and most pathogens causing illness are not easily transmitted through contact with intact skin. Placing paper on the seat can give a false sense of security and raise the danger of cross-contamination.
Additionally, the environmental impact and maintenance issues associated with using paper liners should be considered. Rather than relying on paper liners, it is more important to focus on proper hygiene practices. This includes thorough handwashing, avoiding face touching, and maintaining cleanliness in the bathroom. By adopting these practices, individuals can effectively minimize the risk of illness and promote better overall hygiene.