Properly washing your hair is not just a mundane task but an essential part of maintaining its health, cleanliness, and overall appearance. It involves more than simply lathering up and rinsing off. Washing your hair the right way requires following specific tips and techniques that promote optimal results. By understanding the proper methods and avoiding common mistakes, you can ensure that your hair receives the care it deserves.
In the article, we will explore step-by-step instructions for washing your hair, along with valuable tips to avoid pitfalls along the way. These techniques will help you achieve clean, vibrant, and luscious locks that will boost your confidence and enhance your beauty.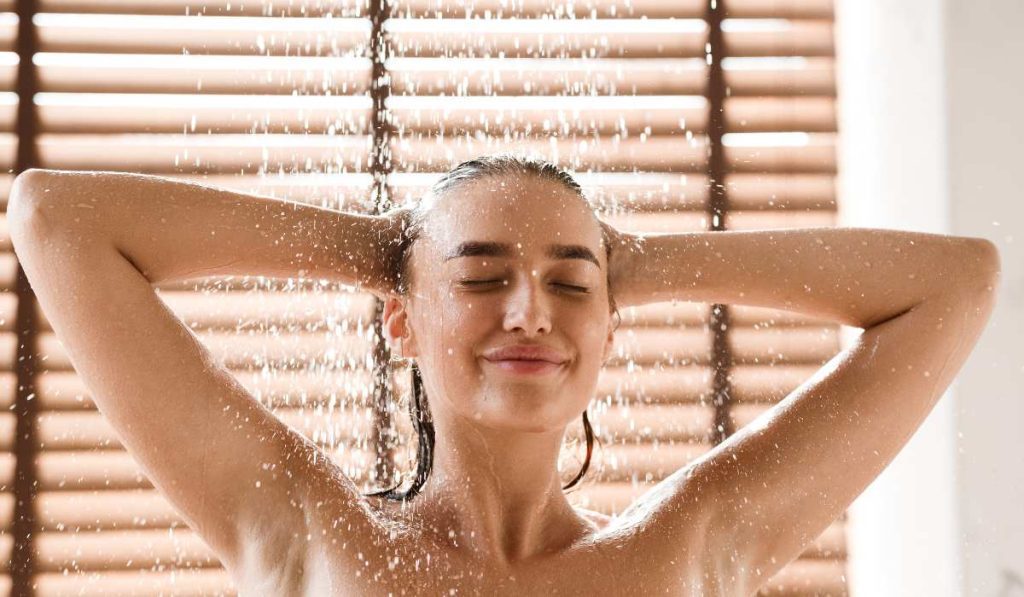 Best Hair Wash Tips To Wash Your Hair The Right Way
Preparing for the wash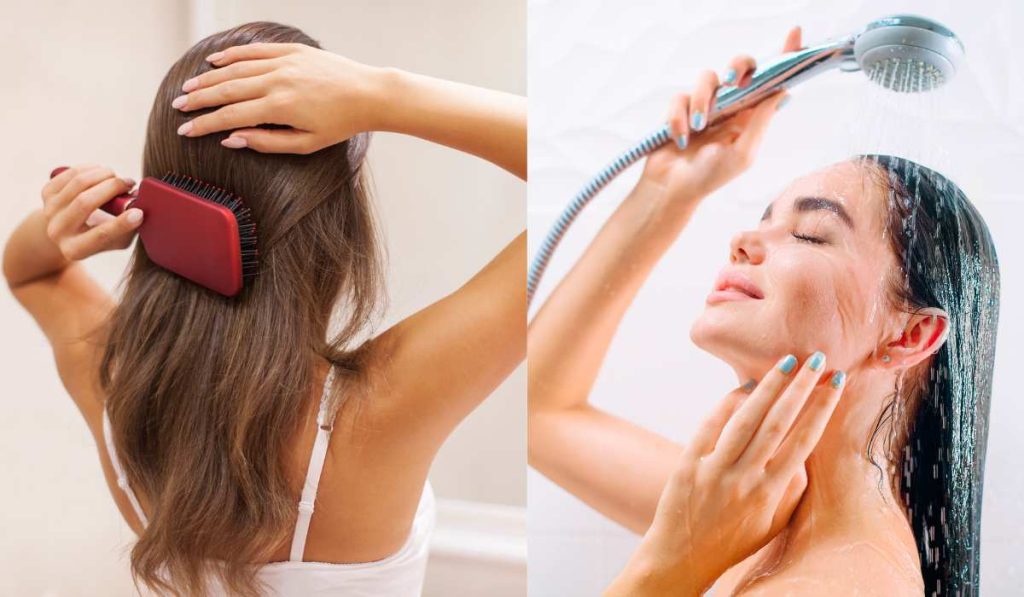 Brush your hair gently before washing: Using a wide-toothed brush or a comb with soft bristles, start at the ends of your hair and slowly work your way up. This method helps remove any tangles or knots without causing unnecessary breakage, ensuring your hair remains healthy.
Wet your hair with lukewarm water: Thoroughly saturate your hair, ensuring that the water reaches from the roots to the ends. Lukewarm water is ideal as it opens up the hair cuticles, allowing for effective cleansing.
Tips to avoid
Avoid brushing your hair roughly or using a fine-toothed comb, especially when wet, as it can lead to breakage and damage to the hair strands.
Do not use hot water to wet your hair, as it can strip away natural oils and lead to dryness. Stick to lukewarm water instead.
Choosing the right products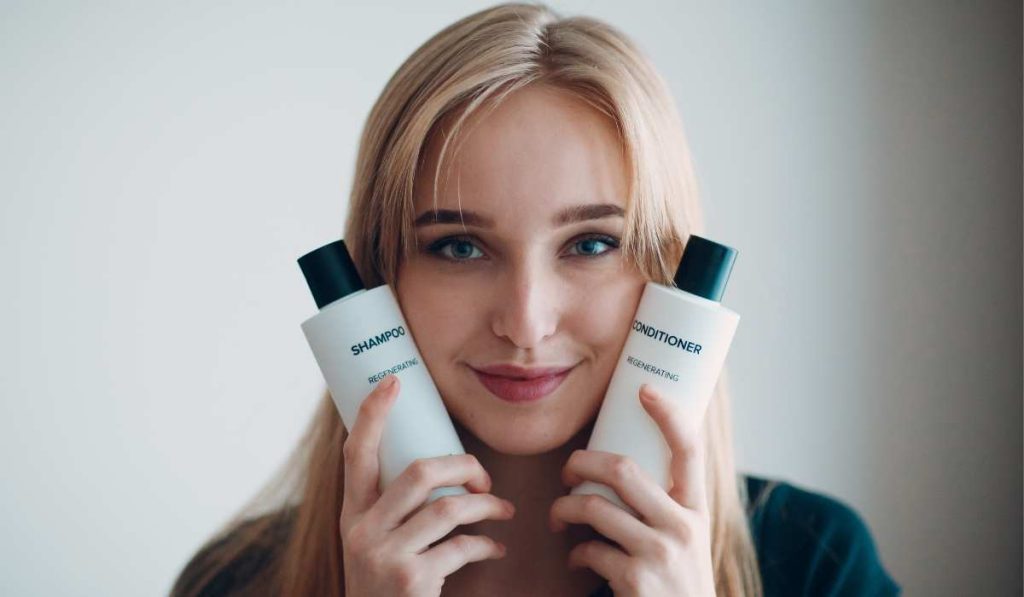 Shampoo selection: Consider your hair type and concerns when selecting a suitable shampoo. For example, if you have oily hair, opt for a clarifying shampoo that helps control excess oil production. If you have dry and freezy hair, choose a moisturizing shampoo to hydrate and nourish your strands.
Conditioner selection: Look for a conditioner that complements your hair type and addresses your specific needs. Moisturizing conditioners are suitable for dry hair, while lightweight formulas work well for fine hair. Deep conditioning helps repair your hair if it has been chemically treated or is damaged.
Avoid harsh ingredients: Check the product labels and avoid shampoos and conditioners that contain sulfates, parabens, and harsh chemicals. These harsh chemical ingredients can strip the hair of its natural oils and cause dryness. Look for products labeled sulfate-free, paraben-free, and made with gentle ingredients.
Tips to avoid
Avoid using shampoos that contain sulfates, parabens, and harsh chemicals, as they can be drying and damaging to the hair.
Be cautious of using heavy, silicone-based conditioners that can weigh down the hair and leave a residue.
Applying shampoo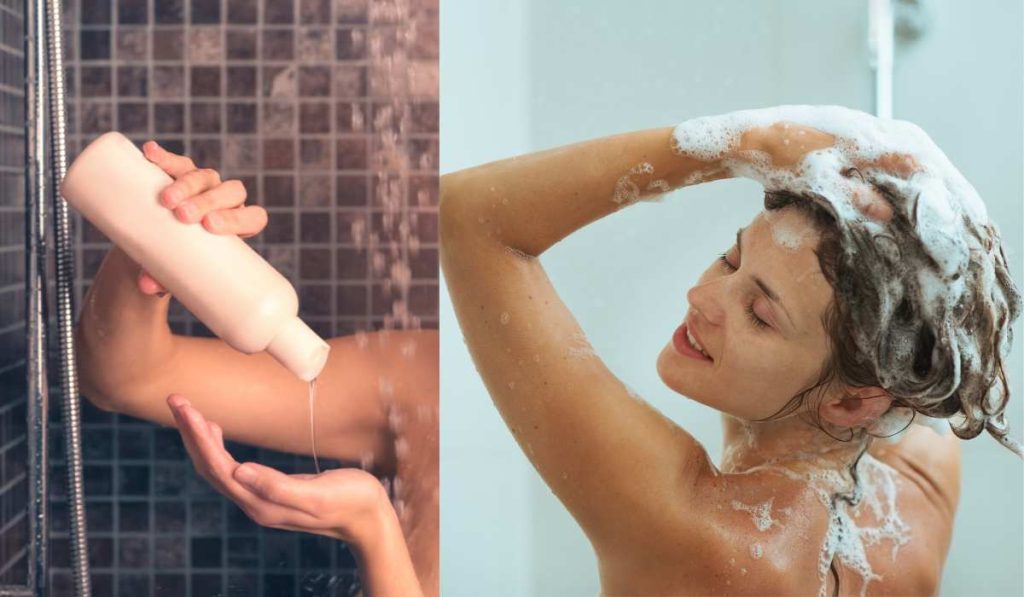 Take a small amount of shampoo: Start with a quarter-sized amount of shampoo, or adjust as needed depending on your hair length and thickness. Using too much shampoo can lead to product buildup and make rinsing difficult.
Gently massage the scalp: Apply the shampoo to your scalp and use your fingertips (not your nails) to massage in a circular motion. This stimulates blood circulation, helps remove dirt and excess oil, and promotes a healthy scalp.
Work the lather through the lengths: As you massage your scalp, the shampoo will naturally work its way down the lengths of your hair. Gently distribute the lather through the hair without excessive rubbing or scrubbing to avoid tangling or damaging the hair strands.
Rinse thoroughly: Rinse your hair with lukewarm water until all traces of shampoo are removed. It is essential to rinse thoroughly to prevent any residue that can weigh down your hair or make it appear greasy.
Tips to avoid
Avoid using excessive amounts of shampoo, as this can lead to product buildup and make rinsing difficult. Start with a small amount and add more if necessary.
Do not vigorously scrub or rub your scalp while shampooing, as this can cause irritation and damage to the hair follicles.
Conditioning the hair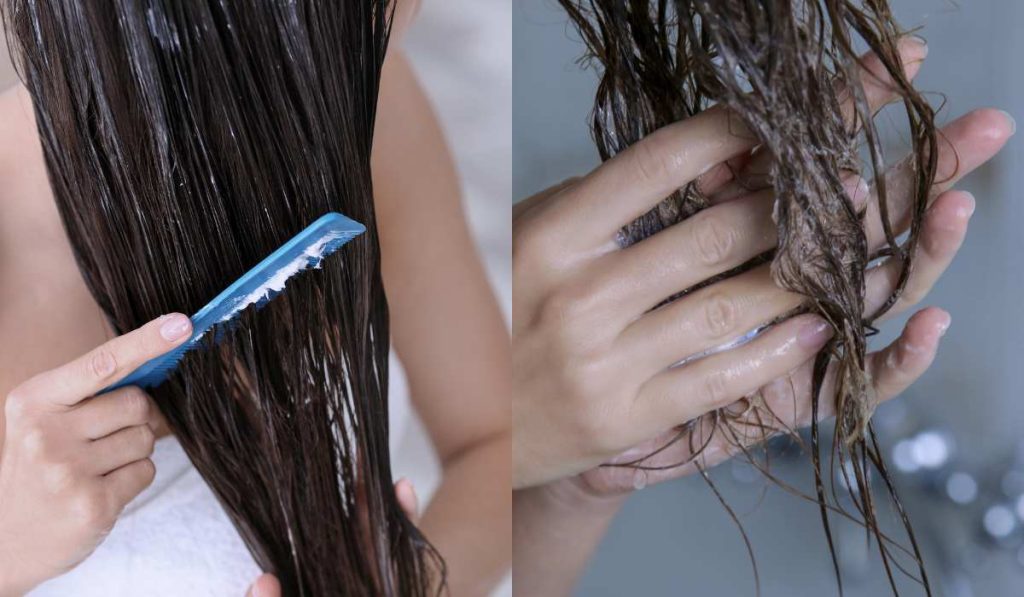 Apply conditioner to the lengths and ends: Take an appropriate amount of conditioner, depending on your hair length and thickness. Apply it from the mid-lengths to the ends, avoiding the scalp. The scalp produces its own natural oils, and conditioning it can make the hair appear greasy.
Distribute evenly: Use your fingers or a wide-toothed comb or brush to distribute the conditioner evenly through your hair. This ensures that all strands receive the conditioning benefits and helps detangle the hair.
Leave it on for a few minutes: Allow the conditioner to sit for a few minutes on your hair. This gives the ingredients time to penetrate and moisturize your hair effectively.
Rinse with cool water: Rinse your hair with cool water to seal the hair cuticles. This helps to lock in moisture, enhance shine, and reduce frizz.
Tips to avoid
Avoid applying conditioner directly to the scalp, as it can make the hair appear greasy. Focus on the mid-lengths to the ends where the hair needs the most moisture.
Do not rinse out the conditioner immediately after application. Give it a few minutes to work its magic before rinsing.
Drying the hair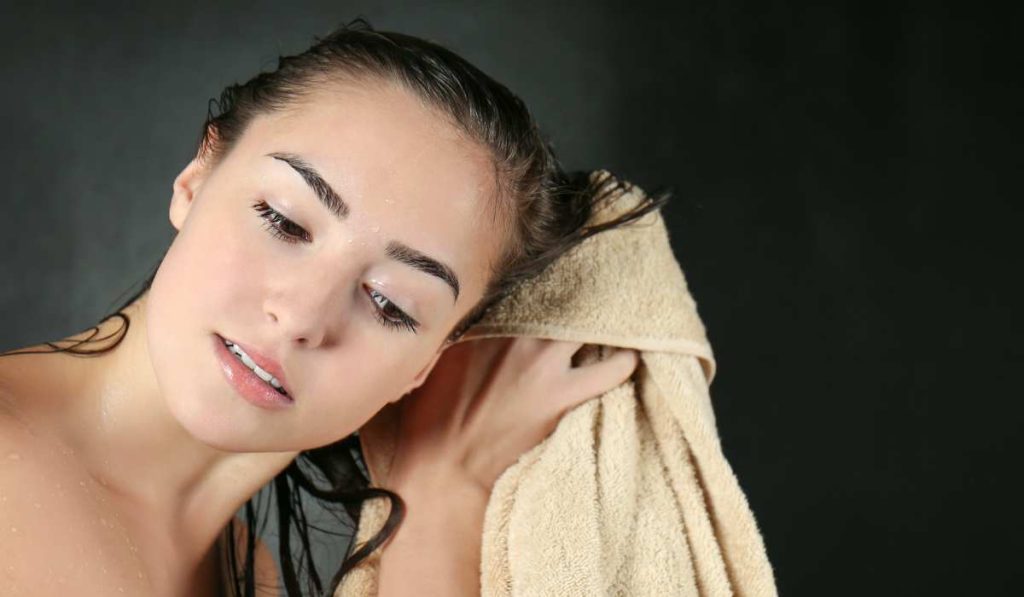 Squeeze out excess water: After rinsing out the conditioner, gently squeeze out excess water from your hair using a soft towel. Avoid rubbing vigorously, as this can cause friction and lead to frizz and breakage. Pat or blot the hair gently instead.
Air drying: Whenever possible, allow your hair to air dry. This reduces heat exposure and helps maintain the hair's natural texture. If you need to speed up the drying process, use a microfiber towel or a cotton T-shirt to gently squeeze out excess moisture.
Heat styling precautions: If using a hairdryer or heat styling tools, apply a heat protectant spray or serum to shield your hair from heat damage. Set the hair dryer to a low or medium heat setting and keep it at a safe distance from your hair to prevent excessive heat exposure. Constantly moving the dryer around ensures even drying and minimizes the risk of overheating specific areas.
Tips to avoid
Avoid rubbing or massaging your hair vigorously with a towel, as it can lead to friction and breakage. Instead, gently squeeze out excess moisture using a soft towel or an old T-shirt.
To avoid heat damage, try to use heat-styling equipment as little as possible. Opt for air drying whenever feasible.
Additionally, the type of water you use can also affect your hair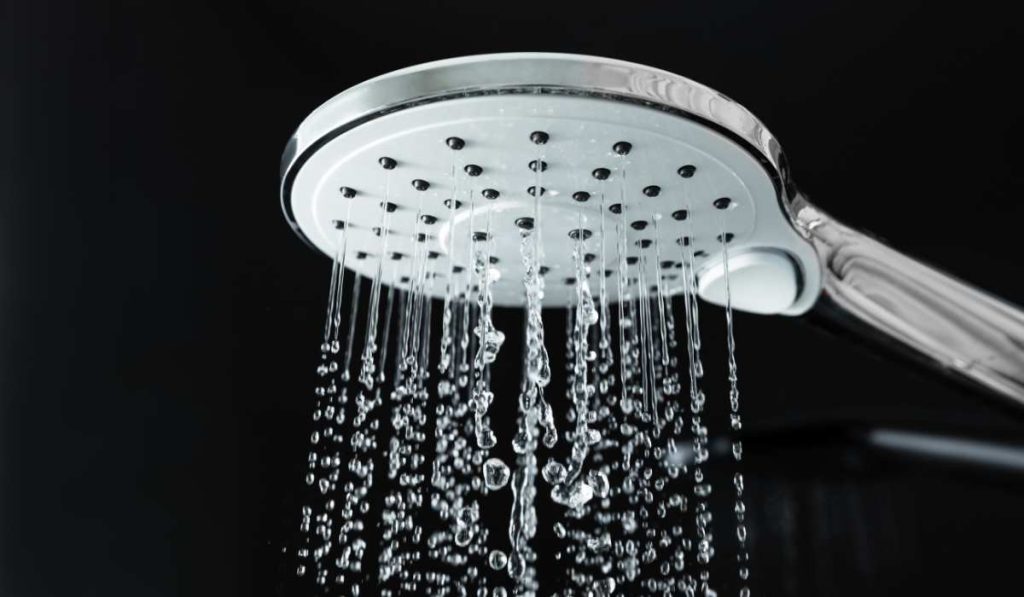 Hard water: Hard water carries minerals such as calcium and magnesium, which can leave a coating on the hair and cause it to feel dry or dull. Consider using a clarifying shampoo or a chelating treatment occasionally to remove the buildup.
Soft water: Soft water has fewer minerals and can create a better lather with shampoos. However, it may leave your hair feeling flat or less voluminous. Using volumizing products or rinsing with cooler water can help add body to your hair.
Chlorinated water: Chlorine in tap water or swimming pools can cause hair to become dry, brittle, and discolored. To reduce chlorine absorption, rinse your hair with fresh water before swimming, and use a clarifying shampoo afterward to remove any chlorine residue.
Remember, everyone's hair is unique, so it is essential to adapt these steps to your specific hair type, concerns, and preferences.
Infographic- Common Mistakes to Avoid While Washing Your Hair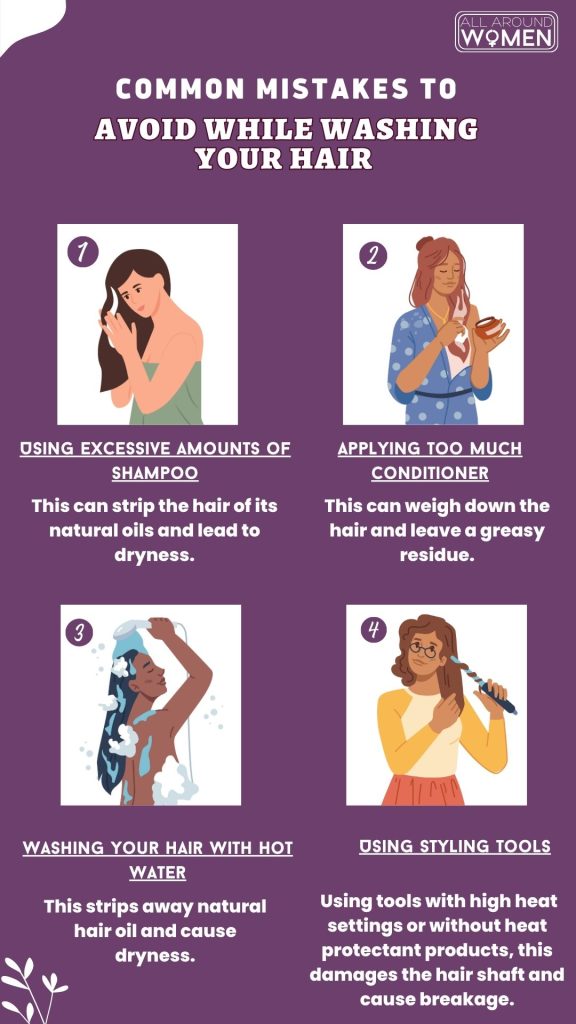 FAQs [ frequently asked questions]
Q: How often should I wash my hair?
A: The frequency of hair washing depends on various factors, including your hair type, scalp condition, and lifestyle. It is generally advised to wash your hair every 2-3 days or as needed. Overwashing can strip away natural oils, while under washing can lead to a buildup of dirt and oils. Adjust your washing frequency based on your individual needs.
Q: Can I use the same shampoo and conditioner every time?
A: Using the right shampoo and conditioner for your hair type and concerns is crucial. However, it can be beneficial to rotate between different products occasionally. This prevents your hair from becoming too accustomed to a specific formula, allowing for better effectiveness over time. Listen to your hair's needs and experiment with different products to find the best combination for you.
Q: Should I rinse my hair with cold water?
A: While rinsing with cold water can help seal the hair cuticles and enhance shine, it is not a requirement. Lukewarm water is sufficient for rinsing out shampoo and conditioner. However, if you can tolerate cooler water, it can be a great final rinse to give your hair that extra boost of shine.
Q: How can I prevent my hair from getting tangled while washing?
A: To avoid tangles, it is important to handle your hair gently while washing. Before shampooing, detangle your hair using a wide-toothed comb or your fingers. When applying shampoo and conditioner, focus on massaging the products into the scalp and lightly work through the lengths, using a gentle squeezing or stroking motion. Avoid rough movements that can lead to tangling.
Q: Should I use a towel or a hairdryer to dry my hair?
A: Both options can be used, depending on personal preference and hair type. Using a soft towel or a microfiber towel to blot or gently squeeze out excess water is a gentle method that minimizes friction and reduces frizz. Air drying is also a great option if you have the time. If you prefer using a hairdryer, opt for a low or medium heat setting. Also, keep the dryer at a safe distance from your hair to avoid heat damage.
Final Words
Achieving clean and healthy hair is not an elusive goal but an attainable one when you approach your hair-washing routine with care and knowledge. By incorporating the tips mentioned in this article, you can make sure that you are washing your hair the right way, from prepping it before the wash to choosing suitable products, applying them correctly, and following proper drying techniques. Remember to be gentle with your hair, select products tailored to your specific needs, and take into account external factors such as water quality. By making these adjustments, you can enjoy the benefits of nourished, vibrant, and manageable hair that enhances your overall appearance.
So, follow the correct hair-washing techniques and watch your hair shine with health and beauty. With the right care, your hair will become your crowning glory, making you feel confident and ready to take on the world.