Selection the right color can make or break your outfit your outfit and your whole look. However, finding that color doesn't seem very easy, does it? We often wonder why some colors never look as good on us as they do on others. It is possible that you might be choosing the wrong color to mismatch the clothing combination. Well, we're here to solve these problems today. Do you know that we all have a different skin undertone? And no, by undertone, we do not mean your skin color. The undertone is the color of the subtle hue that lies under surface of your skin. By judging it, you will be able to find the perfect colors that will look good on you.
By wearing the right color according to your skin undertone makes you look more confident and sharper at the same time. You can even manipulate people's judgment as to what they will feel about you as a personality. So, don't wait much to give yourself a sharper and much higher look by choosing the best color as per your undertone. In this article, we'll be sharing all the information about how to find out skin undertone in different ways and clothing and accessory color options that will compliment best to your undertone.
Finding Your Skin Undertone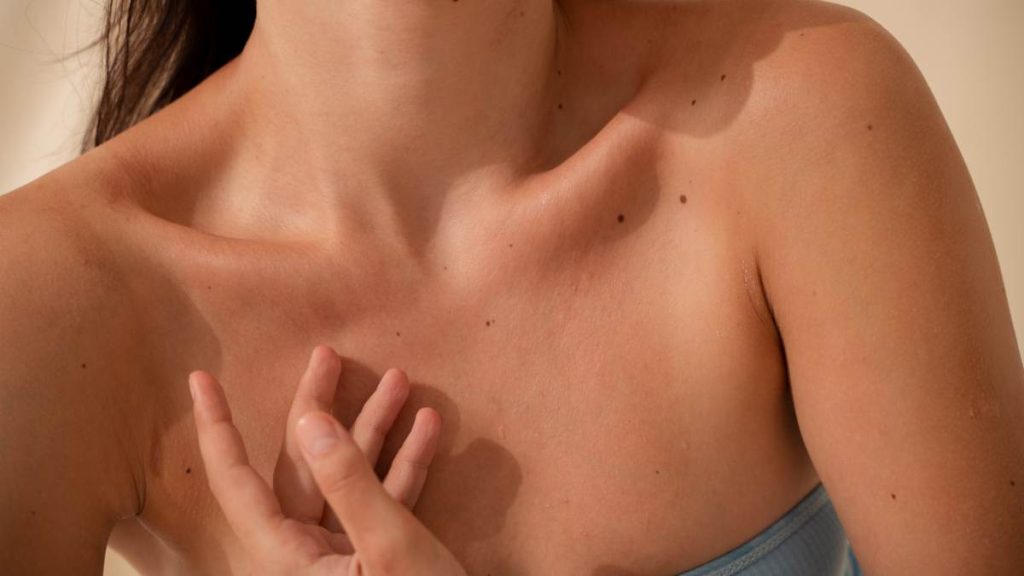 Finding clothing that matches your skin undertone is important when you go shopping or making your staple wardrobe. Please note that your undertone is different that the skin tone or skin color. Well, we generally think that the surface of our skin is the actual skin color of ours, but it's not. In reality, we have to look for clothes that complement our skin's undertone rather than its surface tone.
Even though people's undertone colors differ. There are typically only 3 types of undertones: cool, warm and neutral. Cooler complexions have more pink skin undertones, whereas warmer complexions have yellow undertones. The combination of both warm and cool undertones is a neutral complexion. Your skin's undertone will not change. However, the outer layer of the skin can change as it faces dirt, harsh UV rays, and other unwanted environmental elements.
Ways To Find Your Skin Undertone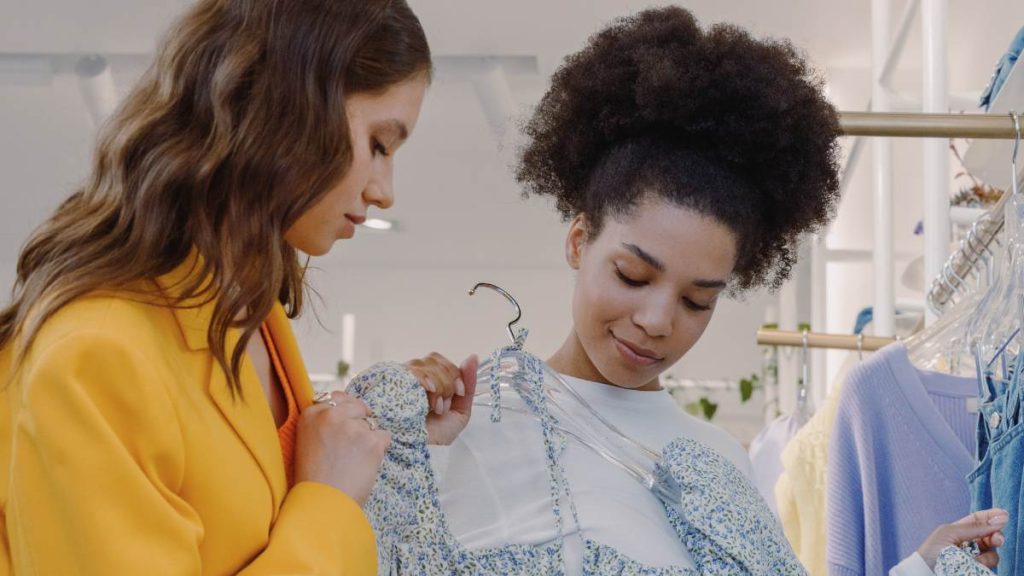 Check Your Veins
Start with looking at your veins to identify your skin undertone. As the skin is thinner there, the blood vessels on your elbows and wrists tend to be close to the surface. It is simple and easy to identify the vein color when the skin is light. You can easily see the veins' color through the skin.
Look whether you have blue or green veins as you check your veins. Veins that are blue show a cold undertone, whereas veins that are green show a warm undertone. If you are unable to identify if you have green or blue skin, you probably have a neutral undertone.
Jewelry Test
Do the "jewelry test" on yourself. Again, you do not want to compare colors to your skin undertone. Therefore, avoid using earrings in the jewelry test. Instead, use necklaces or bracelets to check undertone. Gold and silver jewelry are good options for this test. Check how your skin looks next to each color of jewelry in ideal natural lighting.
Start checking which metal improves the appearance and look of your skin. If your skin complements well gold, then you are warm-toned. If it's silver, then you are cool-toned.
Cool Undertone Seasons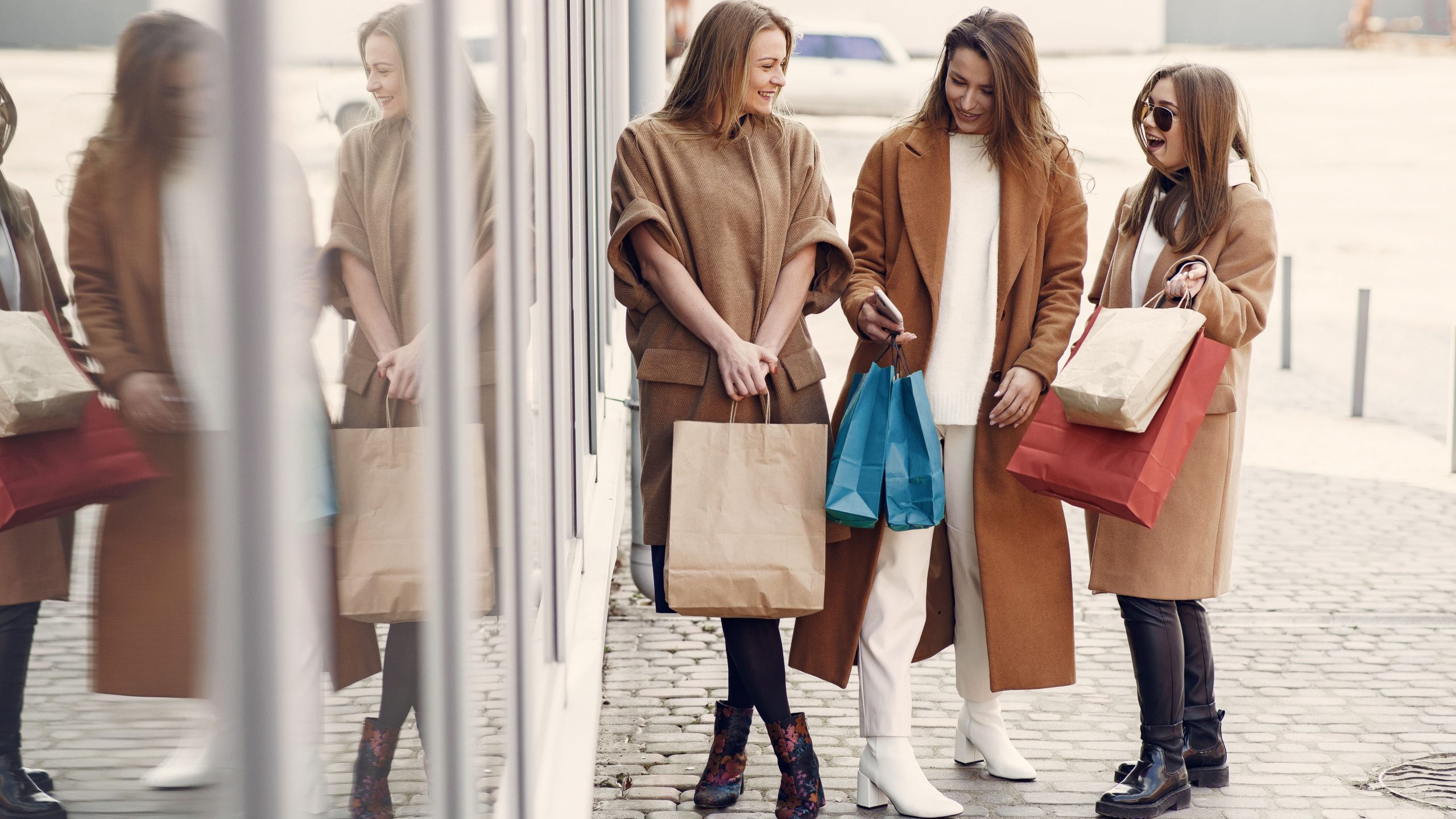 Summers and winters are both cold undertones that have many similarities. Women who know how to dress will be aware of all the differences they do have. Check below for a better understanding:
Summer: You'll note that this undertone has pink, red, or blue undertones when you give the white paper test. Those with summer undertones will have hair and eyes that gently contrast with their undertone.
Winter: The white paper test will show the same undertones of pink, red, or blue for those with a winter tone. A person with a winter undertone will, however, have eyes and hair that are a clear contrast to their complexion. Anyone with black hair and a light complexion, for example, will have a winter undertone.
Warm Undertone Seasons
The warm undertones of spring and fall are similar, but there are some differences between the two skin types. Let's check below:
Spring: During the white paper test, you can observe the undertones of a spring skin tone, which are peach, cream, and golden. The usual features of springs include strawberry red or straw-colored hair, freckles, blue or green eyes, and rosy cheeks.
Autumn: A white paper test for those with an autumn undertone will show golden or yellow undertones. Those with autumn undertones tend to have darker hair and eyes than those with spring undertones.
Eye And Hair Color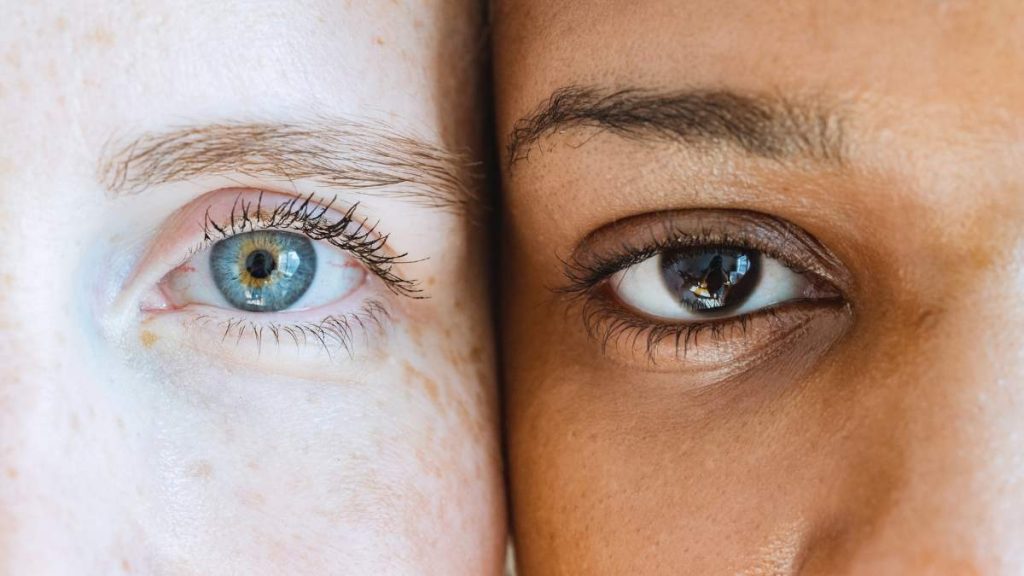 Even though you can experiment with makeup and hair dye. Your actual eye color and hair color can reveal certain things about your undertones.
While brown and golden dyes typically appear better if you have warmer undertones, platinum, and ash-colored dyes typically complement cooler undertones.
Paper Test
If you are not sure about your undertone after the veins and jewelry check, or you want more clarity. The next stage of finding your skin tone is to check by doing a white paper test on yourself. Keep your throat and chest with a piece of white, clean paper.
Blue and pink colors indicate cool-toned skin, so pay focus on how they stand out against the white piece of paper when compared to your skin. Green and gold colors indicate warm skin tones. And the color of neutrals can change based on the season and sunlight exposure.
Skin Reaction Under The Sun
If you're regularly getting burnt, especially in the summer. You're likely to have a cool-toned complexion. People with warm skin, however, often tan as opposed to burning. Additionally, if you don't tan and just sometimes get burned, you might have a neutral tone. If you frequently get sunburns that heal quickly and transform into tans, this is another sign that you have a neutral undertone.
Don't overexpose yourself to the sun to check if you burn or not as a test for this. Instead of that, consider how your skin has previously reacted. If sunburns are uncommon, you'll know what to do.
Colors For Cool Undertones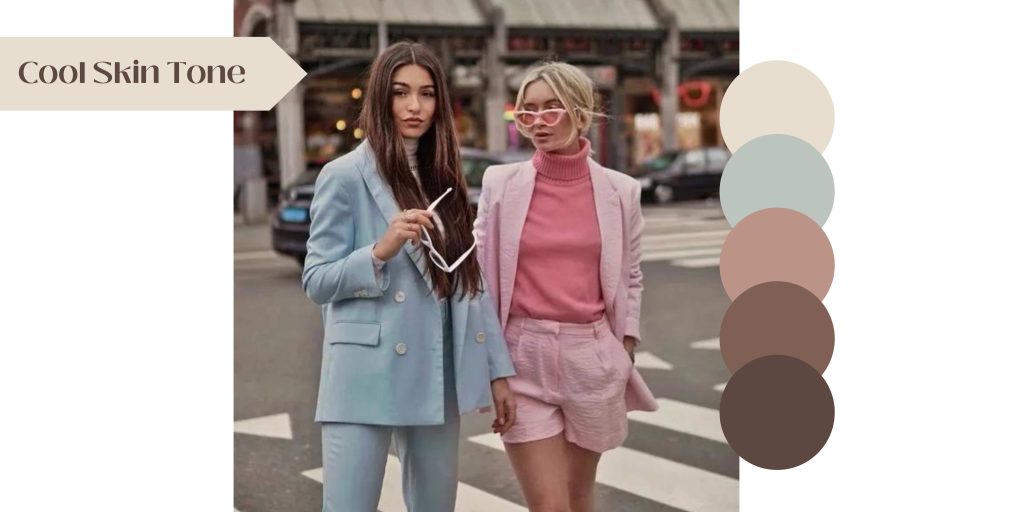 The ideal colors for cool undertones are on the cool end of the color range. Such as emeralds, rich purples, lavender, pink, ice blue, and bright blues are the best colors to wear. If you want to include a warmer color in your clothes, use pale yellows, rose reds, and rubies. More color combinations that work are amazing: white, gray, and navy. In order to make a beautiful contrast with your fair complexion, these colors should be used. You need to use deeper colors because a cool skin tone often indicates pale skin or features. The best clothes for those with pale skin frequently feature vibrant blues, navy, and emerald green.
If you want to accessorize your clothing with minimalistic jewelry or watches. Use trendy metallic like platinum or silver rather than gold or copper.
Avoid wearing orange, bright yellow, and tomato red. You won't look your best because these colors will not suit your skin.
Choosing colors that complement your season can help you appear your best, even though wearing clothes from the opposite cool undertone season frequently looks better than wearing a warm undertone. For people with summer or winter undertones, here are some suggestions:
Summer: Summers look good when they go for easier colors over more bright ones. Pale blue, lilac and softer neutral tones with rose undertones are some particular colors you can use. Summertime colors that are pastel are frequently beautiful.
Winter: Winters look great in clothes with classic pink and blue colors. Additionally, they often make a strong fashion statement when they wear sharper tones like navy blue, white, or black.
Colors For Warm Undertones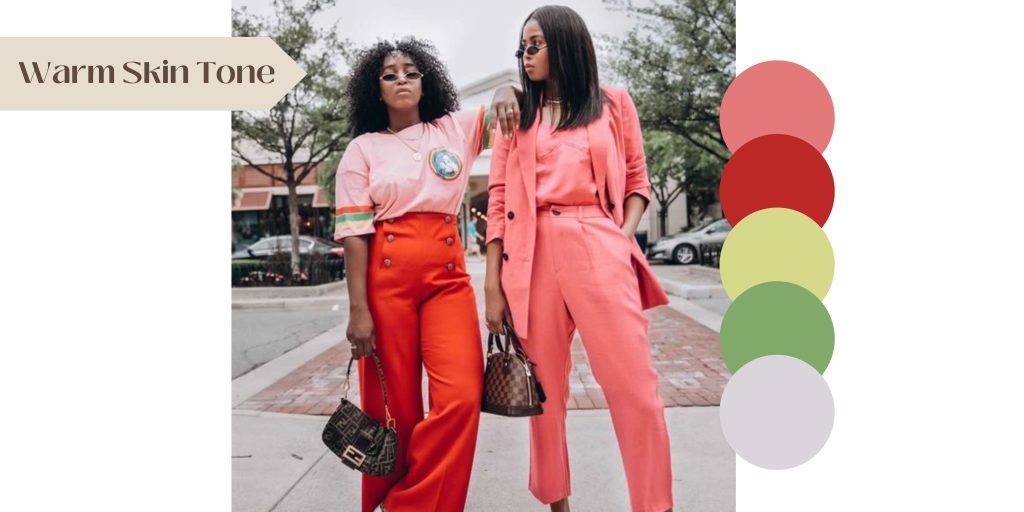 If you're wondering what colors to wear with warm undertones, look no further. Earth tones are a great choice for those who have a warm undertone skin. Green, brown, yellow, mustard and warm reds are frequently the best colors for complexion tones with a warm skin undertone. Coral, peach, amber, and gold are additional warm undertone-friendly colors that you can use. Choose warmer colors like orchid, violet-red, olive, and moss as you wish to wear an outfit with cooler or cold tones. Additionally, you can use some neutral hues. Warm undertones go well with softer colors like cream, beige, mushroom gray, and cappuccino. They often complement warm, natural colors.
Choose warm metals like gold and copper over cool metals like silver or platinum for watches and other jewelry pieces. While this doesn't stop you from wearing silver or platinum, gold will always be your go-to option because it complements your undertone well.
Avoid wearing colors with a gem or icy blue undertones. These colors frequently make your skin look dull and don't make out the color of your skin.
Colors that are right for the season can also help you improve your fashion game. The primary colors for spring or autumn are outlined below:
Spring: Colors like reddish peach, coral, and yellow stand out especially well in the springtime. Springs should match the gold in jewelry.
Autumn: Wearing clothing in tones like caramel, green, beige, tomato red, and coffee makes autumn appear great. Autumns can wear gold accessories, much like springs, but they are more adaptable because they can also wear copper and bronze without risk.
Colors For Neutral Undertones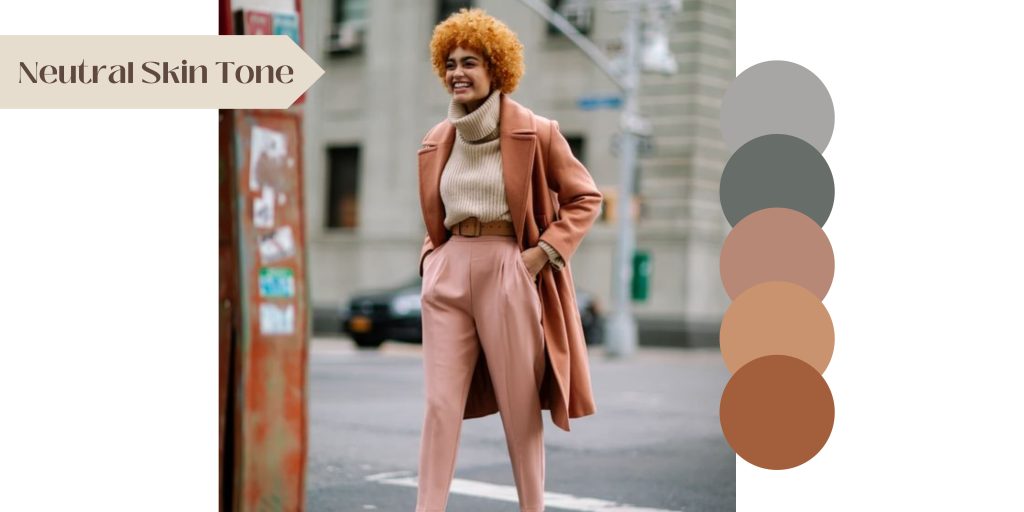 If you don't have a warm, clear, or cool undertone, the world of clothes is open to you. You look fantastic in colors for both warm and cool complexion undertones. You'll have the biggest selection of color options that will make you shine if you pick from both ends of the color wheel. The ideal clothing for dark complexion uses colors that are in the middle of the color palette, such as jade green or light pink, even though most colors look good on people with neutral skin tones. Additionally, keep in mind that you don't have to combine all of the colors in your outfit at once simply because they go well together. To balance an outfit when wearing aggressive colors like cobalt blue, select complimentary and subtle colors.
Avoid dark colors that merge into your complexion. Brown clothing simply doesn't give enough contrast because neutral undertones are typically darker.
Navy and black are two more colors you should avoid. These colors will still look fine on you, but they won't highlight your flexible skin tone. Since most wardrobes are made up of black and blue, wearing different colors will make you stand out because of your undertone. You'll set yourself out from other women if you use these colors carefully.
Colors That Suit All Undertones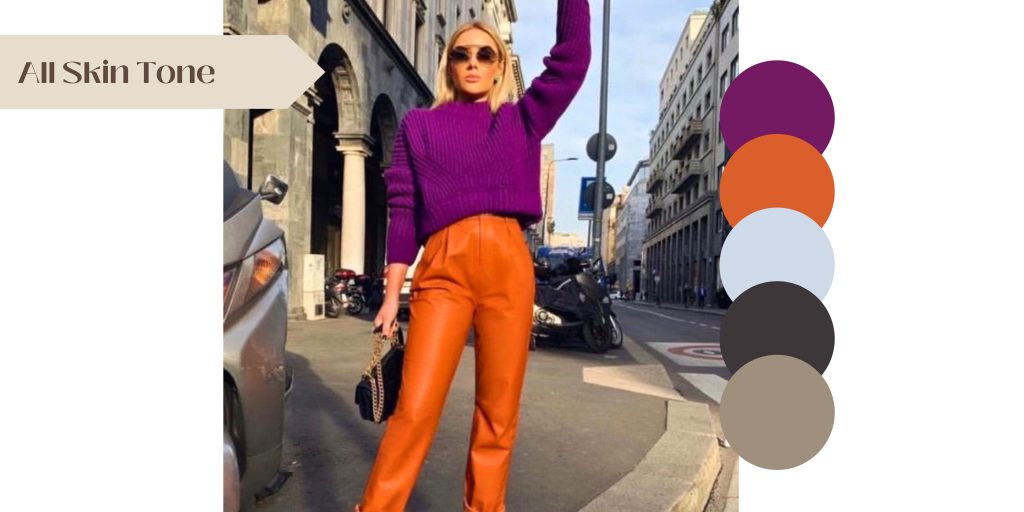 You can wear pastel pink, red, teal, and dark purple with confidence, no matter your skin tone, because they are all universal shades that match all complexion tones. While all four of these colors look fantastic together, you shouldn't wear them all at once to work or a social event. Instead, wear these colors separately from the rest of your collection to look amazing with accessories.
Infographic: Right Colors Shade For Your Skin Tone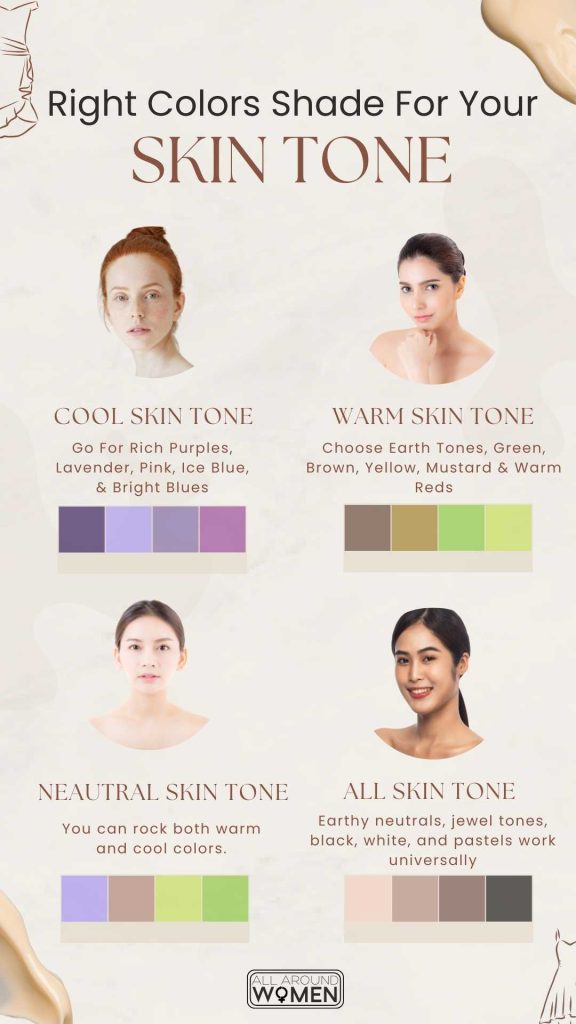 FAQs [Frequently Asked Questions]
Q: How do I find out what my undertone is?
A: The hues in unders skin can help you determine your undertone. Warm skin undertones have a yellow or golden tint, whereas cool undertones have a bluish or pinkish hue. There can be a balance of both in neutral undertones.
Q: Why is it important to wear colors that go well with my undertone?
A: Wearing colors that go well with your undertone can improve your appearance and look overall and make you appear younger and more vibrant. The right colors can also enhance your skin's natural beauty.
Q: Which colors go well with those who have warm undertones?
A: People with warm undertones tend to stand out in warm hues like earthy greens, reds, oranges, and yellows. They can be balanced by vibrant, warm colors like coral, mustard, and terracotta.
Q: Which colors compliment those who have cool undertones the best?
A: Colors like blues, purples, pinks, and cool tones of green look good on those cool skin tones. Earthy tones with cool undertones. Colors, such as frosty pastels, can also look good on cool skin tones.
Q: Are there any colors that suit all undertones equally well?
A: The beauty of different skin tones can be increased by jewel tones like emerald green, sapphire blue, and amethyst purple, which are often considered to be universally attractive. Additionally, color options like black, white, and gray are useful as flexible wardrobe basics.
Final Words
Your undertones can help you figure out what looks best against your natural skin tone. However, what you personally like is more important than what a color chart suggests. Break the rules and use the color if it makes you feel good and happy. You should wear whatever makes you feel your best at the end of the day.