Hey there, curl enthusiasts! Are you looking to make those beautiful curls last longer? And you tired of spending time curling your hair only to have those lovely curls disappear within minutes? Well, you've come to the right place! We have some fabulous tips to help you make those curls last longer. Let's dive right in and uncover the secrets to long-lasting curls and get ready to rock those bouncy, beautiful curls from morning till night.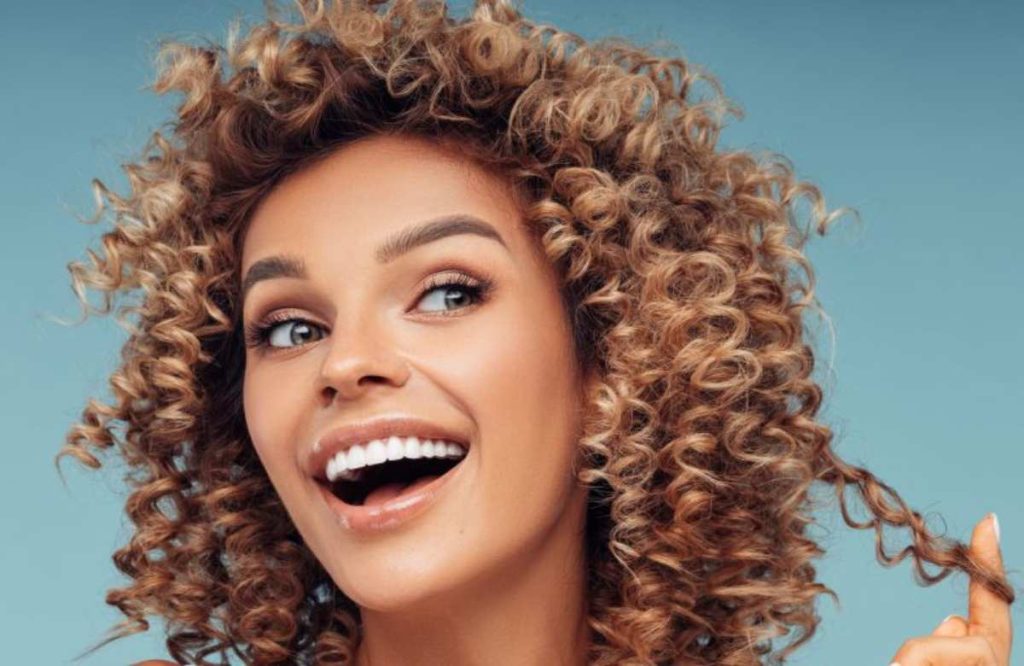 10 Simple Curling Tips To Make Curls Last Longer
Here are some simple and effective tips that will help your curls stay intact throughout the day or even overnight. Let's dive right in:
Washing Hair
Start by washing your hair with a lightweight shampoo and conditioner to create a clean canvas for styling. Avoid using heavy products that can weigh down your curls. Curls will only last long when the hair will be light-weighted, and no hair-setting spray will work to hold the curls. So, always keep in mind to wash them with shampoo and condition them properly whenever you're going to make curls.
Hairspray
A trusty hairspray is your best friend when it comes to making curls last longer. After curling each section of hair, give it a light mist of hairspray to set the curl in place. Hair spray gives your curl a full set environment, so invest in good hairspray. Avoid using hair spray, which contains alcohol in them, they might damage your hair.
Texturing Spray
Texture is the hero of curls, if we do not use texturing spray, it will not last long the curls and your curls will not get the attention that you are seeking, ladies. So, to hold and texture of the curls, consider using a texturing spray before curling your hair. This can give your hair some grip, making it easier for the curls to hold.
Good Hot Hair Tools
Investing in high-quality hot hair tools and equipment, such as curling irons or wands, can make a huge difference. Look for devices that have adjustable heat settings and tourmaline or ceramic barrels, as they distribute heat evenly and minimize damage to your hair.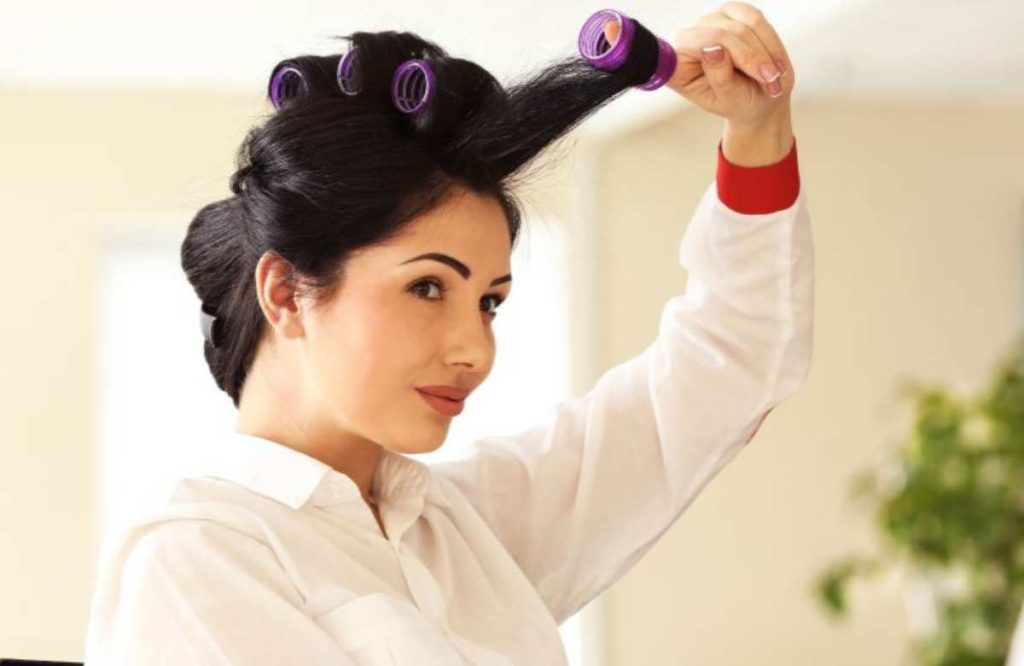 Making Curls Stay Overnight
If you want your curls to last overnight, try the "pineapple" technique. Bring your hair on top of your head, securing it loosely with a scrunchie or silk scarf. This helps protect the curls while you sleep. And there are many nonheated methods for curling hair. This includes folding your hair with a wet towel and leaving it overnight it will give you the best curls.
One Barrel Size Doesn't Fit All Hair Types
Remember that different hair types require different barrel sizes. If you have fine and softer hair, opt for a smaller barrel for tighter curls. For thicker or longer hair, use a larger barrel for loose waves.
Let Your Curls Cool Down
After doing immediate curling, don't brush or comb your hair. After curling each section, allow the curl to cool completely before touching or brushing it. This helps the curl set and hold its shape for longer. Never touch your virgin curls because it will decrease your overall hair density. This indirectly reflects in your curls.
Try Hot Rollers
Hot rollers are a fantastic alternative to curling irons or wands. They provide heat from all directions, and hot rollers create long-lasting curls. These help in holding the curls throughout the day. Hot roller gives smooth and great holding to curled hair.
Keep Your Hands Off
Resist the urge to touch or play with your curls constantly. The natural oils from your hands can weigh down your hair and cause the curls to loosen. Yes, to avoid loosening up the curls, do not touch them constantly.
Curling Iron Vs. Flat Iron: Battle Of The Styling Tools!
Let's dive into the features, benefits, and differences of each and help you to guide in deciding which one is right for you.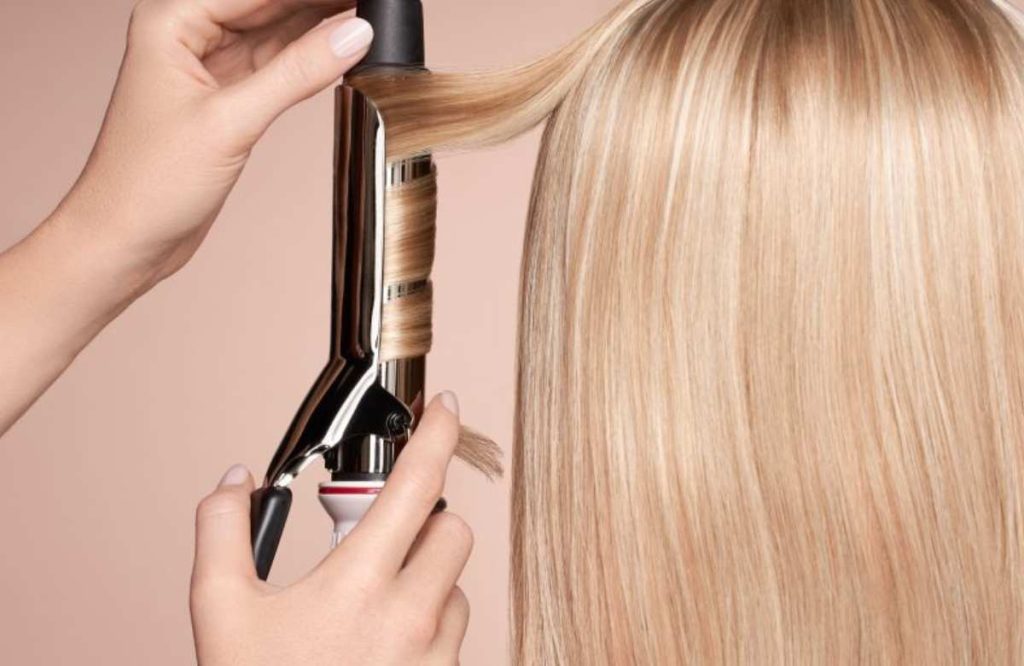 Curling Iron
The Curling Iron is a versatile tool designed to create beautiful curls, waves, and volume. Here's what makes it a popular choice:
Temperature Control: Most curling irons offer adjustable temperature settings, enabling you to customize the heat level based on your hair type and desired style. This feature ensures safer styling and minimizes heat damage.
Clip or Clipless: Curling irons are available with or without a clip. Those with a clip are user-friendly and great for beginners, providing a secure grip on the hair. Clipless curling wands offer more freedom and versatility, allowing you to wrap your hair around the barrel for natural-looking curls.
Quick Styling: Curling irons heat up quickly and are designed for fast styling. You can create stunning curls in a few minutes; curling is a good option for those on the go.
Flat Iron
Flat Iron, also known as a hair straightener, is primarily used to achieve smooth, sleek, and straight hair.
Plate Material: Flat irons feature different plate materials, such as ceramic, tourmaline, or titanium. Ceramic plates provide even heat distribution, reducing damage, while tourmaline plates emit negative ions for a smoother finish. Titanium plates heat up quickly and are ideal for thicker or coarse hair.
Temperature Control: Similar to curling irons, flat irons offer adjustable temperature settings. This quality lets you find the right heat level for your hair type, ensuring efficient straightening with minimal heat damage.
Versatile Styling: Although primarily used for straightening, flat irons can also create curls, waves, and flips. With some trials and techniques, you can achieve different styles using a flat iron.
Frizz Control: Flat irons are excellent at taming frizz and creating a sleek, polished look. They can effectively smooth out unruly hair and provide long-lasting straightness.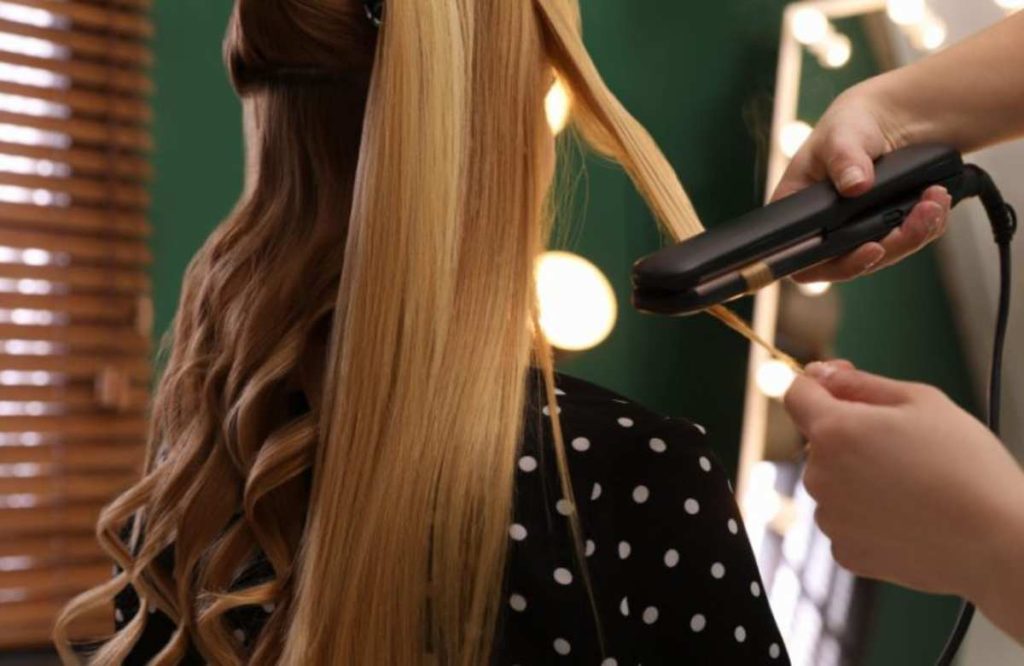 Which One Should You Choose?
The choice between a Curling Iron and a Flat Iron ultimately depends on your desired style and hair type. Here are some points to consider:
If you love curls, waves, and volume, a Curling Iron is your go-to tool. It offers versatility and various barrel sizes to achieve your desired curl type.
For those who prefer a sleek, straight look with the option of creating other styles, a Flat Iron is the way to go. It excels at straightening and provides frizz control.
If you're unsure or want maximum styling flexibility, you can consider having both tools in your collection. This way, you can switch between curling and straightening based on your mood and occasion.
Remember, it's essential to prioritize the health of your hair by using heat protectants and not exposing your locks to excessive heat too frequently.
How To Take Care Of Curled Hair At Home
Taking care of curly hair at home requires some special attention and a consistent hair care routine. Here are the tips to help you care for your curly hair: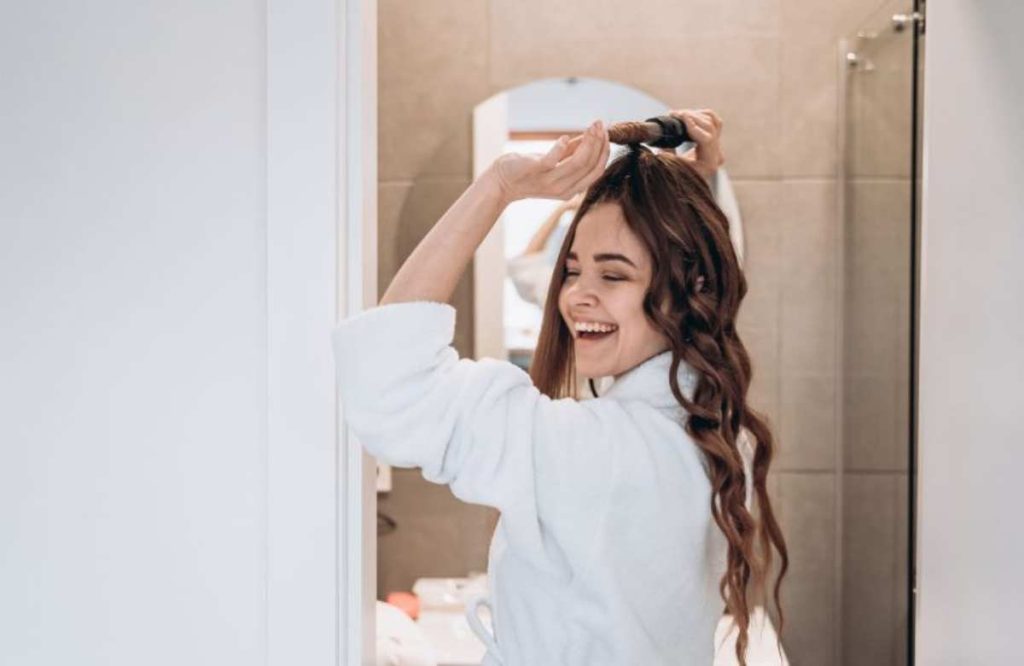 Gentle Cleansing:
Use a sulfate-free, moisturizing shampoo specifically designed for curly hair. Washing your hair less frequently, such as every 2-3 days, can help retain natural oils and prevent excessive drying.
Conditioning:
After shampooing, apply a generous amount of conditioner to your hair, focusing on the mid-lengths and ends. While the conditioning product continues to stay in your locks, detangle it with your fingers or a comb with large teeth. Give it a moment to settle the conditioner to rest before rinsing it with warm water.
Deep Conditioning:
To add extra hydration and nourishment to your curls, try including treatment of deep conditioning into your beauty regimen once a week or as needed. Look for products that contain shea butter, oil of coconut, or argan oil. Rub the thick conditioner into clean, damp hair and allow it on for a recommended length of time before washing thoroughly.
Avoid Heat Styling:
Heat styling equipment, like flat hair iron and curling iron products, should be used sparingly since they can cause breakage and frizz. Embrace your natural curls and opt for heat-free styling methods like air-drying, diffusing, or using curl-friendly products to enhance your natural texture.
Detangling:
When detangling your hair, start from the end locks and work your way up to the roots. Use a comb that has wide-toothed or your fingers to avoid pulling and breaking your curls. Applying a leave-in conditioner or a detangling spray can make the process easier.
Moisturize:
Curly hair tends to be drier, so it's essential to keep it moisturized. Apply a water-based leave-in conditioner or a moisturizing cream to damp hair to seal in moisture and minimize frizz. You can also use natural and raw oils like oil extracted from coconut, jojoba oil, or argan oil to add extra moisture and shine.
Protective Styling:
Consider protective hairstyles like braids, buns, or twists to minimize manipulation and protect your hair from breakage. These styles can also help retain moisture and reduce frizz.
Satin or Silk Pillowcase:
Swap your cotton pillowcase for a satin or silk one. These materials cause less friction, reducing hair breakage and preventing frizz. Alternatively, you can use a satin or silk hair wrap or bonnet to protect your curls while you sleep.
Avoid Harsh Ingredients:
Stay away from hair products containing sulfates, alcohol, and other harsh and damageable chemicals products that can strip your hair of its natural oils and cause dryness. Go with the products like specifically they have formulated for curly hair, which is usually free of these ingredients.
Regular Trims:
Schedule regular trims every 8-12 weeks to avoid split ends and maintain the overall health of your hair.
Here's What To Do If Your Hair Still Doesn't Curl
If you're having trouble getting your hair to curl, don't worry, there are a few more things you can try to achieve those luscious curls. Let's explore some additional tips:
Prep with a styling mousse: Before curling your hair, apply a lightweight styling mousse or foam to add volume and hold. This can provide extra support for your curls to stay in place.
Use a heat protectant: It's important to protect your hair from heat damage when using hot hair tools. Use and apply a heat protectant spray and serum before curling to minimize any potential damage and keep your hair healthy.
Adjust curling iron temperature: Experiment with different heat settings on your curling iron. If your hair is resistant to curling, try increasing the temperature slightly. However, be cautious not to use excessive heat that can damage your hair.
Curl smaller sections: Divide your hair into smaller, more manageable sections before curling. This ensures that each section gets enough heat and allows for better curl formation.
Hold the curl longer: When curling your hair with a hot tool, hold each curl in the iron for a few extra seconds before releasing. This allows the heat to penetrate and set the curl more effectively.
Try different curling techniques: There are various curling techniques you can experiment with, such as wrapping the hair around the curling iron versus using a clamp. Explore different techniques to find what works best for your hair type.
Consider a different curling method: If traditional curling irons aren't giving you the desired results, you might want to try alternative methods. This can include flexi rods, curling wands, or even braiding your hair and sleeping in it to create natural waves.
Seek professional advice: If you've tried various techniques and products without success, consider consulting a hairstylist. They can assess your hair type and provide personalized recommendations and styling tips.
Frequently Asked Questions (FAQs)
Q. How to make curls last all day?
A. To make your curls last all day, start with clean hair. Use a lightweight shampoo and conditioner. Then, apply a texturing spray or mousse for hold. Curl small sections of hair, and use a good quality curling iron with adjustable heat settings. Let the curls cool before touching them, and complete it with a light mist of hairspray.
Q. How do I make my curls stay overnight?
A. To make your curls stay overnight, you can try the "pineapple" technique. Bring all your hair on top of your head and secure it loosely with a scrunchie or silk scarf. This helps protect the curls while you sleep. You can also go with silk or satin pillowcases to minimize friction and keep your curls intact.
Q. How can I prevent my curls from falling flat during the day?
A. To prevent your curls from falling flat, avoid using heavy styling products that weigh down your hair. Opt for lightweight products like texturing sprays or mousses that provide hold without sacrificing volume. Additionally, avoid touching or running your fingers through your hair throughout the day, as this can loosen the curls.
Q. What can I do if my hair doesn't hold curls well?
A. If your hair doesn't hold curls well, use a higher heat setting on your curling iron (but be cautious not to use excessive heat). Curl smaller sections of hair, use a strong-hold hairspray, and consider using hot rollers or alternative curling methods like flexi rods or curling wands.
Conclusion
There you have it, curl mavens! With these simple yet effective tips, you're well-equipped to conquer the world of long-lasting curls. Remember to start with a solid and basic foundation by washing your hair and using the right products. Harness the power of hairspray, texturing spray, and good hot hair tools to create stunning curls that won't quit. Embrace the idea that one barrel size doesn't fit all, and experiment with different techniques and tools until and unless you find what works best for your hair type. And, of course, be patient, as achieving the perfect curls may take a bit of practice. So, go ahead, try these tips, and get ready to flaunt those fabulous, resilient curls all day long. Happy styling!