Ladies, we understand that your curly locks are the epitome of beauty. Well, we're here to empower you with the information to keep them looking absolutely stunning. In this article, we'll dive into the essential elements of curly hair care tailored just for you, the incredible woman with gorgeous curls. We've got all the insider tips you need. This includes the vital role of hydration and selecting the perfect products that cater to your unique curl type. This article will also explore the magic of heatless styling techniques that will have you rocking flawless curls without any damage.
We'll also talk about sharing the wonders of diffusers. And highlight the importance of regular trims and how to wake up with flawless curls every morning. So, get ready to uncover the secrets that will make your curls shine like never before!
9 Tips And Tricks For Taking Care Of Curly Hair
1. Be Gentle With Your Curls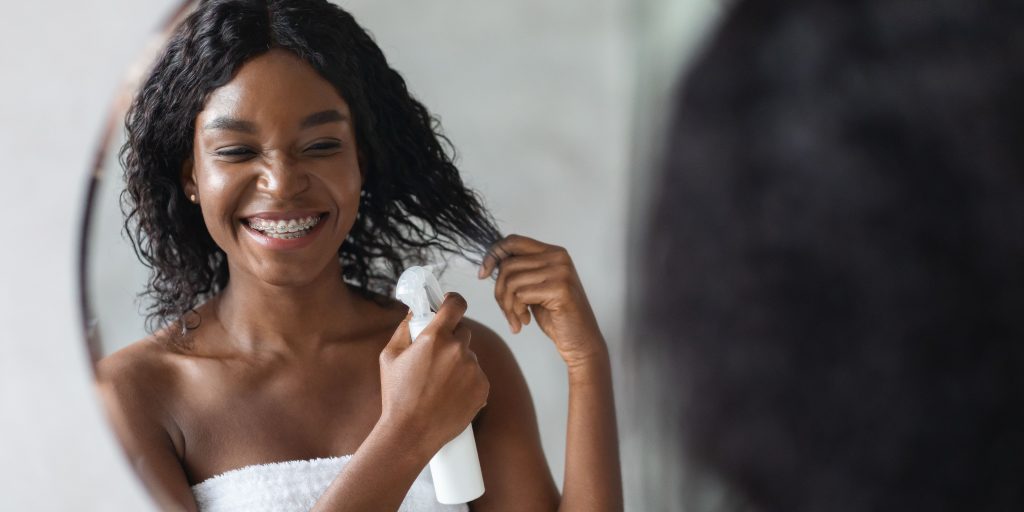 Curly hair, with its spiral structure, is more susceptible to damage and breakage than straight hair. Therefore, adopting gentle hair care practices is essential to ensure your curls remain healthy and resilient. Avoid the temptation to rub your hair vigorously with a regular towel when drying it. This can lead to frizz and disrupt the natural curl pattern. To gently wipe and absorb excess water from your curls. Choose a soft material like a microfibre towel or an old cotton t-shirt to avoid damaging them and keep their form.
2. Moisturizing
Caring for curly hair is a unique journey that involves understanding its distinctive structure and needs. The fascinating science behind curly hair lies in its shape, which makes it more prone to dryness. Unlike straight hair, the natural oils produced by the scalp face challenges in traveling down the hair shaft due to the curl pattern. Therefore, maintaining proper hydration becomes vital for preserving the health and vibrancy of your curls. Embrace sulfate-free shampoos that are gentle on curly hair, preserving its natural moisture balance. Choose nourishing conditioners that are loaded with nutrients like shea butter, extracted coconut oil, or argan oil as well. These components penetrate deeply to give your curls the moisture and nourishment they require to look their best.
Fun Fact: Did you know that curly hair has a higher porosity than straight hair? This is because the structure of the hair cuticle in curly hair allows it to absorb and lose moisture more quickly. As a result, those with curly hair must pay extra attention to moisturizing it to prevent dryness and frizz.
3. Embrace The Power Of A Diffuser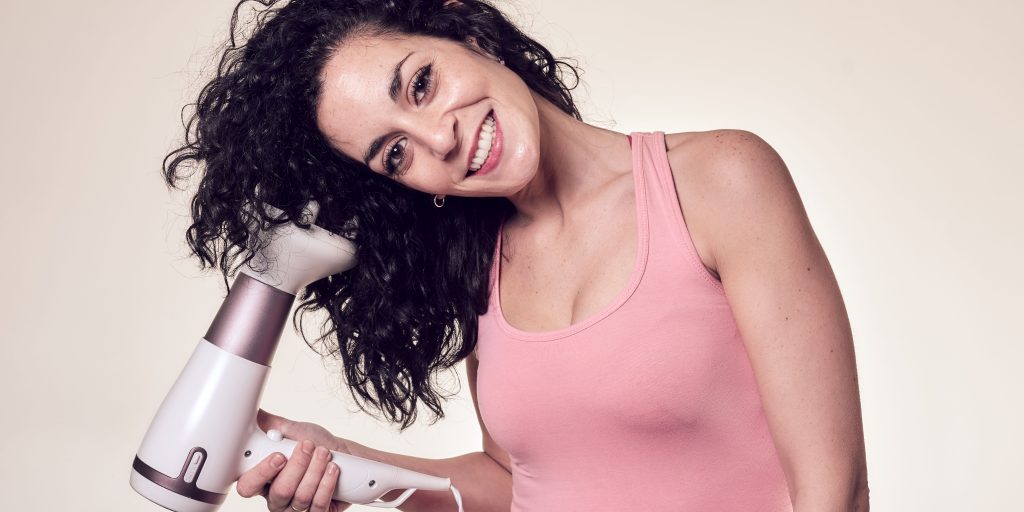 Calling all curly-haired individuals! Say hello to your new best friend – the diffuser attachment. This nifty tool, when attached to your hairdryer, works wonders for curly hair care. The diffuser's magic lies in its ability to distribute airflow evenly, reducing frizz and enhancing the natural curl pattern. For the best results, choose a low or medium-heat setting. This will protect your curls from excessive heat while still achieving the desired look.
4. Say No To Heat Styling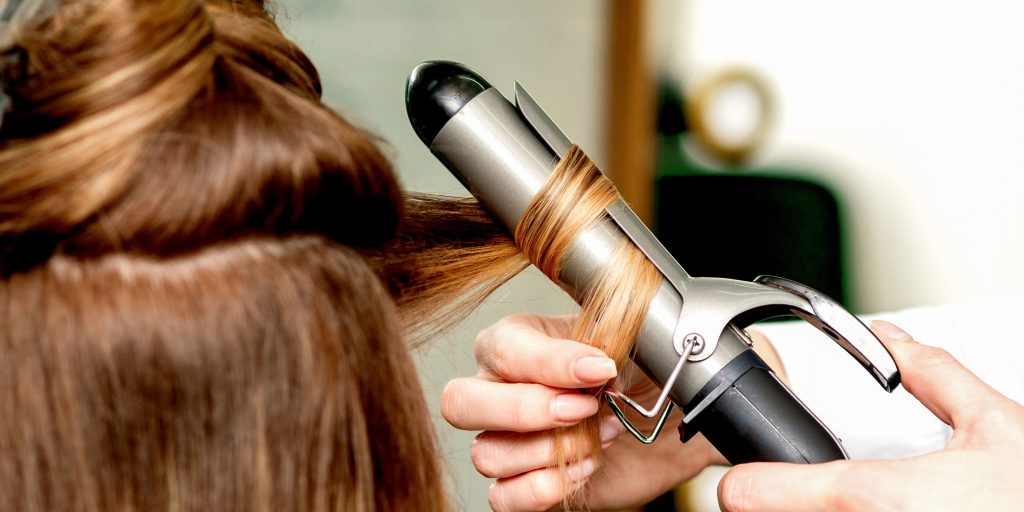 Curly hair ladies, listen up! The allure of heat-styling tools like flat irons and curling wands is undeniable. However, they can wreak havoc on your precious curls over time. The hair becomes dry, and brittle. And it becomes more prone to breaking as a result of the high temperatures, which rob it of its natural moisture. To preserve the integrity of your curls, embrace the beauty of air drying whenever possible. If you crave more defined curls, experiment with heatless styling techniques like twists, braids, or buns. These methods create stunning curls without the risk of heat damage, allowing your curls to shine in all their glory.
5. Find The Perfect Products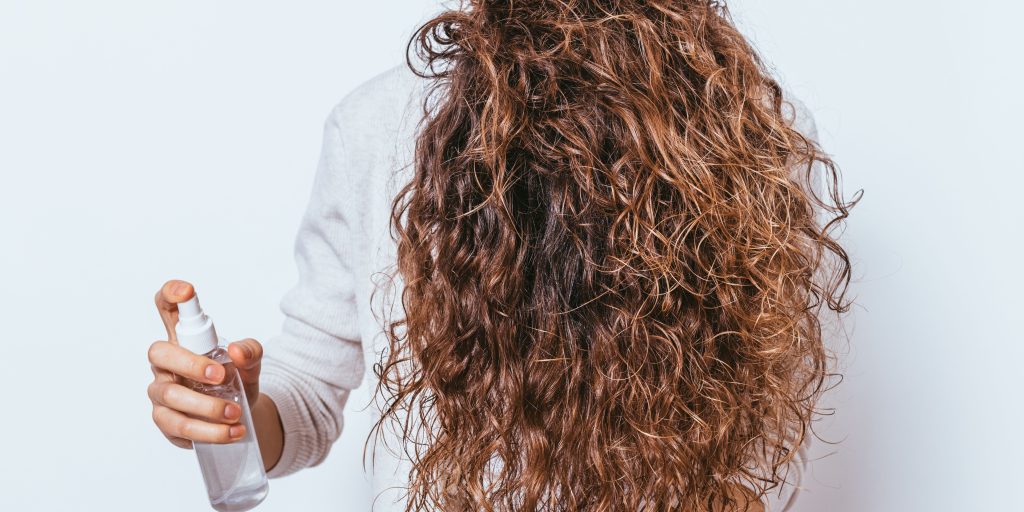 With numerous curly hair products on the market, it can be difficult and tricky to choose the correct ones for your specific curls. However, don't be discouraged! Experimentation is the key to unlocking the secrets of your curls. Try out a variety of curl-enhancing lotions, gels, or mousses to discover the ones that work best for your hair type and curl pattern. Look for products that provide hold and definition without weighing your curls down. This allows them to express their natural beauty and bounce.
Fun Fact: The curly hair community has witnessed a surge in specialized products over the past decade. Brands have recognized the diverse needs of curly-haired individuals. They have dedicated themselves to creating products tailored to their unique hair textures and curl patterns.
6. Don't Over-Wash Your Curls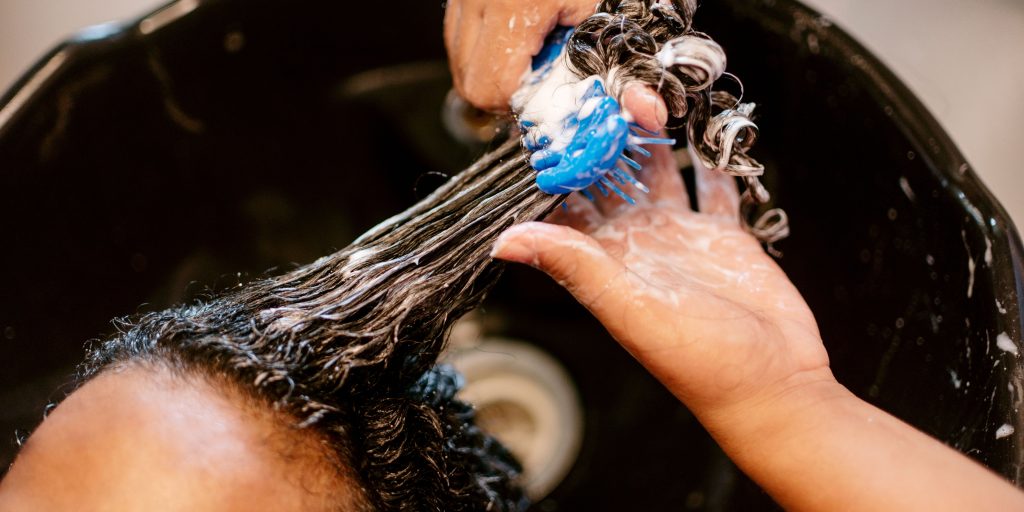 Less is more when it comes to caring for curly hair! If you wash your curls too often, you risk depriving them of their natural oils. This can cause dryness and even damage. Instead, use a more sensible strategy. Depending on your hair type and lifestyle, aim to wash your hair every two to three days or whenever necessary. On non-wash days, consider using a dry shampoo to refresh your roots and absorb excess oil. Also, extend the time between washes and keep your curls looking fresh and fabulous.
Fun Fact: The concept of dry shampoo is not a recent invention. In the past, people used various natural substances like cornstarch, oat flour, and talcum powder to absorb excess oil and freshen their hair between washes.
7. Sleep Smart For Healthy Curls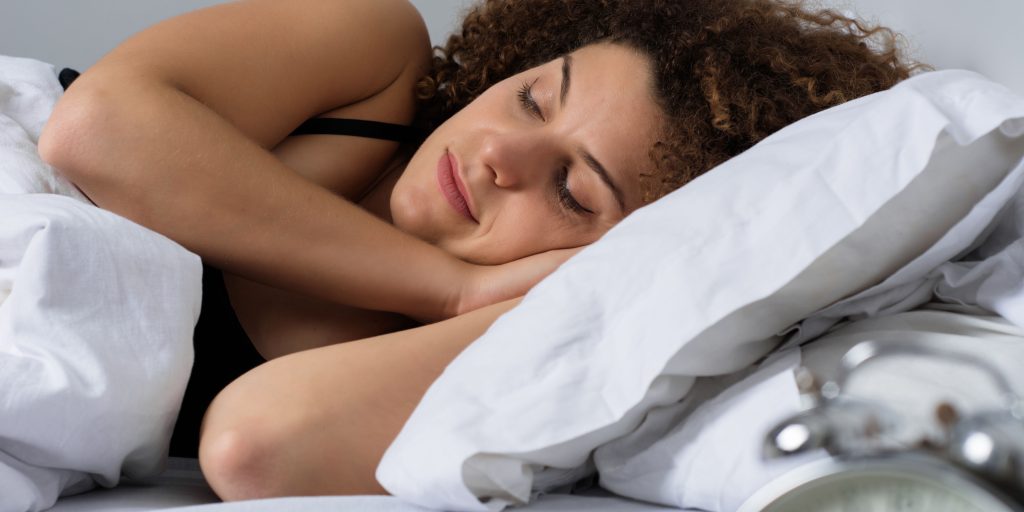 Did you know that your nighttime routine can significantly impact your curls' health and appearance? Switching to a satin pillowcase or silk can work wonders for curly hair care. Unlike cotton, these materials create less friction, reducing the likelihood of waking up to a frizzy mess. Additionally, consider trying the "pineapple" technique before going to bed. Simply gather your hair loosely into a high ponytail on top of your head, securing it with a scrunchie or silk scarf. This helps preserve your curls' shape and minimizes tangling while you sleep. This allowing you to wake up to well-defined and manageable curls.
Fun Fact: Silk pillowcases offer not only benefits for your curls but also for your skin. The smooth surface of silk reduces friction, preventing sleep lines and promoting healthier-looking skin.
8. Regular Trims For Bouncy Curls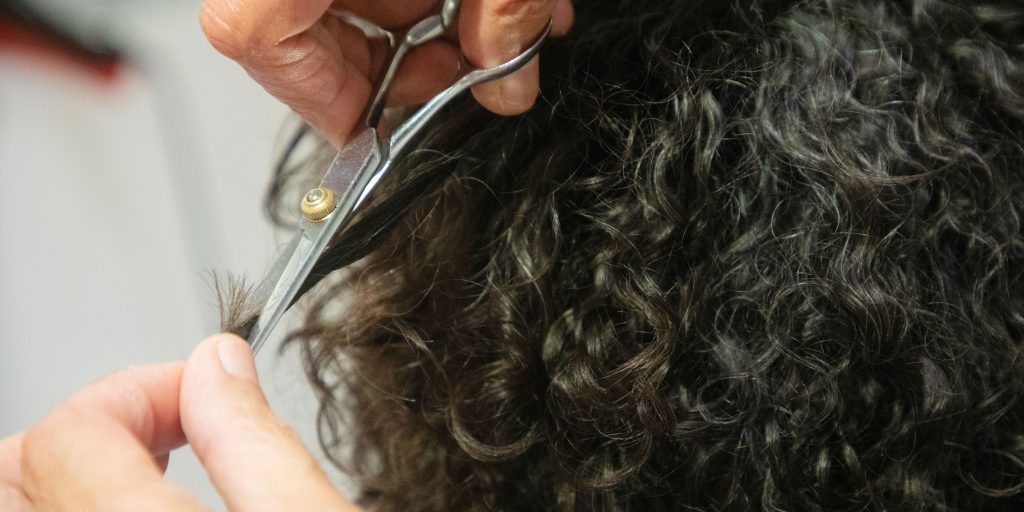 Keeping your curls in top shape requires regular hair trims. Trimming your hair every 8-12 weeks is essential for maintaining healthy curls. This prevents split ends from traveling up the hair shaft and keeps your locks looking fresh and lively. Trimming also promotes hair growth and maintains the overall health of your hair.
Fun Fact: Well, trimming your hair won't directly make it grow faster. But, it does help maintain its length by removing split ends and preventing further damage. Regular trims also contribute to the overall health and appearance of your curls.
9. Embrace Natural Hairstyles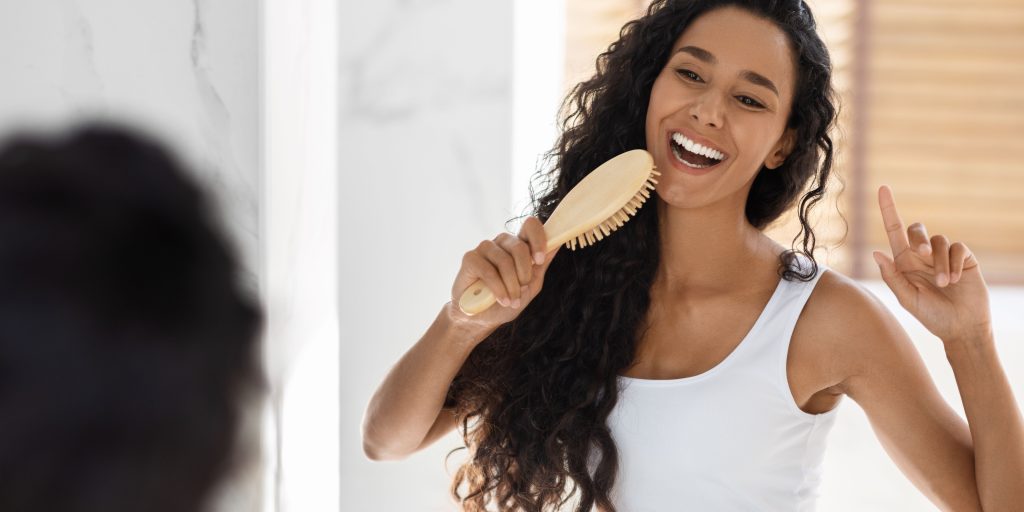 Give your curls the love and rest they deserve by embracing natural hairstyles. Constant styling can put stress on your curls, leading to potential damage. So, why not take a break and explore natural hairstyles like updos, braids, or twists? Not only do these hairstyles protect your curls from daily manipulation, but they also add a touch of versatility and elegance to your overall look.
Fun Fact: Natural hairstyles have a rich cultural history and are celebrated for their beauty and significance in various communities. These hairstyles often carry traditions, stories, and meaning, making them an art form in their own right.
Infographic- Do's And Don'ts Of Curly Hair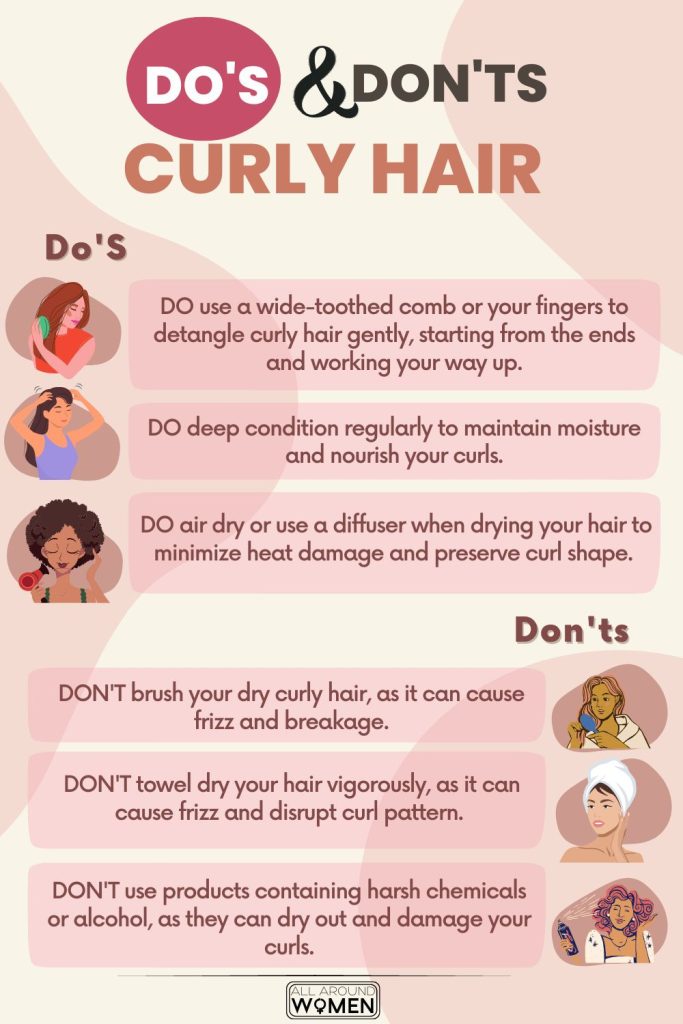 FAQs [Frequently Asked Questions]
Q: How frequently should I wash my curly hair?
A: The frequency of washing curly hair depends on various factors such as hair type, activity level, and personal preference. Generally, it is recommended to wash curly hair every 2-3 days to strike a balance between removing excess oil and maintaining essential moisture. However, individual needs may vary, so it's essential to find a washing routine that works best for your curls.
Q: How can I reduce frizz in my curly hair?
A: To minimize frizz, avoid rough towel-drying and use a microfiber towel or cotton t-shirt to gently squeeze out excess water. Applying a curl-enhancing cream or gel and using a diffuser on low or medium heat can also help reduce frizz.
Q: How do I revive my curls on non-wash days?
A: You can revive your curls on non-wash days by using a dry shampoo to absorb excess oil. It try creating a DIY curl refresher spray with water and a small amount of leave-in conditioner or styling product. Spray it on your curls and scrunch to revive and hydrate them.
Q: Can I brush my curly hair?
A: While brushing dry curly hair can disrupt the curl pattern and lead to frizz, detangling is essential for maintaining healthy curls. Use a wide-toothed comb or your fingers on damp hair, preferably when it's coated with conditioner, to reduce friction and minimize breakage. This approach helps preserve the shape and definition of your curls.
Q: How can I protect my curls while sleeping?
A: Protecting your curls during sleep is vital to preserve their shape and prevent tangling. The probability of waking up with frizzy hair is decreased if you use a satin or silk pillowcase instead of one made of cotton. Alternatively, try the "pineapple" technique by loosely gathering your hair into a high ponytail on top of your head. This method helps minimize contact with the pillow and maintains your curls' definition overnight.
Final Words
Unleash the true potential of your curly hair with these essential tips and tricks. Prioritize hydration by using sulfate-free shampoos and nourishing conditioners. Handle your curls gently with wide-toothed combs or fingers, and explore heatless styling methods to maintain their health and bounce. Find the perfect products for your curls, avoiding harsh ingredients that may cause damage. Protect your curls while sleeping with satin or silk pillowcases, and try the pineapple technique to preserve their shape. With these care techniques, your curls will flourish and become a unique reflection of your beauty and individuality.