It has always been a distinct spot in the world of beauty to seek out to make your eyes look bigger that is appealing. The appeal and transforming power that larger, more expressive eyes hold is what drives numerous people's desire to make their eyes appear bigger. Finding the tricks to creating the illusion of wider eyes has become sought-after expertise in a world where first impressions count. The hunt for bigger eyes has spawned a variety of strategies and tricks, from the alluring charm of runway models to the alluring look of Hollywood starlets.
Through this article, you will learn about how to make your eyes look bigger and different ways to do it. We will reveal the techniques that can transform your eyes and create a lasting impression, from the delicate artistry of makeup to alterations in lifestyle. Get ready to go off on a discovery voyage as we reveal the methods, advice, and resources that will enable you to develop captivating eyes that draw people in.
Ways To Make Your Eyes Look Bigger: Perfect Eye Makeup
You can use a variety of ways to make your eyes look bigger, giving the impression that your eyes are larger and more open. First, raise your lashes upward with an eyelash curler to instantly give the appearance of wider eyes. Add mascara to your upper lashes, especially the outer corners, to add length and volume. When you use white or nude eyeliner on the waterline, your eyes appear more prominent. Apply a sparkly eyeshadow or highlighter to the inner corners of your eyes to intensify the brightness even further. Having adequately defined eyebrows might also be beneficial. To frame your eyes, curve your eyebrows and fill up any bare spots.
Apply darker eyeshadow colors on the crease to provide depth and dimension. Add artificial lashes for a lift. Select natural-looking lashes that draw attention to your eyes without overpowering them. Therefore, incorporate these eye makeup routines into your makeup routine to make your eyes look more extensive and attractive.
Eye makeup trends have evolved over time, with different decades showcasing distinct styles. From the bold and colorful looks of the '80s to the more natural and neutral tones of recent years, eye makeup has reflected changing beauty standards and fashion trends.
Best Eye Makeup Tips For Bigger Looking Eyes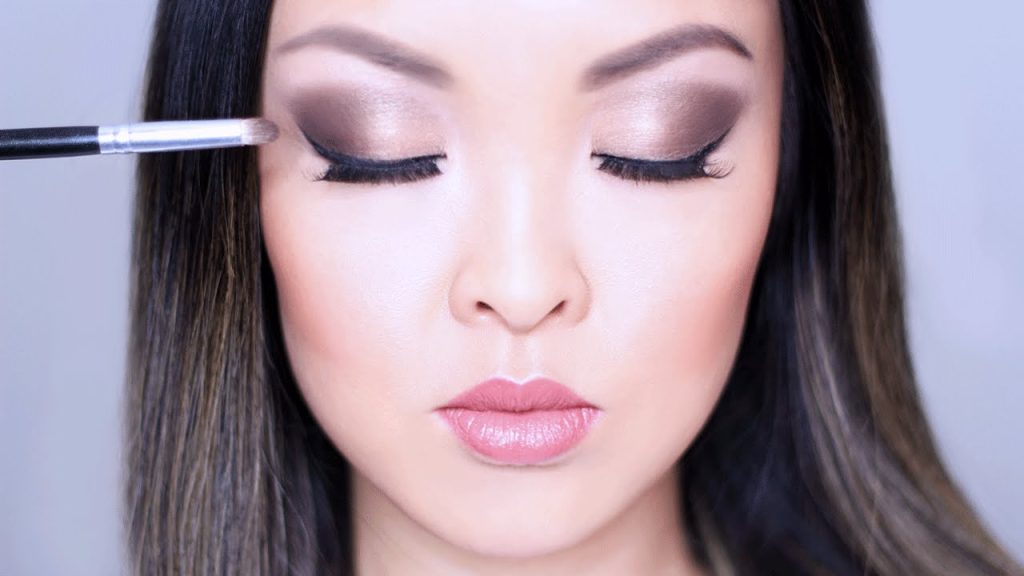 Eye makeup has the ability to draw attention to your eyes and enhance your natural features. You can try several techniques, regardless of whether you're trying for a simple everyday look or a substantial and dazzling style. These five eye makeup tips can help you create fantastic eye looks that turn heads, from defining your brows to mastering the eyeshadow technique. Set up to boost your eye makeup game and learn the power of wonderfully enhanced eyes.
Primer: Use an eyeshadow primer before putting on any eyeshadow. This will lay down a smooth foundation, improve the adhesion of the eyeshadow, and stop creasing or smudging throughout the day.
Transition shade: Begin by applying a transition shade to your crease. This color will give your eye makeup a sense of depth and dimension and should be darker than your skin tone.
Outer corner shade: Use a comparatively darker eyeshadow shade on the outer corner of your eyelid. Concentrate the color and mix it into the crease as a V or C. Your eyes will look more elevated, giving them more definition.
Highlight the inner corner: Use a light, shimmery eyeshadow or highlighter on the inner corners of your eyes. Your eyes will appear more alert and youthful as a result of rapidly brightening and opening them up.
Mascara and eyeliner: To define your eyes, line the top lash line with eyeliner. You can make a wing for a more dramatic effect or choose a narrow line for a more understated appearance. Apply mascara last to lengthen, volumize, and darken your lashes and draw attention to your eyes.
To achieve a seamless look, always remember to mix your eyeshadows thoroughly and pick shades that go well with your eye color. Try out a variety of techniques and hues to discover the look that best suits you.
Eyebrow/Eyelash Makeup Styles That Will Make Your Eyes Look Marginally Big
Never undervalue the ability of well-groomed eyebrows and thick eyelashes to improve your overall appearance. Eye makeup for your brows and eyelashes may define your features, frame your eyes, and give your appearance that extra charm. Now scroll down to obtain stunning, attention-grabbing results by following these three eyebrow and eyelash makeup suggestions, which range from shaping and filling in your brows to curling your lashes and using mascara.
1. Define Your Eyebrows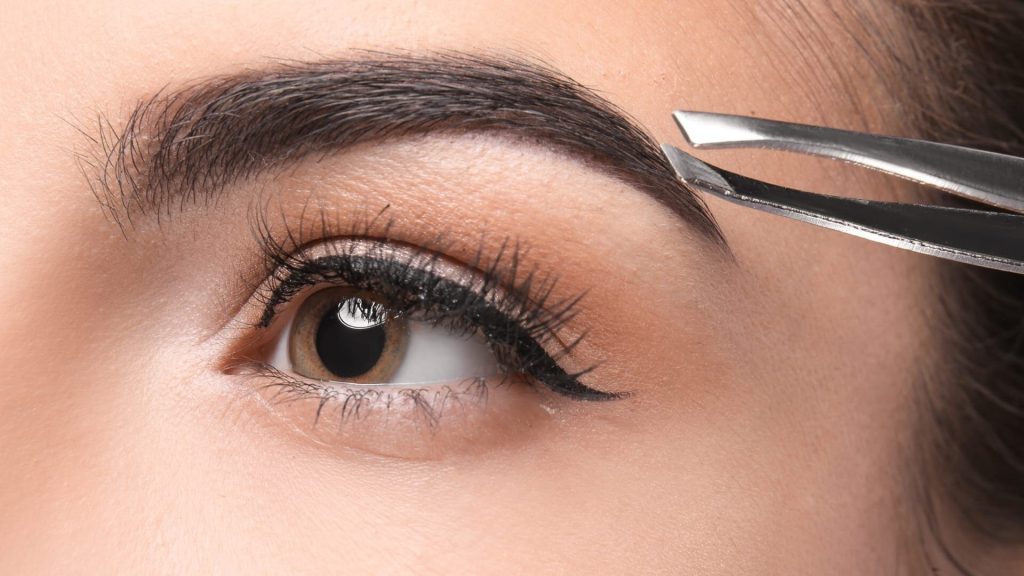 Your whole eye makeup look can benefit from neatly groomed and defined eyebrows. Here's how you can achieve it:
Use an eyebrow pencil or powder that matches the color of your hair to fill in any spare parts of your brows. Also, to create the look of actual hair, use short, feathery strokes.
Use a long-handled brush to comb through your brows to blend the makeup and provide a more natural appearance.
To keep your eyebrows appearing finished throughout the day, shape them using a clear or colored eyebrow gel.
2. Curl Your Eyelashes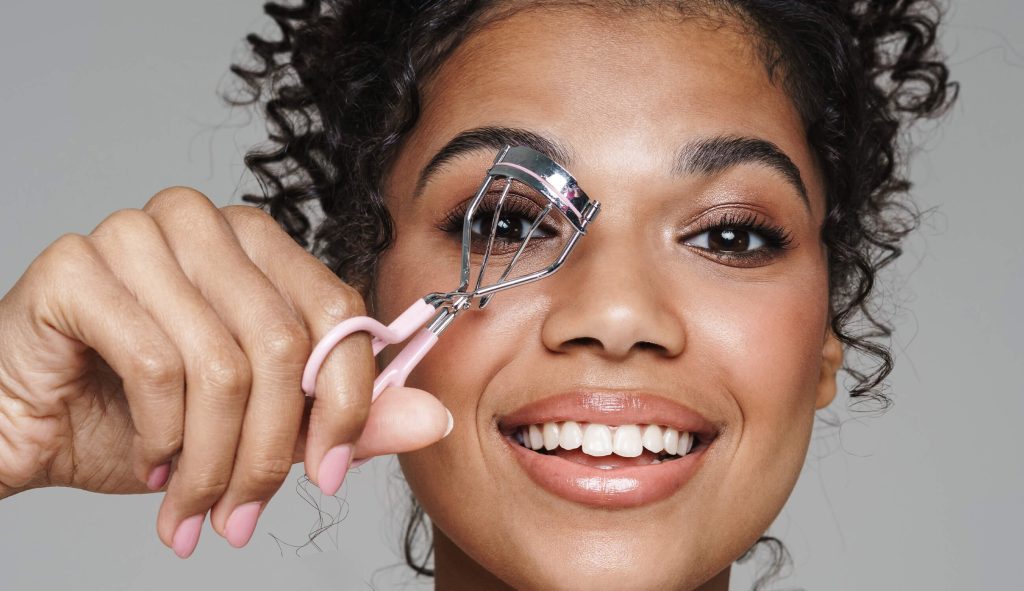 You can quickly appear more awake and open by curling your eyelashes. Follow these steps to curl your lashes effectively:
Holding an eyelash curler at the base of your upper lashes is an excellent place to start.
Release the curler after a brief period of gentle pressure.
Repeat the procedure by moving the curler to the middle of your lashes.
Finally, curl the lashes in the outer corners for a more extended appearance.
After curling your lashes, use mascara to keep them curled and give them a fuller appearance.
3. Apply Mascara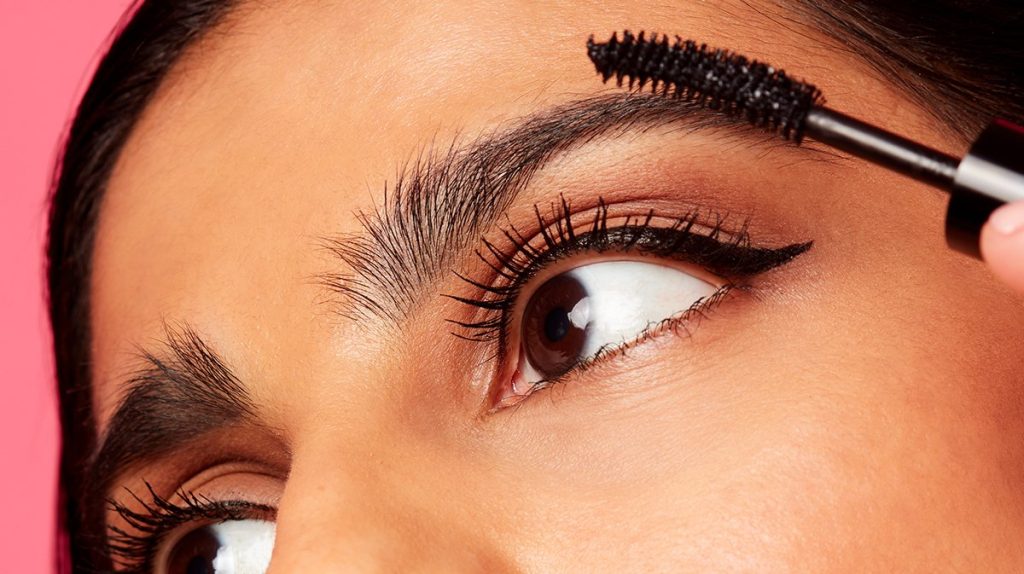 The look of your eyelashes might significantly change when you use mascara. Try the following methods for best results:
To create volume and length, wiggle the mascara wand at the base of your lashes before sweeping it upward.
Apply a second layer of mascara, paying special attention to the outside corners of your lashes for a more dramatic appearance.
While the mascara is still wet, use a clean mascara wand or lash comb to comb through your lashes to separate them and avoid clumping.
If you want your lashes to maintain their form throughout the day or if you will be in circumstances where your eyes may become moist, therefore you can think about applying waterproof mascara.
Fun Fact: Mascara was first used by ancient Egyptians as well. They used a mixture of crocodile dung, honey, and charcoal to darken their lashes.
Eye Care Tips
Taking care of your eyes involves more than just keeping them attractive. Take straightforward yet effective actions to address your issues if you battle with puffy eyes or dark circles under your eyes. You may lessen puffiness and the appearance of dark circles around your eyes, giving them a more rested and revitalized appearance, by including a few eye care recommendations into your daily regimen. So, scroll through and check out the best eye care tip.
Dark Circles: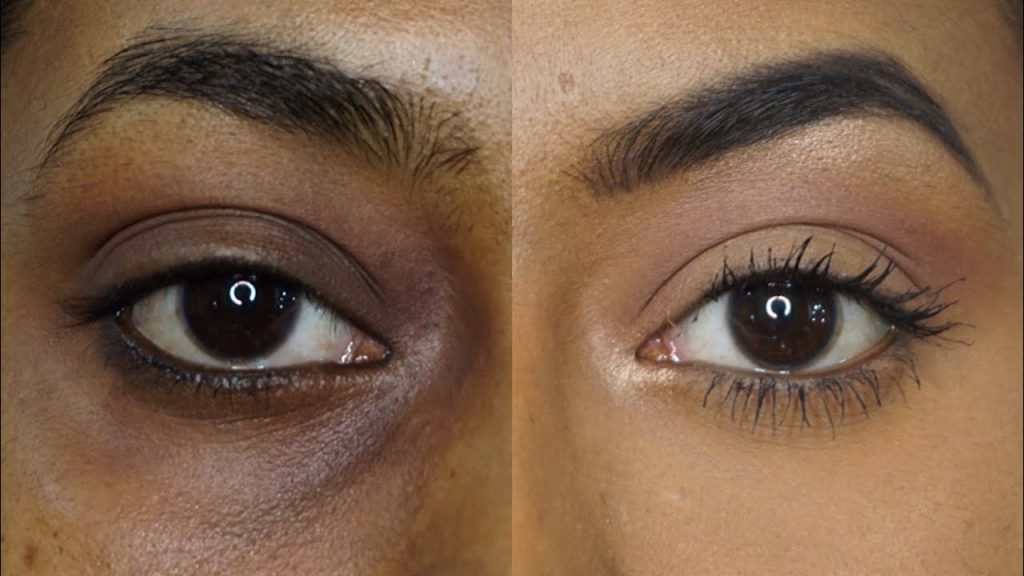 Under-eye discoloration or shadows are referred to as dark circles. Things like poor sleep, heredity, aging, or way of life decisions may bring them on. Dark circles can give the under-eye area a lifeless, worn-out, and older appearance.​​
Eye Care Tips For Dark Circles
Get enough sleep: Not getting enough sleep might cause dark circles to emerge. Hence, to help your body regenerate and lessen the look of dark circles, aim for 7-9 hours of quality sleep each night.
Use cold compresses to minimize the appearance of dark circles. Cold compresses can be anything from a chilled cucumber slice to a chilly spoon. Blood vessels are constricted, and the cold temperature decreases swelling.
Use a moisturizing eye cream: Look for an eye cream with hyaluronic acid or Vitamin C since these chemicals can help hydrate and brighten the area around the eyes. With your ring finger, tap it in softly as opposed to rubbing.
Fun Fact: Eyeshadow was popularized in the 1920s by Hollywood actress Clara Bow. She was known for her heavily emphasized eyes, which inspired the trend of applying colorful eyeshadow.
Puffy Eyes: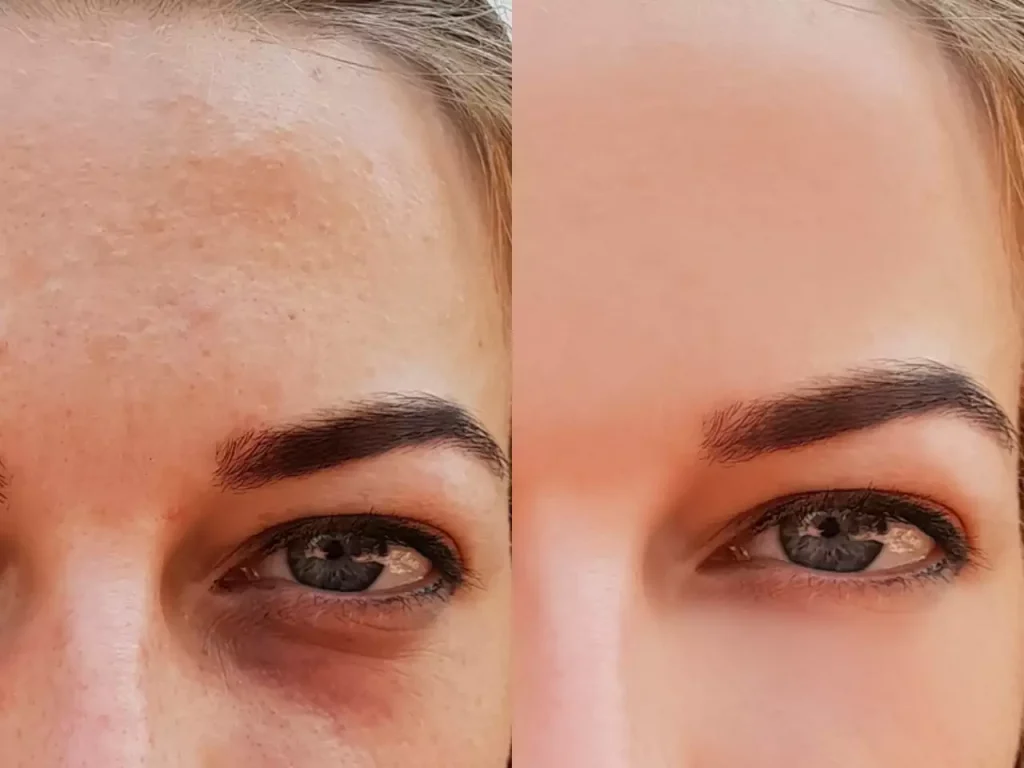 Puffy eyes develop when the tissues around the eyes enlarge or retain fluid. Conditions like allergies, fluid imbalance, exhaustion, or weeping may bring it on. Puffy eyes can make the under-eye area appear enlarged or inflated, giving the eyes a worn and lifeless expression.
Eye Care Tips For Puffy Eyes
Use a cold compress to reduce puffiness: This method is similar to how you would treat dark undereye circles. Cold spoons, cucumber slices, or even a towel can be used. Gently massage it over your closed eyes for a few minutes to minimize swelling.
Elevate your head while you sleep: If you experience morning puffiness, try using an additional cushion or slightly raising the head of your bed. This can lessen morning puffiness by preventing fluid from gathering around your eyes.
Utilize a calming eye gel: Seek out an eye gel with elements like aloe vera or cucumber extract, which can help reduce inflammation and calm swollen eyes. Therefore, you can apply the gel by applying a small amount and gently massaging it into the under-eye area.
Fun Fact: Eye makeup was used by ancient Egyptians as early as 4000 BC. They used a substance called "kohl" made from powdered minerals and mixed it with water or oil to create a black paste. Kohl was applied to the eyes for both cosmetic and medicinal purposes.
FAQs [Frequently Asked Questions]
Q: Any lifestyle factors to help make eyes look bigger?
A: Take care of allergies, eat a balanced diet, avoid too much sodium, and stay hydrated. However, non-makeup and makeup procedures work better in giving the appearance of wider eyes.
Q: How can I make my eyes look bigger?
A: Curl your lashes, use mascara, white eyeliner, brighten the inner corners of your eyes, define your eyebrows, strategically use eyeshadow, and think about wearing artificial lashes.
Q: Can makeup make my small eyes look bigger?
A: You should employ techniques like curling lashes, using a light eyeshadow on the lid, a darker shade in the crease, and using sparingly applied eyeliner. Then, apply mascara in certain places and accentuate the inner corners.
Q: Any non-makeup tips for bigger eyes?
A: Get enough sleep, apply a cold compress to reduce puffiness, keep neat eyebrows, select contacts or glasses that complement the shape of your eyes, and maintain proper eye care.
Q: Can colored contact lenses make my eyes look bigger?
A: You should pick enlarging lenses, light-colored lenses, or lenses that bring out the color of your eyes.
Fun Fact: False eyelashes were invented in 1916 by film director D.W. Griffith for his leading lady, actress Seena Owen. They were made from human hair woven onto a fine gauze material.
Final Words
So friends, here you go with the best eye makeup tips and tricks. As you explore the world of eye enchantment, you have discovered the techniques for enhancing your eyes' size, brightness, and allure. You have mastered the skill of captivating with a single glance by utilizing the creativity of makeup, embracing the power of well-groomed eyebrows, and boosting your lashes. Now that you are equipped with these transformational methods, you may confidently enter any space while radiating a magnetic energy that attracts everyone's attention. Once hidden treasures, your eyes shine like brilliant stars in the night sky, making an impression on everyone you encounter.
Also, friends, remember that embracing your distinctive characteristics and sense of style is the key to effectively enlarging your eyes. There are countless ways to express your uniqueness through your eyes, regardless of whether you want a delicate and natural approach or a big and dramatic style. Continue to experiment with various colors, textures, and techniques as you further discover the artistry of eye makeup. As you become an expert at blending and shading, unleash your creativity to produce eye appearances that are as distinctive and alluring as you.