Some women are blessed with naturally long, lush lashes, whereas some need falsies, many coats of mascara, lash extensions, and other products to improve their eyelash game. Women with short and thin eyelashes do everything but refuse to live with short, limp lashes. And we at All Around Women totally understand! You'll feel happier knowing you can get those natural bomb lashes, too.
If you've been living your life believing that you can't change the natural length and volume of your lashes or have been wondering how to grow eyelashes. We're happy to tell you that you can. No, we're not joking. There are natural ways to thicken and lengthen your lashes so you can show them off. These include a few things from your own kitchen. We are batting those bomb eyelashes is no longer a far-away fantasy. Keep reading to find out more!
How To Make Eyelashes Naturally Grow: Kitchen Wonders
Shea Butter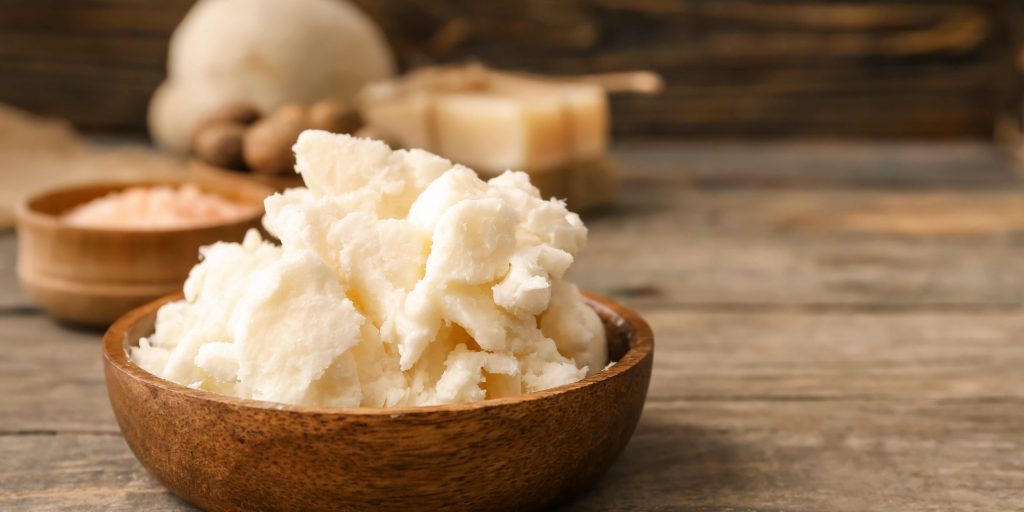 Shea butter is one of the best natural sources of high hydration. It works like a miracle to help your lashes grow long and strong. Shea butter also includes Vitamin C. It is a strong source of antioxidants that help prevent free radical damage in the environment and improve collagen formation. All these advantages work together to increase the strength and thickness of your eyelashes, which is important for them to grow long and healthy.
To use shea butter, start by applying a tiny or small-sized amount of Shea Butter using your fingertips. Then, apply the butter on your lashes gently. Make sure that there are no clumps. Lastly, wash off with lukewarm water in the morning.
Coconut Oil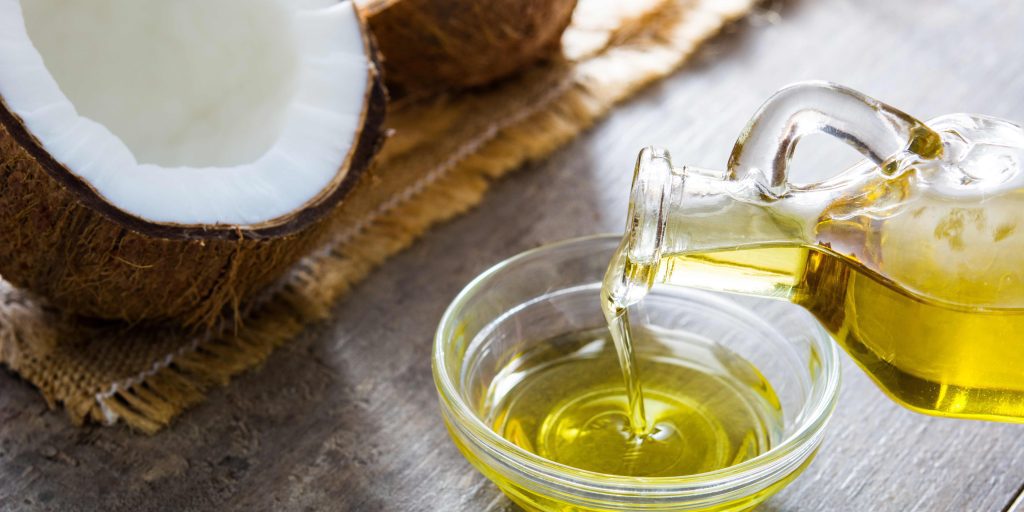 Coconut oil is a good natural remedy for thin and weakened lashes. The extracted coconut oil is extremely soft. This makes it completely safe to use around the sensitive area of an eye without causing any discomfort. Coconut oil's moisturizing features help to hold the protein in your hair and prevent the weaker strands of eyelashes from coming out.
To use coconut oil in lashes, start mixing 1 tablespoon of Coconut Oil in a bowl. Then, dip a clean cotton swab in the oil and gently swipe it along your lashes softly. Make sure the oil does not get into your eyes. After this, rinse with cold water in the morning.
Green Tea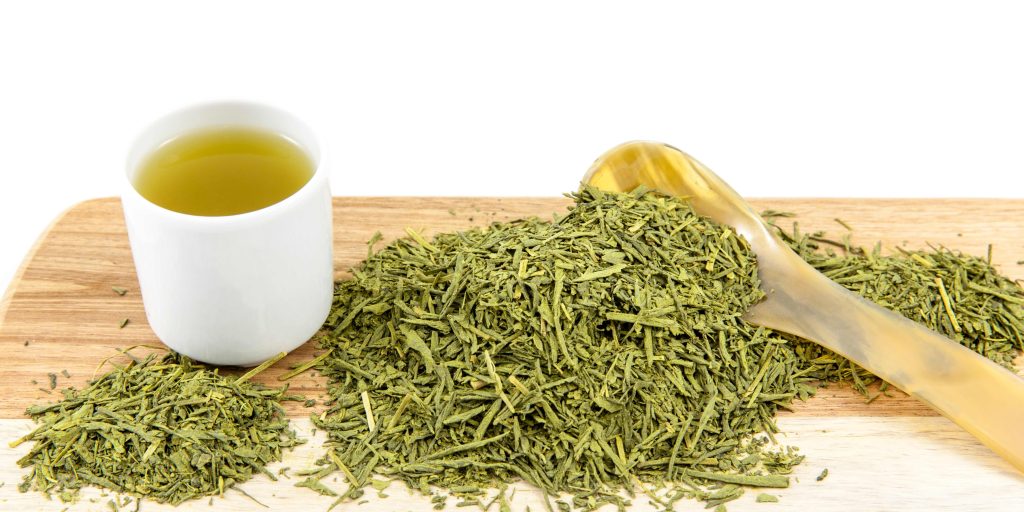 Green tea, the ingredient that people have come to value for its numerous health and pleasing advantages, offers yet another benefit for you. Its consumption and application have shown to be a good and excellent strategy to stimulate hair growth as well as improve hair shine and health. Green tea includes flavonoids and a polyphenol called epigallocatechin-3-gallate (EGCG), which increase the length and volume of your lashes. Whether consumed or applied to the lashes, green tea has an important effect.
To use green tea, begin with steeping a green tea bag in a cup of boiling water for 5-6 minutes. Allow the liquid to cool before filtering it. Then, dip a cotton sheet in the tea. After this, swipe it through your lashes. In the morning, wash off with cold water.
Castor Oil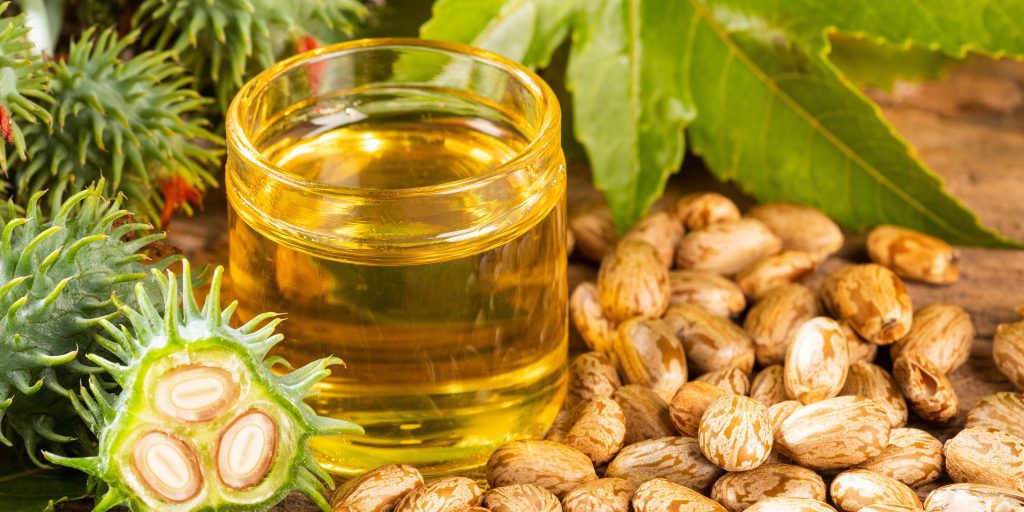 Castor oil is not new to the world of beauty. This beauty remedy has been trusted by many for their daily skincare and hair care regimen, from treating sunburns and wrinkles to avoiding premature greying and dandruff. One of its many benefits is that it promotes hair growth really well. It is the fastest cure for increasing lash growth, with effects five times faster than any other product.
To apply caster oil, start placing 1 tablespoon of castor oil in a mixing container. Then, dip a clean cotton swab or a spoolie in the oil and gently swipe it along your lashes softly. Make sure the oil does not get into your eyes. Rinse with cold water in the morning.
Petroleum Jelly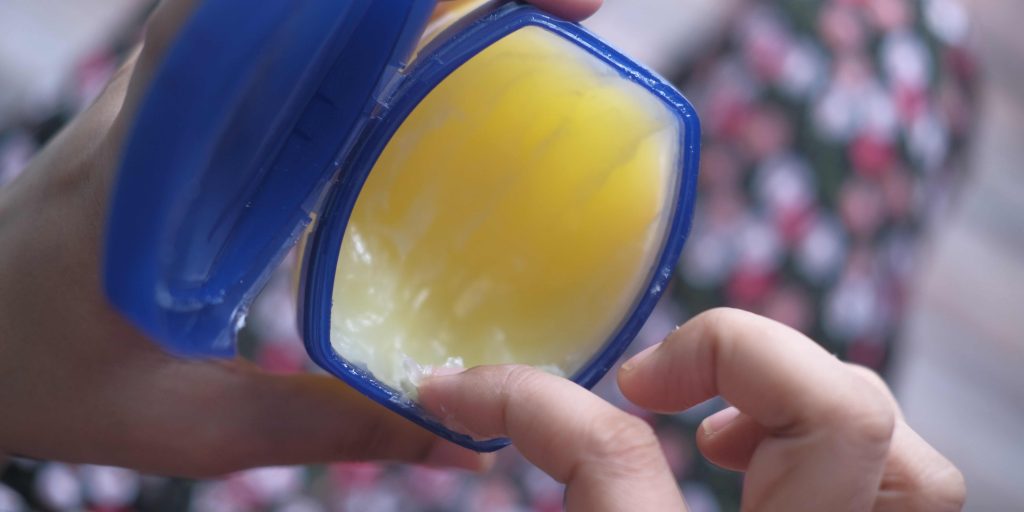 Petroleum Jelly or Vaseline is certainly an amazing product. It can also benefit your eyelashes along with keeping your lips smooth. Do you want to know how? Eyelashes can moisturize, soften, and help in the removal of eyelash mites.
Apply Vaseline to your top and lower lashes with a clean mascara wand. You can do this before putting on makeup to make it easier to remove mascara afterward.
Lemon Oil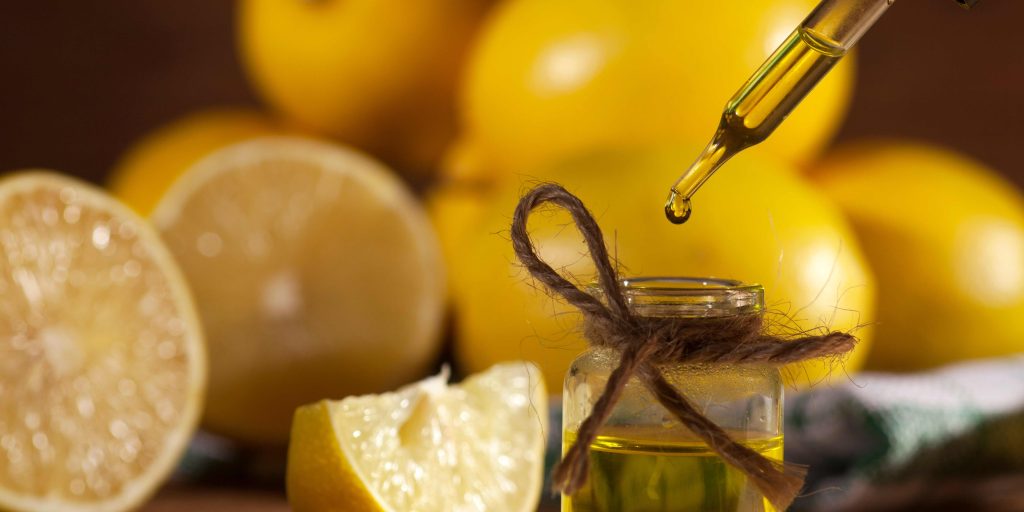 Lemon oil is widely used nowadays because of its many benefits. According to research, lemon oil can help cure eyelash mites, scale production, and promote fast hair growth.
Like other oils in the list, to apply lemon oil, use a spoolie or a cotton swab to brush your eyelashes. Make sure the oil does not get into your eyes. Rinse with cold water in the morning.
Olive Oil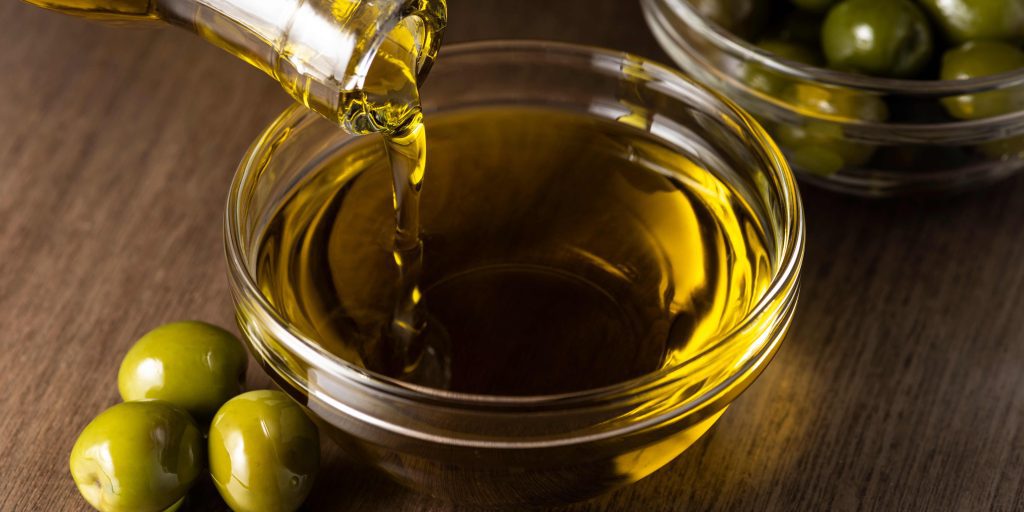 Using Olive Oil is a highly effective way of getting the best lashes naturally. The ingredient is high in important fatty acids, which promote hair development and prevent lash loss. Yes, it can do more than just make your skin beautiful and your hair appealing. It's a quick fix for getting your lash game on point.
To use this kitchen wonder on lashes, begin by pouring 1 tablespoon of virgin olive oil into a mixing dish. Then dip a clean cotton swab or spoolie in the oil and swipe it along your lashes softly. Make certain that the oil does not come into contact with your eyes. Rinse with cold water in the morning.
Vitamin E Oil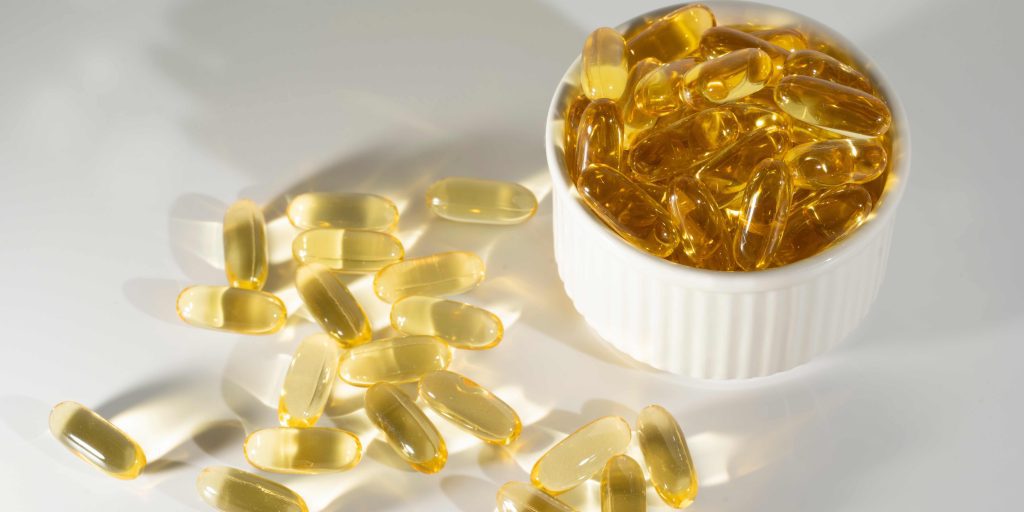 Vitamin E oil is a verified and effective way to enhance eyelash growth. Celebs such as the Kardashian sisters have confessed to using this powerful ingredient to thicken and grow their brows and lashes. It is a strong tonic that promotes hair growth and strengthens and reduces lash loss.
Simply rubbing your eyes with this oil can result in fuller lashes. To use vitamin E oil, start by opening a Vitamin E capsule and pour its contents into a cup. Then, gently massage this oil into your lashes with your fingertips. Rinse your eyes with cold water in the morning.
Massages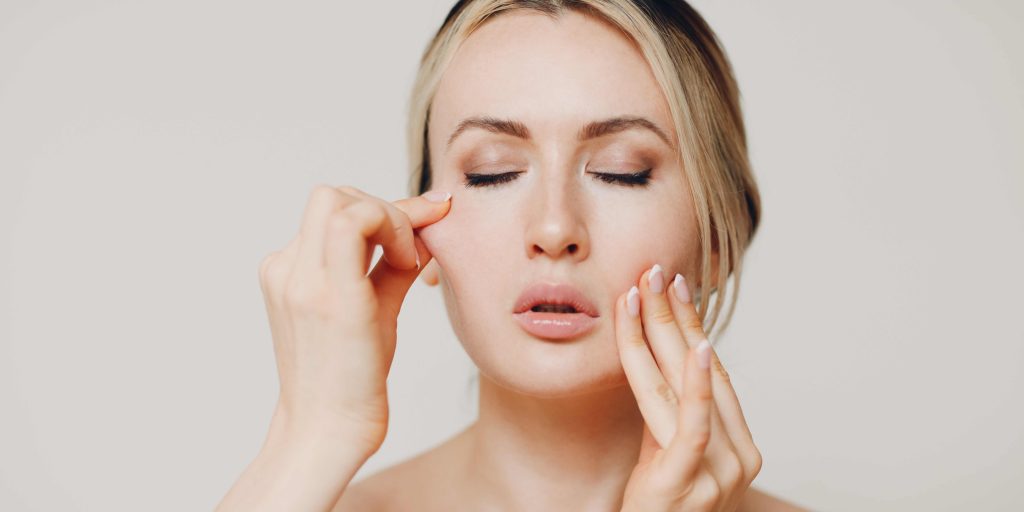 Massage your head on a daily basis to help prevent hair loss, strengthen your roots, and promote healthy hair growth. The same is true for your eyelashes. There are multiple benefits to massaging your eye area for a minute or so. Do it twice a day when applying your eye cream. It helps in the boosting of blood circulation, which is important for thick, long, and strong eyelashes.
Aloe Vera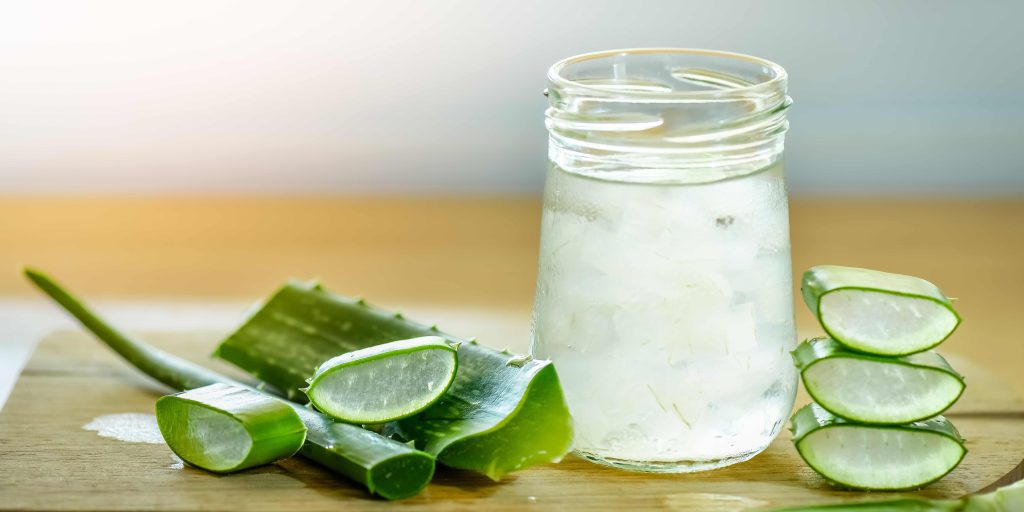 Aloe Vera is a good eye tonic that helps keep eyelashes thick and black while also refreshing the eyes. It is high in vitamins and minerals that promote health and the formation of new cells. It is also beneficial for rough skin and red spots.
To use aloe vera, take one Aloe Vera leaf and extract the gel. If you can't find fresh Aloe Vera leaves, you can use store-bought gel. However, make sure the store-bought Aloe Vera gel does not contain harsh chemicals, including artificial colors or fragrances. Blend the gel until it is thinner in texture. Using your fingertips, apply this gel to your lashes. Lastly, wash off with cold water in the morning.
Tips To Care For Eyelashes
Handle carefully
When removing your makeup, be extra careful around your lashes. Instead of rubbing your eyes with the makeup remover, gently tap and swipe to remove the makeup. The main reason for eyelash loss is forceful rubbing of the eyes.
Never go to sleep with eye makeup
Sleeping off while wearing eye makeup can harm your eyes in more ways than you would imagine. It can make your eyelash hair thin and weak in addition to resulting in dark circles, acne, and other skin problems.
Eat a balanced diet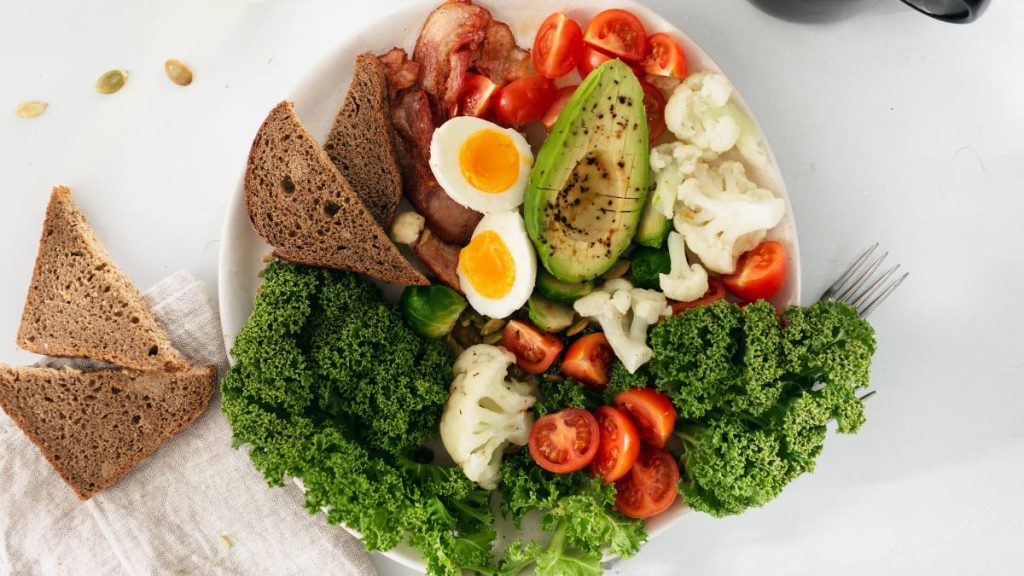 Include meals high in hair-growth nutrients such as Vitamin A, Vitamin B5, Omega-3 fatty acids, iron, and beta-carotene. Foods that are known to help with lash growth include salmon, green leafy vegetables, and garlic.
Use high-quality eye makeup
You should never take risks with cosmetic products. Always use mascara from a brand you trust and keep it in good condition. Expired eye makeup and cosmetics are bad for your lashes' health and put them at risk of breaking and fallout.
Take care when using the eyelash tools
Use extra care when using lash tools such as eyelash curlers and falsies. Avoid using an eyelash curler after the application of mascara since wet lashes are more prone to falling out. Also, while removing falsies, be careful and use a cleaner to remove the lash glue properly. Otherwise, it will dry out the line of lashes.
What NOT To Do For Healthier Lashes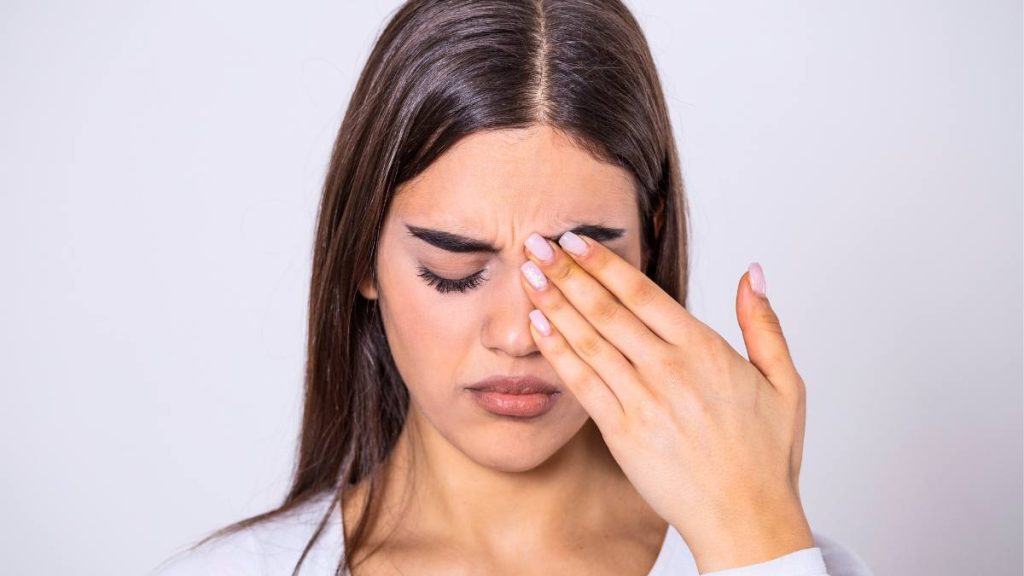 rubbing your eyes
It's tough not to rub your eyes at certain times, particularly when allergy season begins. You can find yourself rubbing your eyes fiercely when you are tired or frustrated. It's an awful concept. Your eyes are extremely sensitive, and forceful touch can cause eyelashes to fall out or little blood vessels to burst. So, avoid rubbing your eyes.
Using Harsh cleansers and makeup removers
Whatever you put on your eyes should be mild. Choose products free of parabens and scrubbing beads for anything from makeup remover to night cream. Not only can these products cause eyelash loss, but they can also create premature lines and wrinkles.
Are Eyelash Serums Good or Bad?
Eyelashes have gained popularity in recent years. Well, we believe it's worth gaining. As face serums, eyelash serums include a variety of active components that work hard to protect your lashes while promoting fuller, healthier lashes. The lightweight serum has a good combination and blend of oils, vitamins, and minerals. This makes it to get into the follicle without causing discomfort.
Furthermore, eyelash serums, which include certain good hair-raising agents, offer a safe and convenient one-stop solution for encouraging the growth of weak and thin lashes. So, if you are facing any issues with lashes and want to try serum. We recommend you try and invest in high-quality eyelash serum.
Infographic: Natural Way To Grow Eyelashes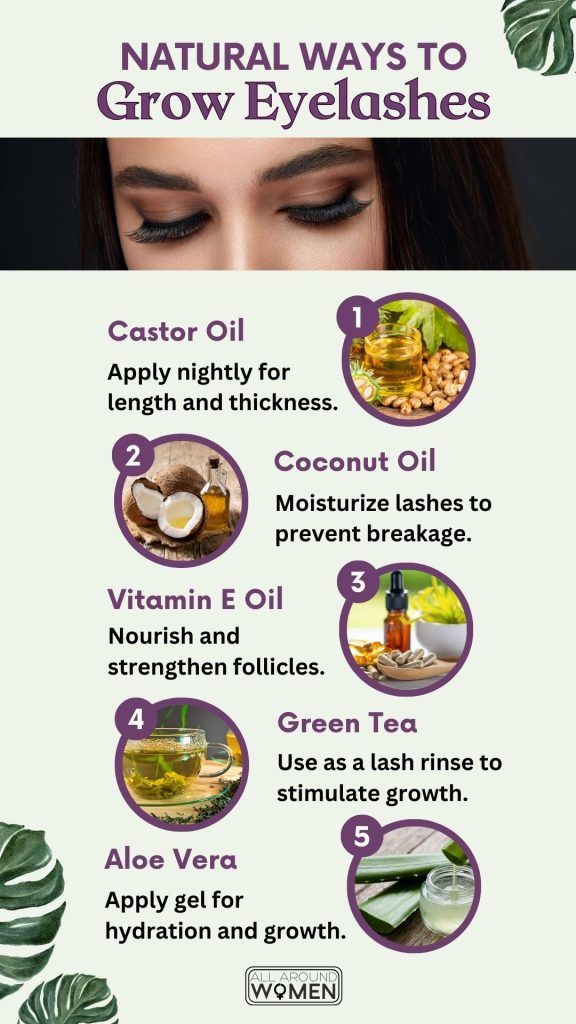 FAQs [Frequently Asked Questions]
Q: How can I use Vaseline for growing my eyelashes?
A: Start applying Vaseline petroleum jelly on a clean cotton sheet or a clean mascara wand. Make sure you use a small amount. Then, apply it gently from the start of your root to the tip. Focus on the lash tips. In the last, rinse off with cold water after a few hours.
Q: Why are my eyelashes thin?
A: Eyelashes become more breakable and thinner as you age. Eyelashes grow at a slower pace. Eyelashes become weak and thin when we do not take good care while removing makeup and using good quality products.
Q: How can I grow longer lashes?
A: Every night, apply a small amount of Vitamin E or Coconut Oil on your eyelashes. Keeping your lashes nourished and moisturized helps to stimulate the lash follicles, resulting in better hair growth and density.
Q: Can crying help in the growth of eyelashes?
A: No, there is no scientific proof that tears can make eyelashes grow longer. When you cry out, your body produces hormones and other substances, but none of them have been shown to benefit eyelash growth.
Q: How long does it take for eyelashes to regrow after being cut?
A: Do not panic if you accidentally cut your eyelashes too short with lash scissors. They should regrow in around 2-3 weeks.
Q: Are lash extensions harmful to your natural lashes?
A: Yes, lash extensions can cause harm to your natural lashes. They must be glued to your lashes with lash glue. When extension lashes are removed after use, the glue makes false lash removal difficult. It could cause the loss of your natural lashes.
Q: Does drinking water help in the growth of eyelashes?
A: Drinking enough water will help keep your hair follicles moist and provide enough food to boost eyelash growth. However, there is insufficient scientific data to support this claim.
Final Words
There are many types of home remedies that help grow one's eyelashes, such as aloe vera, shea butter, massage, lemon oil, and the natural remedies mentioned above. It's very important and crucial to avoid putting potentially dangerous substances or any chemical in or near your eyes. Always do a test before using anything on your skin or hair. Remember that consistency is key, and with these DIY methods and careful care, you can get naturally beautiful eyelashes.
Furthermore, using precaution while removing makeup and avoiding chemicals can help with improving the overall health of your lashes. Include these methods and recommendations into your daily routine, and you'll see your eyelashes grow with fresh energy and visual appeal.