Whether you're a makeup lover or just beginning to explore the world of cosmetics, this article will take you through the step-by-step procedure of achieving a flawless and polished makeup look like a pro. From preparing your skin to creating a flawless base, enhancing your eyes, sculpting your face, and perfecting your lips, we will cover everything you need to know to elevate your makeup skills.
You will be able to create gorgeous looks that complement your natural beauty and make you feel confident in any setting with the appropriate methods, equipment, and practice. So, get ready to unlock the secrets and tips of professional makeup applications and discover the transformative power of cosmetics. Let's dive in and explore makeup artistry!
How to do makeup like a pro: A step-by-step guide
1. Prep your skin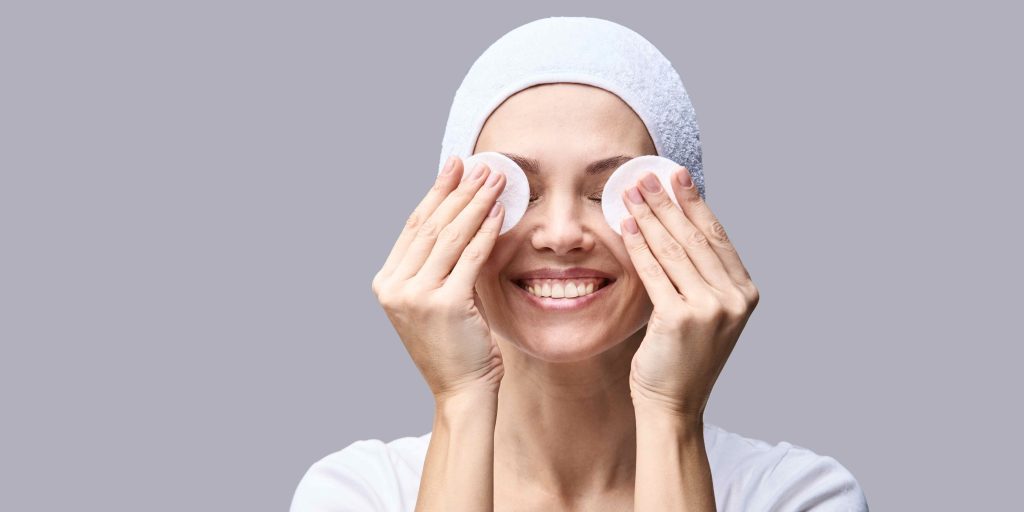 Start by cleaning your face using a gentle cleanser suited for your skin type. Massage the cleanser onto damp skin, then rinse it off with lukewarm water. Wipe and pat your face dry with a clean towel.
Follow up with a moisturizer that is suitable for your skin type. Apply and rub it all over your face and neck, gently massaging it in using upward motions. Allow moisturizer to fully absorb into your skin before proceeding to the next step.
If you have facial hair, shave your face or groom your eyebrows to create a clean canvas for makeup. Use a clean razor or tweezers, and be careful to avoid any nicks or cuts.
2. Apply a primer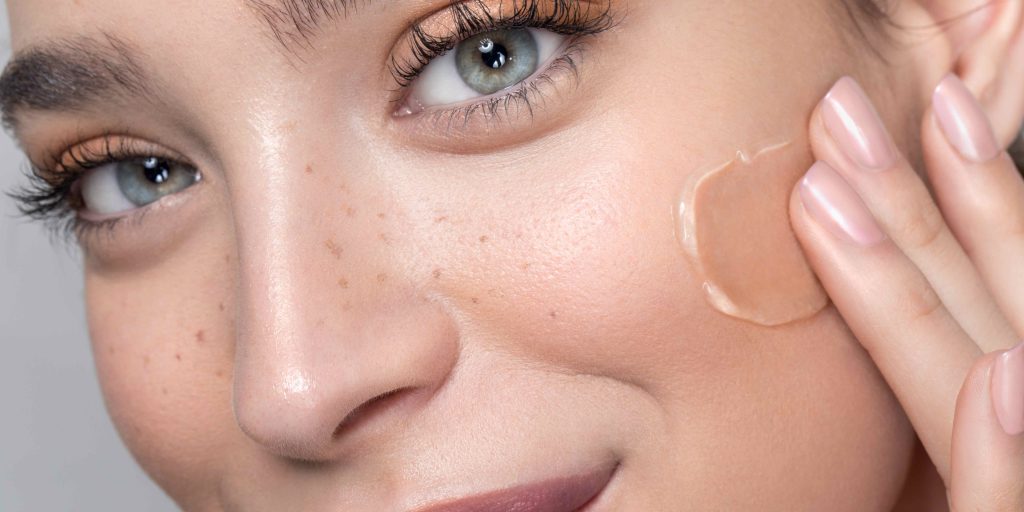 Primer helps in creating a smooth base for your makeup, fills in fine lines and pores, and enhances the longevity of your foundation.
Choose a primer type that suits your skin and concerns. For oily skin, opt for a mattifying primer, while a hydrating primer is better for dry skin. For large pores, look for a primer that specifically targets pore minimizing.
Take out a small amount of primer and apply it all over your face, paying attention to areas with visible pores or texture. Use your ring and middle fingers or a makeup brush to blend it in, ensuring an even and seamless application.
3. Foundation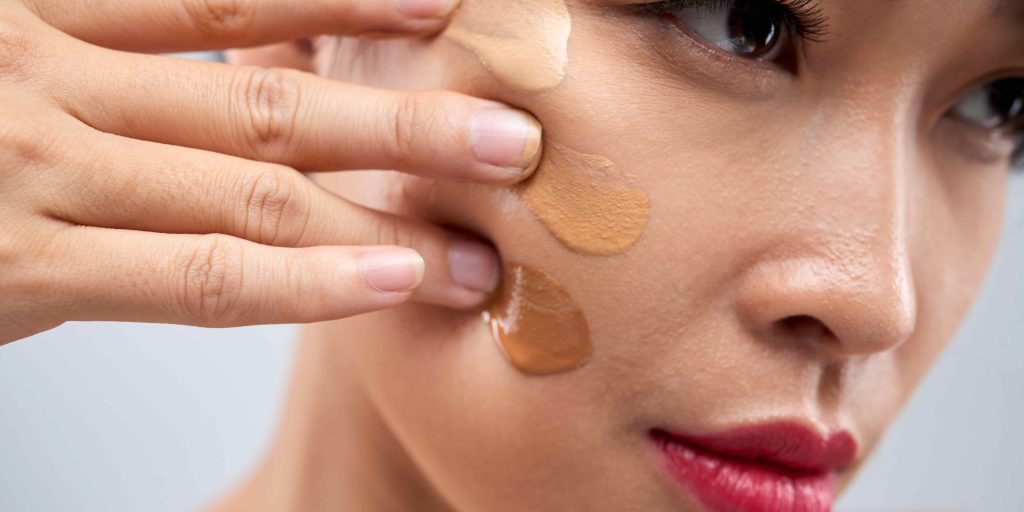 Choose a foundation that matches and goes with your skin shade and tone. Test it on your jawline or wrist to ensure a proper color match. If needed, you can also mix different shades to achieve the perfect match.
Start by applying small dots or lines of foundation on your forehead, cheeks, chin, and nose. You can use a foundation brush, a makeup sponge, or your fingers for application.
Blend the foundation outward using gentle strokes or patting motions. Make sure to blend it into your hairline, jawline, and neck to avoid any visible lines. However, take your time to achieve a seamless and natural finish.
4. Concealer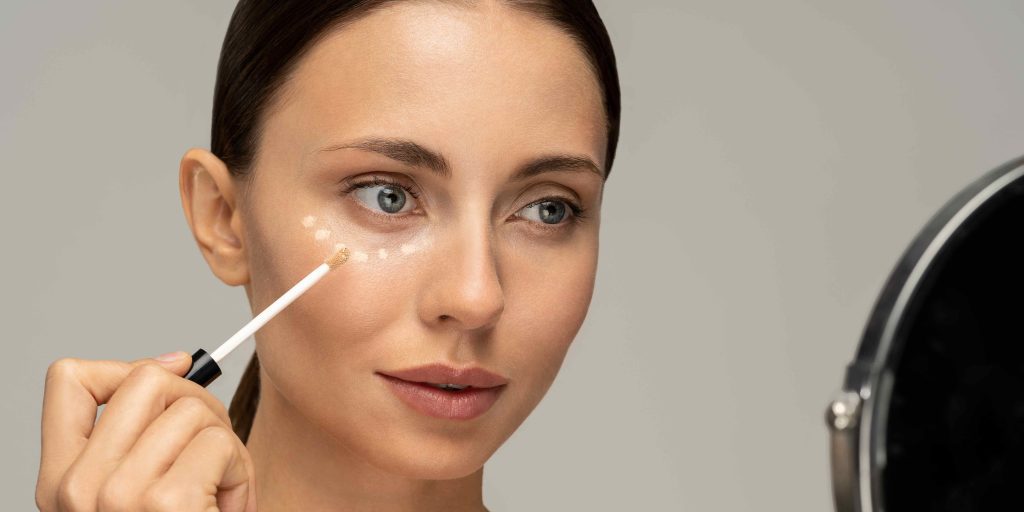 Choose a concealer shade color that matches your skin tone or is slightly lighter to cover blemishes, dark circles, or redness. You can also use color-correcting concealers to target specific concerns (e.g., green for redness, peach for dark circles).
Apply small dots or thin lines of concealer directly onto the areas you want to cover. This can include blemishes, under-eye circles, or any redness or discoloration.
Gently blend the concealer using a small brush, a damp makeup sponge, or your fingertips. Pat and blend the edges to ensure seamless integration with the foundation. Avoid rubbing or pulling the delicate skin around the eyes.
5. Setting powder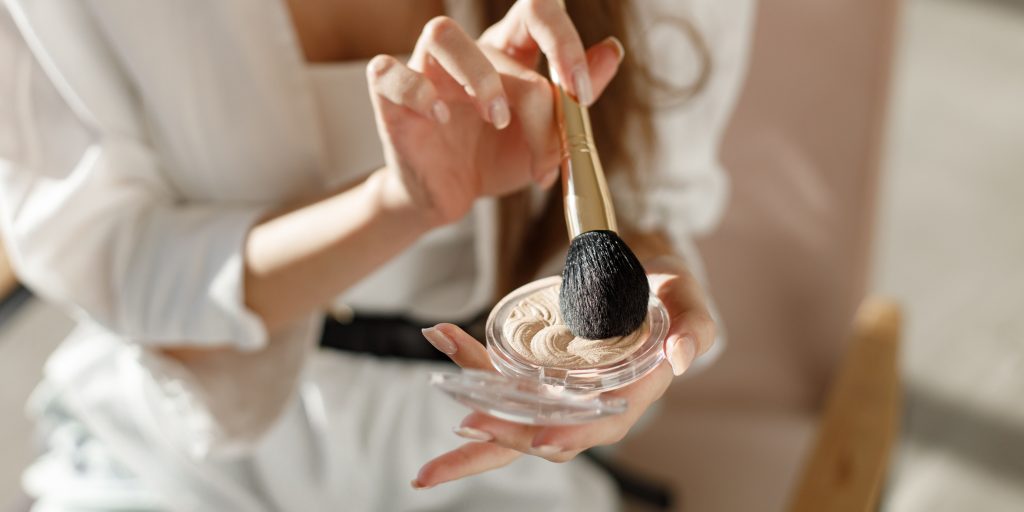 Apply a translucent setting powder to set your foundation and concealer, helping them last longer and reducing shine throughout the day.
Take a fluffy powder brush or a powder puff and lightly dip it into the setting powder. Tap off and remove any excess powder before applying it to your face.
Gently dust the powder all over your face and cover the areas that tend to get oily or where makeup tends to crease, such as the T-zone (forehead, nose, and chin).
Tap the powder into your skin using a brush or puff rather than rubbing it. This helps to set the makeup without disturbing the foundation and concealer underneath.
6. Eye makeup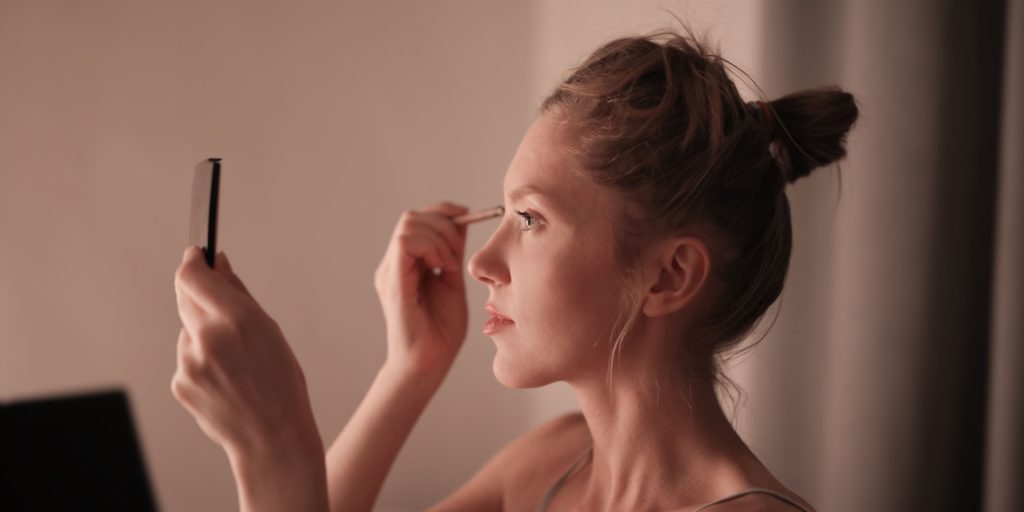 Start by applying a primer eyeshadow to your eyelids. This helps to create a smooth base, enhance color payoff, and prevent creasing.
Choose your desired eyeshadow colors and apply them gradually. Start with a light shade as a base color all over the lid. Then, apply darker shades in the crease and outer corners for depth and dimension.
Blend the eyeshadows using a fluffy blending brush to achieve a seamless transition between colors. Use gentle windshield wiper motions or small circular motions to blend the colors together.
Complete your eye makeup by applying eyeliner along your lash line and mascara to your upper and lower lashes. Moreover, you can add false lashes, if desired, for a more dramatic look.
7. Blush and bronzer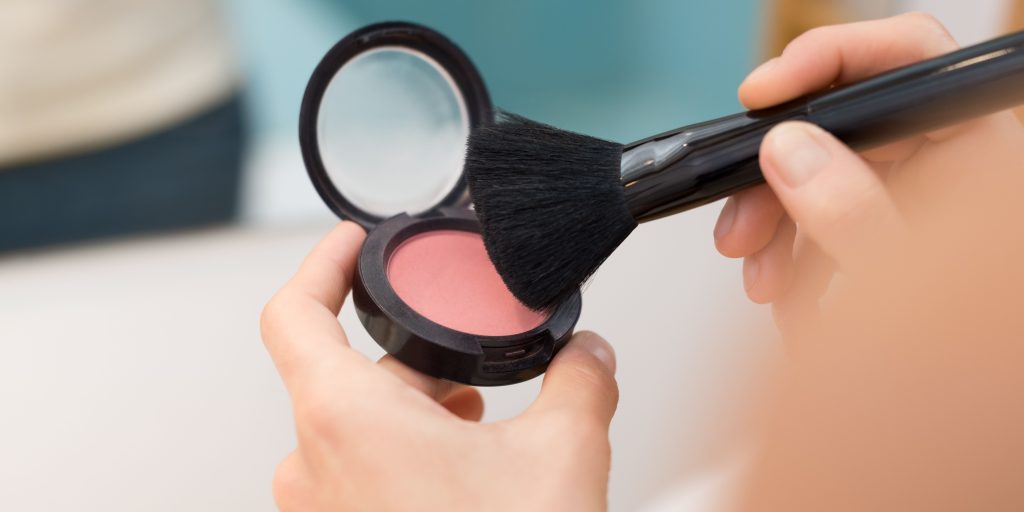 Apply blush to the apple portion of your cheeks, blending it upwards towards your temples. Go with a shade color that complements your skin tone. Moreover, you can use a blush brush or your fingers for application.
Use a matte bronzer to contour and add warmth to your face. Apply it to the under your cheeks and along your jawline. Use a fluffy brush to blend the bronzer for a natural-looking contour without any harsh lines.
8. Highlighter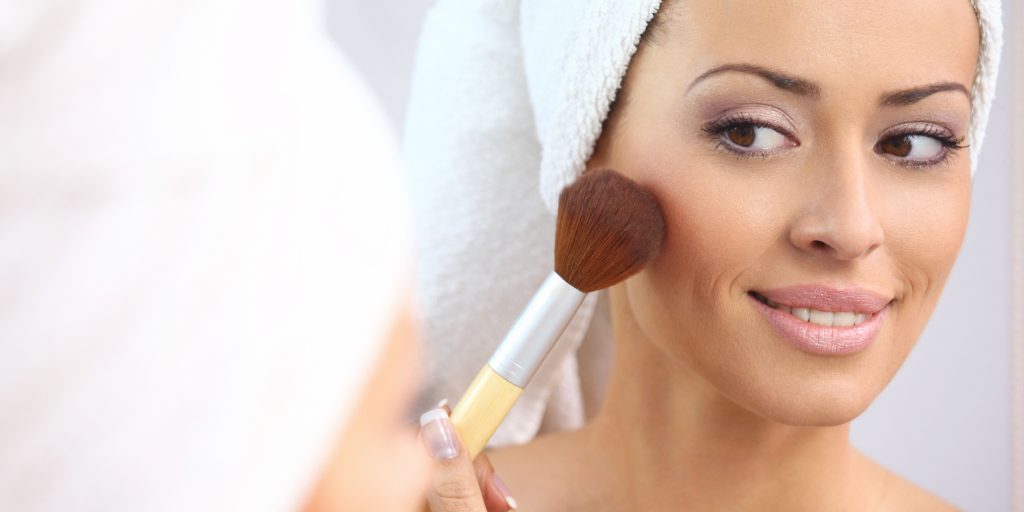 Use a highlighter on the face on high points to add a luminous glow. Now, what are these high points, you ask? They include the tops of your cheekbones, the brow bone, the bridge of your nose, and the cupid's bow.
Apply the highlighter with a fan brush or a tiny fluffy brush. Gently sweep it onto the desired areas, building up the intensity if desired. But don't use too much product, as it can result in an overly shiny or metallic look.
9. lip Outline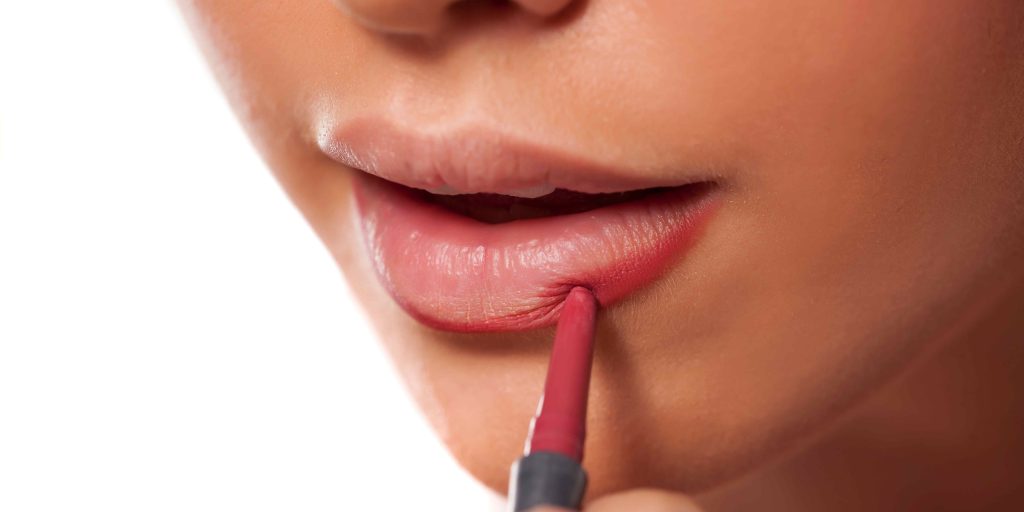 Use a lip liner or lip pencil that matches your lipstick shade or is slightly darker to outline your lips. So, start from the cupid's bow and carefully follow the natural shape of your lips.
To give the illusion of bigger lips, add the lip liner slightly beyond your natural lip line. However, be precise and steady while outlining to achieve a clean and defined look.
10. Application of lipstick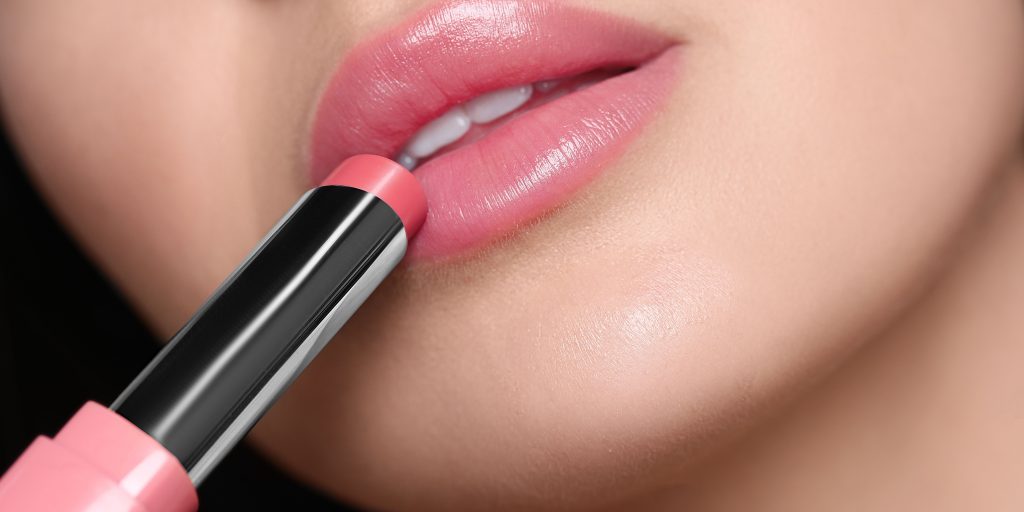 Fill in your lips with lipstick using a lip brush or apply it directly from the tube. Apply from the center and move outward of your lips, ensuring even coverage.
Remove any extra product, and wipe your lips with a tissue. This helps to set the lipstick and prevent it from smudging or transferring.
If desired, reapply another layer of lipstick to intensify the color and improve longevity.
11. Touch-up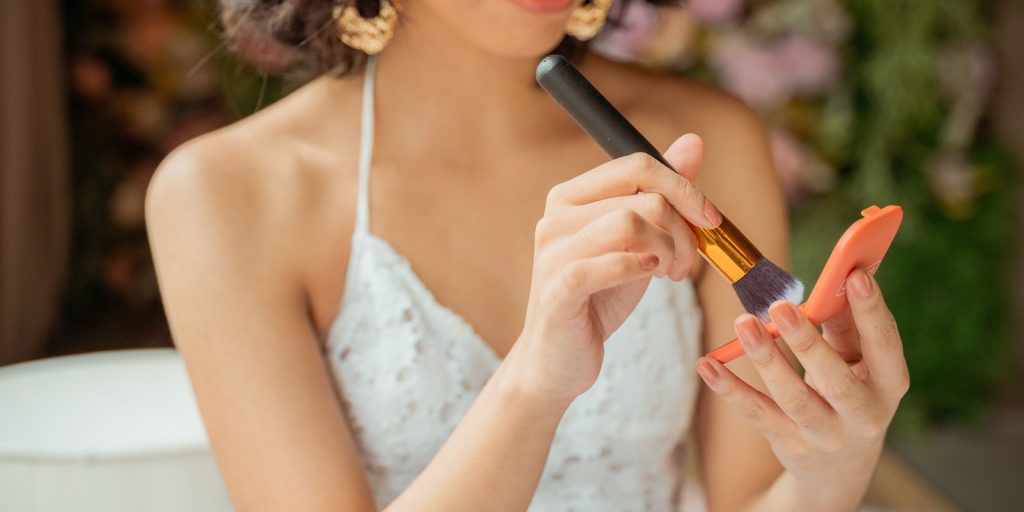 Check your makeup: Take a moment to inspect your makeup in natural lighting or with the help of a magnifying mirror. Look for any areas that may need adjustments or touch-ups.
Blotting excess oil: If you notice any shine or oiliness on your face, especially in the T-zone, use blotting paper or clean tissue to blot away the excess oil gently. However, avoid rubbing or wiping as it may disturb your makeup.
Concealer touch-up: If any blemishes, redness, or dark circles have become visible, use a small brush or your fingertips to dab a small amount of concealer onto those areas. Blend it gently with a tapping motion to blend it with the surrounding makeup seamlessly.
Powder touch-up: If your skin appears shiny or if your foundation or concealer has started to fade, touch up with a light dusting of translucent powder. Moreover, use a fluffy brush to lightly press the powder onto the areas that need it, focusing on the T-zone and any other areas prone to oiliness.
Lip touch-up: If your lipstick has worn off or faded, use a lip brush to reapply the lipstick. Apply it to start from the center and move outward of your lips. Blot with a tissue and reapply another layer if needed.
Eye touch-up: If your eyeliner has smudged or your eyeshadow has creased, gently clean up any smudges with a cotton swab dipped in makeup remover. Then, use a small blending brush to blend and fix any creasing in your eyeshadow.
12. Set your makeup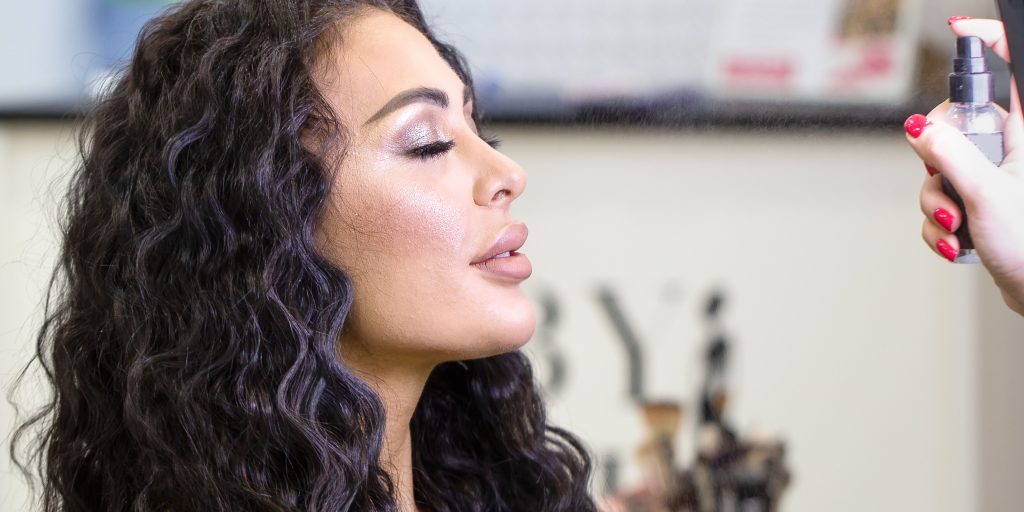 Makeup setting spray: After completing your touch-ups, finish off your makeup by setting it with a makeup setting spray. Hold the bottle at arm's length away from your face and mist it evenly over your entire face, keeping your eyes closed. The setting spray helps to lock in your makeup and extend its longevity.
Patting or pressing motion: To enhance the effectiveness of the setting spray, use a clean makeup sponge or your fingertips to pat or press the setting spray into your skin gently. This helps the product to penetrate and adhere to your makeup, providing a long-lasting finish.
Allow it to dry: Give the setting spray a few seconds to dry completely before touching your face or applying any additional products. Also, avoid touching or rubbing your face during this time to prevent disturbing the makeup.
Infographic- How To Do Makeup Like Pro!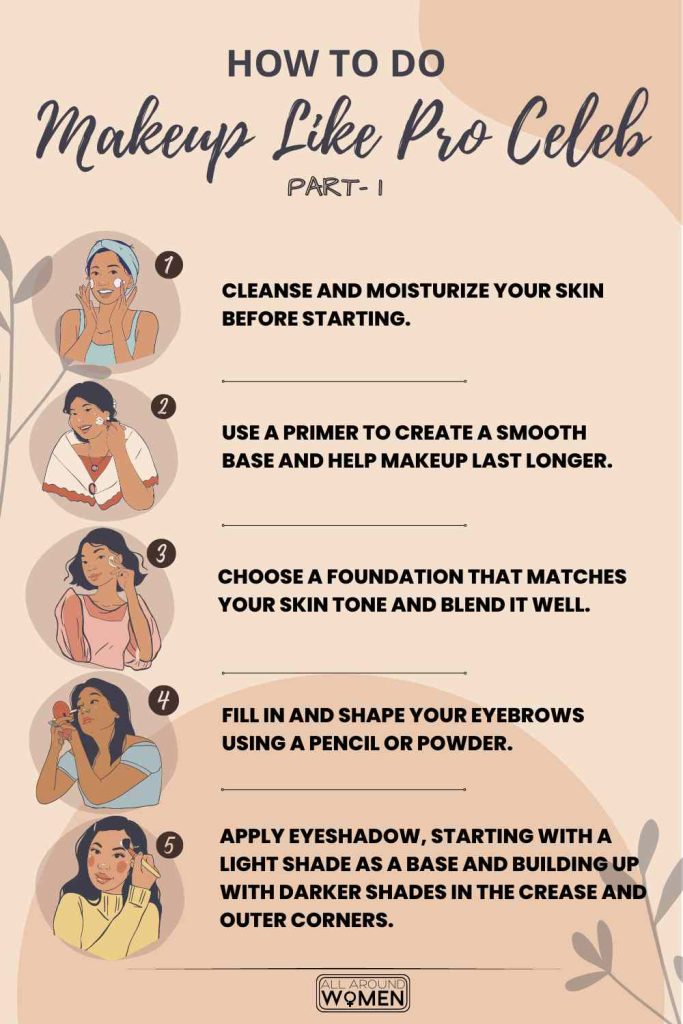 FAQs [frequently asked questions]
Q. How to choose the right foundation shade?
A. To choose the right foundation shade, test the foundation on your jawline or wrist to ensure a proper color match. The shade should seamlessly blend into your skin without leaving a noticeable line. Consider natural lighting when making your decision.
Q. How can I make my eyes stand out with makeup?
A. To make your eyes stand out, start by defining your eyebrows using a brow pencil or powder. Then, choose eyeshadow colors that complement your eye color. Apply them gradually, building up from a light shade as a base to darker shades in the crease and outer corners. Finish with eyeliner and mascara to define your lashes.
Q. How do I apply blush and bronzer for a natural look?
A. Apply blush while smiling, mixing it into the apples of your cheekbones and up towards your temples. Go with a color shade that suits your skin tone. For bronzer, use a matte shade to add warmth and dimension. Apply on your cheek and along your jawline hollows with it. Blend well to avoid harsh lines.
Q. How can I make lipstick last longer?
A. To make your lipstick last longer, start by exfoliating your lips gently to remove any dry skin. Apply a lip balm or primer to moisturize and prepare them for color. Also, use a lip liner or lip pencil that is slightly darker or the same color as your lipstick to define your lips. Fill your lips with lipstick using a lip brush. Blot with a tissue and reapply for a long-lasting color.
Q. How can I set my makeup to make it last longer?
A. To set your makeup and make it last longer, use a makeup setting spray. Hold the bottle about arm's length away from your face and mist it evenly. This helps to lock in your makeup and provide a fresh and long-lasting look. Then, allow the setting spray to dry completely before touching your face or applying any additional products.
Conclusion
Makeup is a form of self-expression, and the key to mastering it lies in practice, experimentation, and embracing your individuality. Take the knowledge you've acquired and adapt it to suit your own unique style and preferences. Whether you prefer a natural, everyday look or enjoy experimenting with bold and vibrant colors, let your creativity shine through.
Makeup has the ability to draw attention to your best features, instill confidence, and provide you with a variety of methods to express yourself. So, embrace your inner artist, experiment with various looks, and don't be scared to move beyond your comfort zone.