Are you thinking about having a spray tan but scared that it will fade too fast or that you won't be able to keep your bronzed glow? We think that a good tan begins with healthy skin, and tan sprays have been created to make you feel better as well as look better. Spray tans really improve your skin and give you a beautiful glow for a longer period of time. But how long will a spray tan last?
The answer is dependent on a number of factors, including your skin's health, complexion, and pre- and post-spray tan treatment. In this article, we'll discuss questions like "How long does a spray tan last?" as well as share some spray tan suggestions to help you get the most out of your tan. 
How Does a Spray Tan Work With Skin?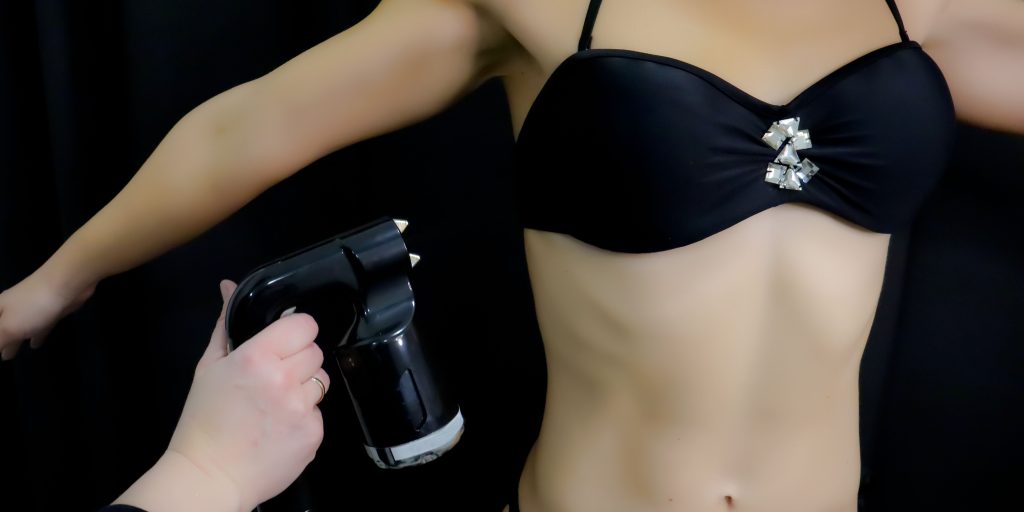 Sunlight and spray tanning both have an effect on your skin's top layer. In the epidermis, UV rays enter into the skin epidermis. Still, spray tanning just affects the top layer, where our skin cells regenerate continually, and a new layer forms every 40 days.
Tanning sessions are a perfect substitute for tanning in the sun, under UV rays, or in a tanning bed, which can cause wrinkles, pigmentation, accelerated symptoms of aging, and skin cancer. All thanks to high-quality, skin-friendly substances formulated available in the market. Which offers the greatest color and feel.
What Is The Spray Tanning Process Like?
A spray tanning session is totally personalized, and the effects are instant due to the airbrushing technology usage. It takes around 10 minutes to spray your entire body. Unlike tanning booths, where you must move and position yourself properly to get an even tan, airbrushing provides a perfectly blended tan that will never turn your orange.
Furthermore, your tan will not make you feel sticky or smell bad. In fact, you won't even realize it until you cross by a mirror! After the session is over, you'll be able to look over the outcomes and go about your usual.
How Long Does a Spray Tan Last?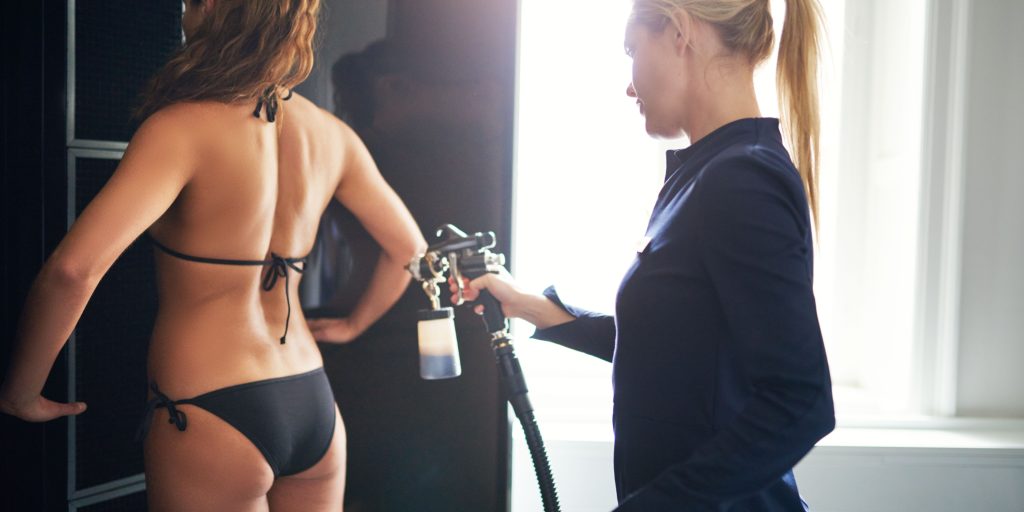 Depending on your particular skin type. A spray tan can last up to 8-10 days. Whereas spray tan on lighter skin tones can remain for 5 days, medium colors for 7-8 days, and deeper shades for up to 10 days. To be on the safe side, we assume that spray tan will last between 5-7 days. Depending on your spray tan maintenance routine.
How To Make Spray Tan Last Longer?
Take a lukewarm shower
When you wash off your spray tan, use lukewarm water and avoid using scrubs or soaps. This could reduce your tan. Simply rinse the water until it goes clean. After that, take short baths or showers and use sulfate-free shower creams. It will make a huge impact on the longevity of your spray tan.
Moisturize your skin twice a day
Dry skin sheds faster. This means your tan fades faster. So, keep your skin moisturized by using moisturizer day and night. 
Keep skincare as basic as possible
To keep your face tan from fading, avoid using acids (such as AHAs or BHAs) or retinoids (such as retinol or bakuchiol) since these skincare products increase skin cell turnover and will cause your tan to fade faster.
Exfoliate for an even fading
Using an exfoliant can appear strange, but it can help your spray tan stay longer. It stops your tan from seeming uneven and helps it fade evenly by gently exfoliating away dead skin cells.
Avoid using chlorine
If you're a frequent swimmer or want to soak up some winter sun. Try not to spend too much time in the water. Chlorine and salt can remove your tan.
Boost your glow
The simplest approach to extend the life and period of the spray tan is to keep topping it up. A gradual tanning lotion will maintain and keep your skin moisturized while gradually improving your tan.
Keep your tan safe during the workout
We'd never advise you to quit exercising since, like getting a tan, it can make you feel good and increase your confidence. However, sweating and tight-fitting clothing might cause your tan to fade.
So, we recommend putting a touch of baby powder in any areas where skin can come into contact (consider cleavage, underarms, thighs, and elbow pit). It will absorb moisture and reduce friction, maintaining your beautiful glow.
Tips To Make Your Spray Tan Last Longer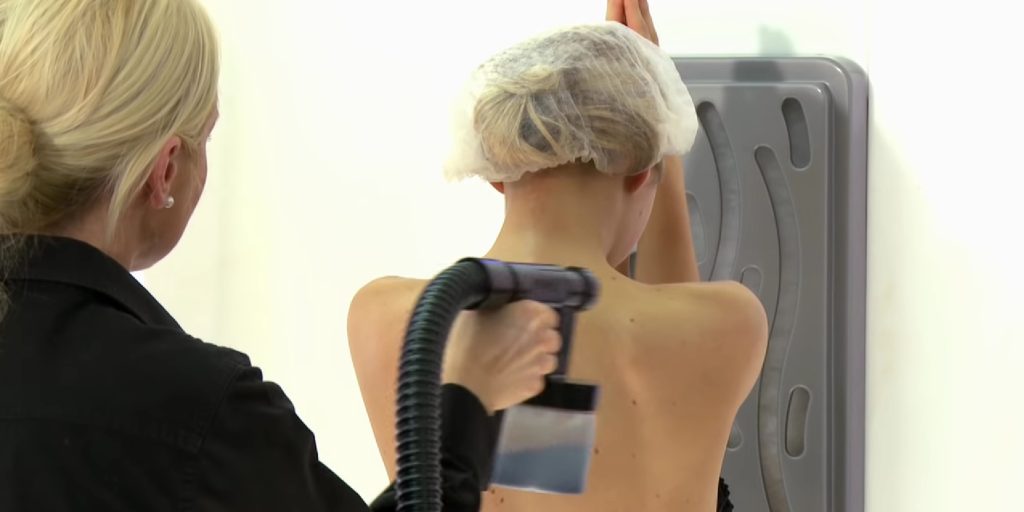 Now that we know how long a spray tan lasts. We want to make sure that you get the most out of all your tans. The following recommendations can help your tan remain longer and protect your skin from dangerous chemicals.
What To Do Before Getting A Spray Tan?
The process of getting a spray tan begins much earlier than you might think when you enter the tanning salon. One of the most important factors influencing how long a spray tan lasts is your pre-spray tan maintenance. Here are a few tips for preparing for a spray tan:
If you're getting any other treatments done (like nails, waxing, facial, massage, etc.). Make sure you schedule them before your spray tan.  
Wax at least 24 hours in advance of your visit. Wax may stick to the skin and make it difficult for your spray tan to stay on.
At least 4 hours before getting a spray tan, exfoliate in the shower. This not only helps the solution used for tanning stick to your skin, but it also allows your pores to close sufficiently to avoid discoloration.
When exfoliating, choose an exfoliator that is oil-free and manufactured from organic substances. Using an oil-based exfoliant or moisturizer before tanning can have long-term adverse effects on your skin.
Shave at least 4 hours before your appointment, not earlier.
Make sure you don't have any lotions or makeup on when you go for your visit. Keep your skin clean.
What To Do During A Spray Tan?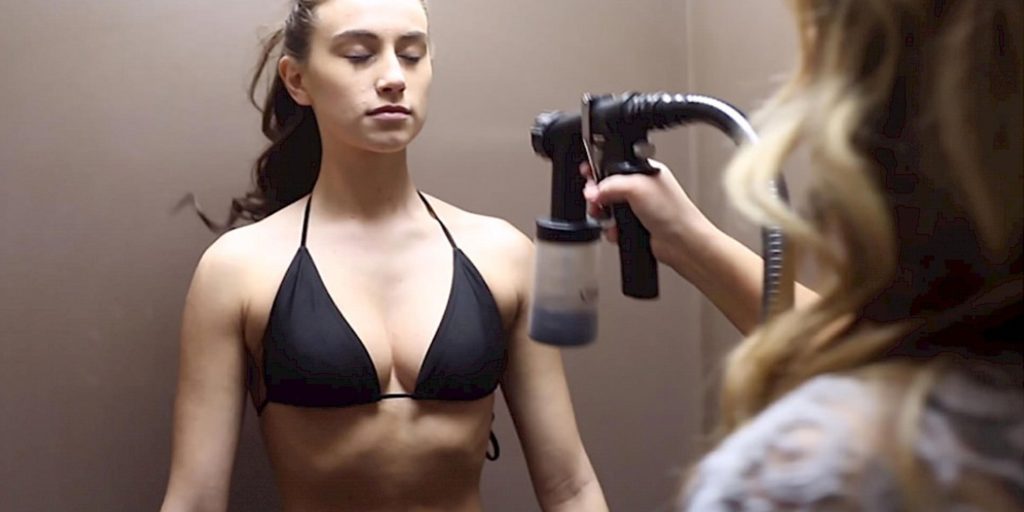 So, you've got everything set up and are ready for your spray tan. Now, it's time to get you equipped for the spray tan.
Change into loose-fitting garments after your spray tan.
Avoid wearing a bra or undergarments if at all possible. If you must wear a bra, use a strapless or bandeau bra to prevent ruining your tan.
Bring flip-flops or sandals to wear once you've gotten a tan.
No jeans or yoga pants
A long, black t-shirt dress is ideal for spray tanning.
Bring an umbrella if the weather prediction calls for rain. Raindrops might leave streaks on your spray tan.
What To Do After Getting Spray Tan?
Now you're glowing and prepared to head out. But what next should you do? When considering how long a spray tan will last, take note of your post-spray tan maintenance routine. These important after-tan techniques can help your tan remain longer and look better:
Avoid all moisture, including working out, cleaning, lotions, and liquid foundation, for at least 4-8 hours after your spray tan. But not more than 24 hours.
When you take your first shower after your spray tan, be gentle, and don't scrub your body. Avoid using bar soaps or soaps that are harsh on your skin.  
Wash off the surface bronzer with simply a natural body wash (no oils) and your hands.
We understand how enjoyable a hot shower might be, but only use lukewarm water after your spray tan. Hot water might shorten the duration of your tan.
Instead of rubbing, pat yourself dry.
Moisturizing is essential for extending the life of your tan. After you get out of the shower, use an oil-free moisturizer to seal in moisture. Moisturize your skin in the morning and evening.
Beginning on day 3, apply our Tan Extender as your primary moisturizer.
Avoid swimming, lengthy showers, baths, steam rooms, and saunas to keep your tan.
Avoid harmful substances like chlorine, acid-containing products, massages, fashion tape, bandages, and anything else that might remove your tan.
Infographic: How To Make Your Spray Tan Last Long?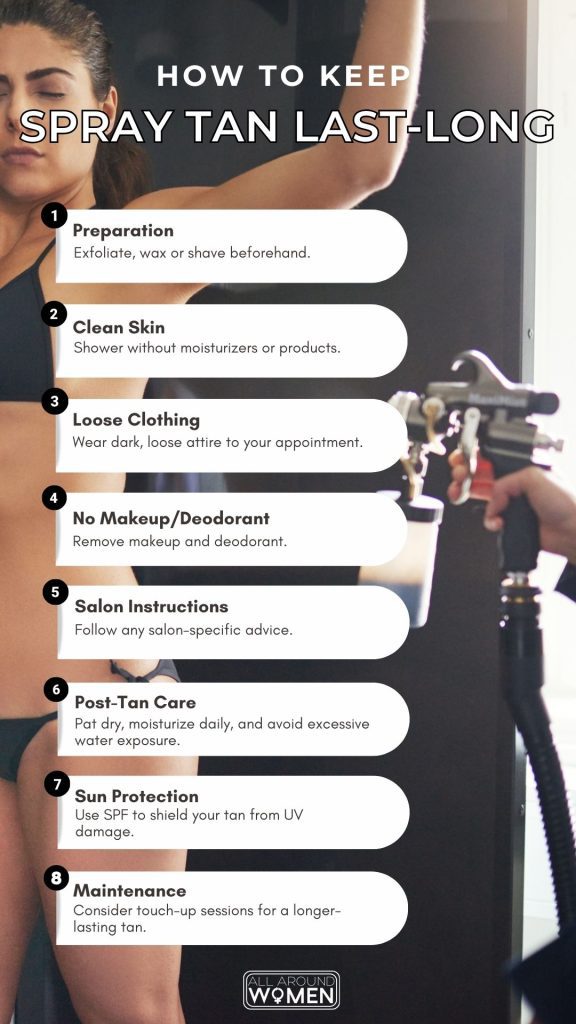 FAQs [Frequently Asked Questions]
Q: How long do spray tans usually last?
A: A spray tan can last anywhere from 5 to 10 days on average. However, some people's tans may begin to fade after just a few days. While others can enjoy their tans for up to 2 weeks.
Q: What factors can influence the life span of a spray tan?
A: There are a number of factors, such as your skin type, the efficiency of the spray tan solution used, your skincare routine, and how you take care of it. These can affect how long your spray tan lasts. Also, people with drier skin, as well as those who engage in activities that include extra and over exfoliation and swimming or severe washing. This can affect your tan, fading fast.
Q: Can I use self-tanning products to increase the life of the spray tan?
A: Yes, you can increase the life span of your spray tan by using self-tanning products. Products created specifically to maintain or increase the tan. These solutions can help in filling in any places where the tan has faded unevenly.
Q: Can I get a touch-up spray tan?
A: If your spray tan is fading unevenly or you want to keep your tan uniform. You can get a spray tan touch-up. Many salons provide this procedure to freshen your tan in certain spots or to keep it looking good overall.
Final Words
It's important to think about how well you take care of your skin before and after the spray tan when considering how long it lasts. There are several things you can do to extend the life of your tan, from avoiding scrubbing to using oil-based moisturizers. Also, shave and exfoliate at least 4-8 hours before the appointment and dress accordingly (dark, loose-fitting clothing). Try to do a cooler shower. Avoid using harsh chemicals on top of your Tan. Avoiding these things will help your tan last longer.