Period cramps, medically known as dysmenorrhea, are a prevalent experience for women. These cramps can vary in intensity, ranging from mild discomfort to severe pain. Additional symptoms like bloating, fatigue, and mood changes frequently accompany them. Well, over-the-counter pain relievers are an option. Many women prefer to explore natural remedies as an alternative for relieving period cramps. Home remedies present simple and easily accessible solutions. They can alleviate discomfort and enhance overall well-being during menstruation. Hence, this article aims to explore a diverse range of effective home remedies for period cramps. We will also explain their mechanisms.
Best Home Remedies For Period Cramps
Soothing Herbal Teas for Menstrual Cramps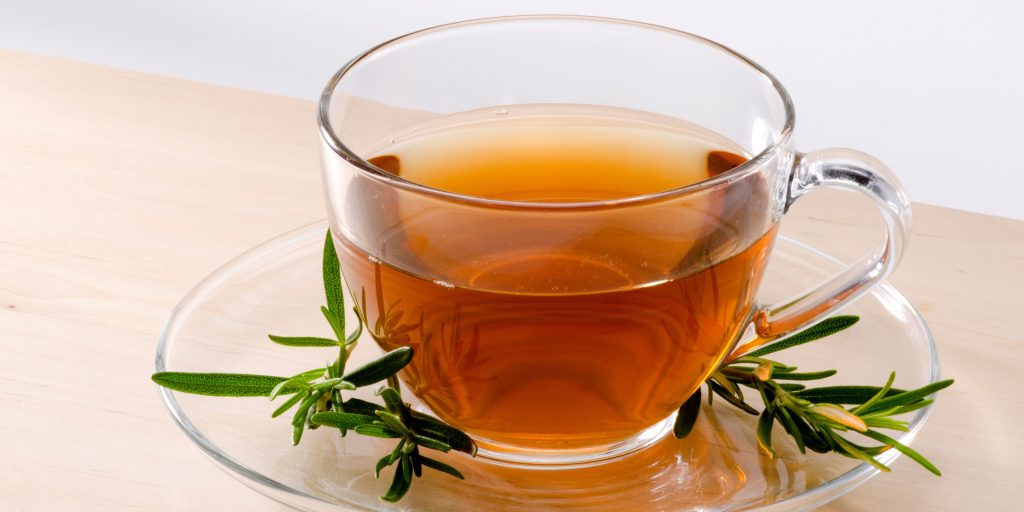 Herbal teas are a natural and soothing remedy for menstrual cramps. Enjoying a warm cup of herbal tea can relieve the discomfort associated with period cramps. These include teas such as chamomile, ginger, or peppermint. Let's explore the benefits of each herbal tea:
Chamomile tea: Chamomile is renowned for its calming properties and ability to promote relaxation. It possesses anti-inflammatory properties that may help alleviate cramping during menstruation. By soothing the muscles of the uterus, chamomile tea provides relief from menstrual cramps and enhances your comfort.
Ginger tea: From prehistoric times, ginger has been used to treat various digestive problems. These include pain in the abdomen. It has natural anti-inflammatory and analgesic properties that can help ease menstrual cramps. Ginger tea reduces inflammation, promotes blood flow, and alleviates muscle tension. It provides relief from the pain associated with menstrual cramps.
Peppermint tea: Peppermint is well-known for its refreshing flavor and aroma. It also acts as a muscle relaxant, alleviating discomfort during menstruation. By relaxing the muscles of the uterus and reducing tension, peppermint tea provides relief from menstrual cramps. It promotes a sense of relaxation.
Green tea: Green tea has become a part of the daily lives of a lot of people. However, many don't know that it can be very beneficial for relief from period cramps. Dries Camellia Sinensis leaves are used to make the tea. However, unlike the ones used for black tea, these leaves aren't aged. Studies say that drinking green tea may help reduce bloating during menstruation. This is because it is full of antioxidant compounds. Hence, it produces some effective anti-inflammatory effects. Besides, it contains the L-theanine compound that makes you feel more calm and relaxed.
Tip: To prepare these herbal teas. Steep the herbs in hot water for a few minutes. Then allow the beneficial compounds to infuse into the water. Strain and sip the warm tea for soothing relief.
Dietary Adjustments For Menstrual Cramps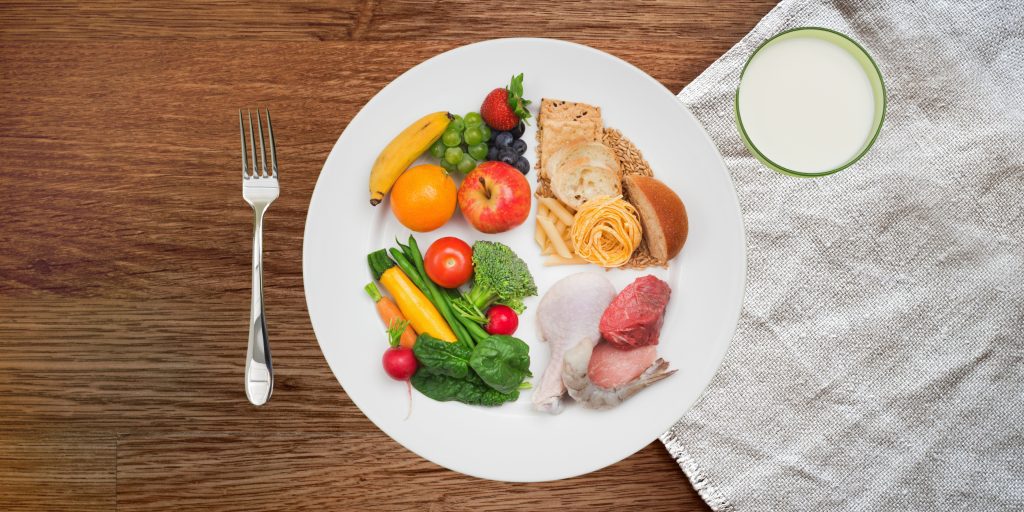 Making dietary adjustments and including specific nutrients in your meals can play a significant role in managing menstrual cramps. Consider the following recommendations:
Increase calcium-rich foods: Include leafy green vegetables (spinach, kale) and dairy products (milk, yogurt, cheese). Also, add some fortified non-dairy alternatives (almond milk, soy milk) to your diet. Calcium helps regulate muscle tone and contractions, which can alleviate menstrual cramps.
Incorporate magnesium-rich foods: Add nuts (almonds, cashews), seeds (pumpkin seeds, sunflower seeds), whole grains (oats, brown rice), and legumes (black beans, lentils) to your meals. Magnesium can alleviate menstrual cramps since it is essential for relaxing muscles and lowering inflammation.
Consider omega-3 fatty acids: Include sources of omega-3 fatty acids in your diet. These include chia seeds, flaxseeds, and fatty fish (salmon, mackerel). Due to their anti-inflammatory characteristics, omega-3 fatty acids help lessen the intensity and agony of menstrual cramps.
By incorporating these nutrients into your diet, you provide your body with essential elements that support muscle relaxation. It also reduces inflammation and promotes overall well-being.
Stay Hydrated: Essential For Managing Menstrual Cramps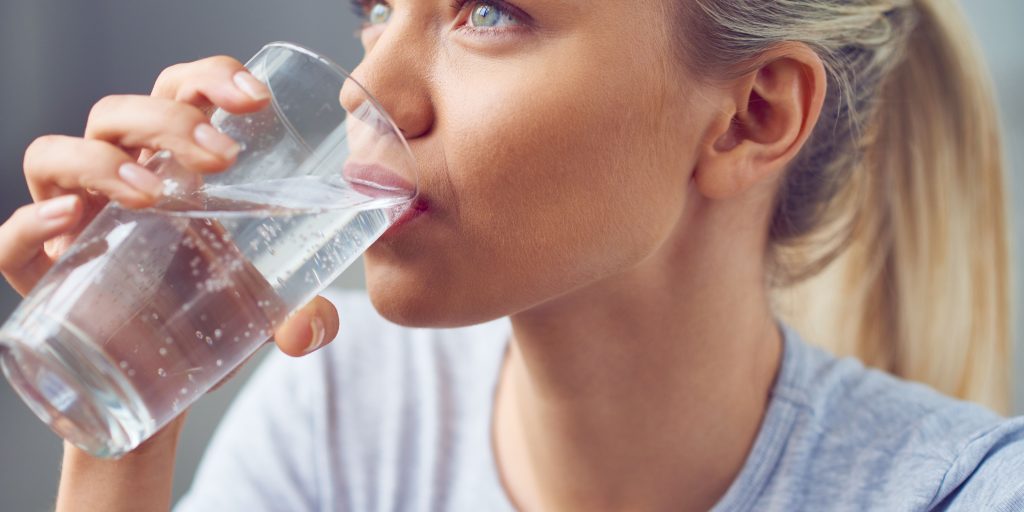 Staying hydrated plays a crucial role in managing menstrual cramps. Follow these tips:
Drink an adequate amount of water: Consume a sufficient amount of water throughout the day. Especially during your menstrual period. Aim for the recommended daily intake. Depending on your needs, drink around 8 cups (64 ounces) or more.
Prevent water retention and bloating: Staying hydrated helps prevent water retention. Well, water retention contributes to bloating and discomfort during menstruation. So, drinking enough water encourages your body to release excess fluids. It reduces bloating and promotes a more comfortable experience.
Promote optimal blood circulation: Proper hydration supports healthy blood circulation. It reduces muscle tension and promotes relaxation. When your body is well-hydrated, blood flows more efficiently. So your muscles get the right amount of oxygen and nutrients. Staying hydrated can reduce the likelihood of cramps.
Massage: A Comforting Home Remedy For Menstrual Cramps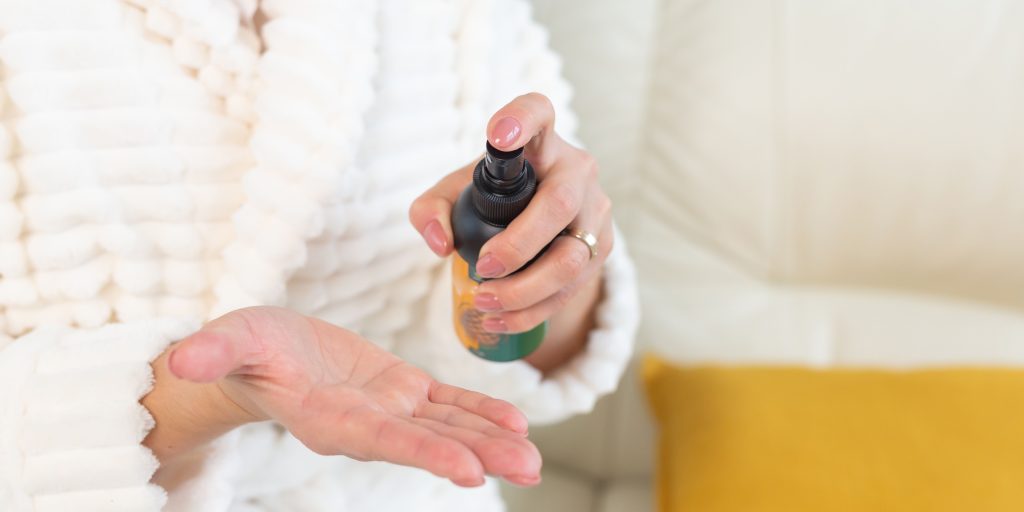 Massage can be a comforting and effective home remedy for relieving menstrual cramps. Follow these steps for a soothing experience:
Prepare warm oil: Warm some oil. Such as olive oil or coconut oil, to a comfortable temperature by placing the oil bottle in warm water for a few minutes.
Position and technique: Lie down in a comfortable position. Then apply a small amount of warm oil to your lower abdomen. Use your fingertips to gently massage your lower abdomen in a circular motion. Apply light to moderate pressure. Move your fingers in a clockwise direction. Repeat this circular motion for a few minutes.
Relaxation and benefits: Massage promotes relaxation, easing tension and reducing the intensity of menstrual cramps. It improves blood circulation to the abdominal area, relieving muscle spasms and alleviating pain. Additionally, the gentle pressure and warmth of the oil provide soothing effects. They help to ease discomfort and promote a sense of well-being.
Listen to your body, adjusting the pressure and technique to your comfort level. Be gentle and avoid applying excessive force or causing any pain during the massage.
Relaxation Techniques: Calming Strategies For Menstrual Cramps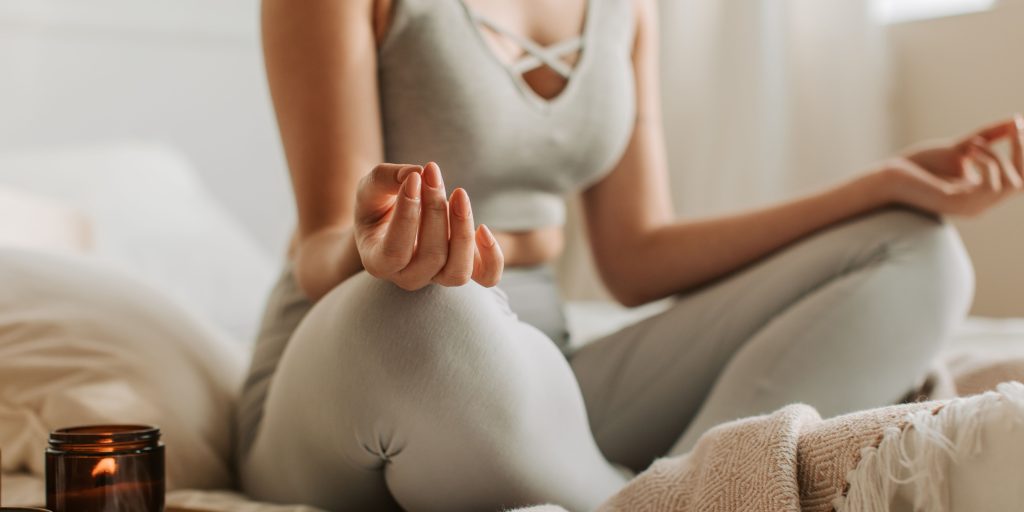 Including relaxation techniques in your routine can provide relief from menstrual cramps. Consider the following practices:
Engage in relaxation techniques: Find a quiet and comfortable space to sit or lie down. Dedicate a few moments to practice deep breathing exercises, meditation, or mindfulness techniques.
Practice deep breathing by inhaling slowly and deeply through your nose while letting your belly expand. With each breath, carefully exhale through your mouth, relieving tension or worry. Focus on your breath, letting go of discomfort or pain with each exhale. Additionally, deep breathing promotes relaxation and helps reduce muscle tension.
Meditation: Clear your mind and focus on the present moment. Firstly concentrate on a specific object. Repeat this calming mantra, or simply observe your thoughts without judgment. Then experience a sense of calm and relaxation, letting go of worries or distractions.
Mindfulness practices: Bring attention to the sensations in your body. Notice areas of tension or discomfort. Accept these sensations without judgment or resistance. Practice mindfulness-enhancing exercises like gentle stretching, guided visualization, or gradual muscular relaxation. Further, focus on the present and being aware of your body. These will reduce stress and promote peace.
Relaxation techniques reduce stress. It can exacerbate menstrual cramps. They promote a sense of calmness and relaxation, alleviating muscle tension and discomfort associated with menstrual cramps. Incorporate these techniques into your routine to create a soothing environment for your mind and body.
Exercise: Light Activities To Ease Period Cramps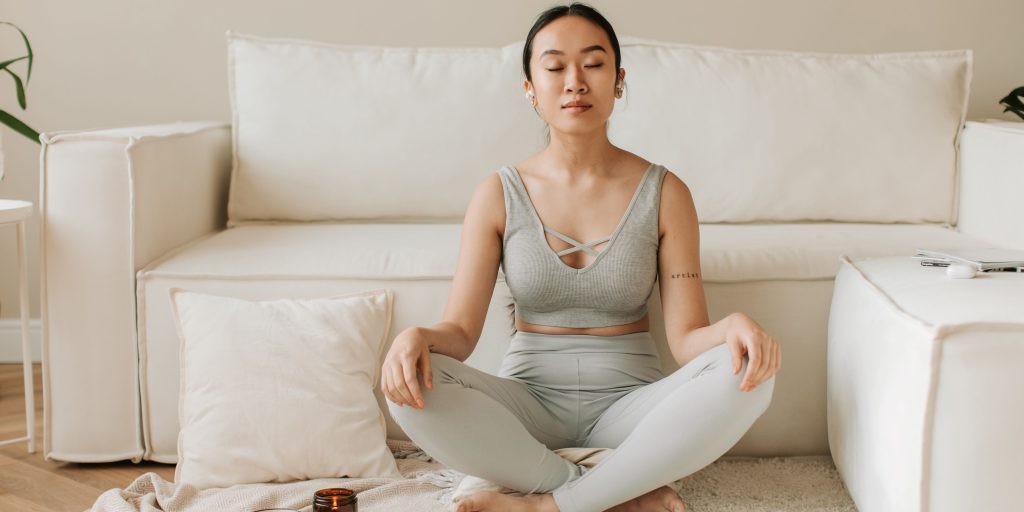 Engaging in light exercises during menstruation can significantly reduce period cramps. Activities such as leisurely walks, gentle stretching exercises, or specially designed yoga for menstruation can provide relief. Exercising during your period stimulates the release of endorphins, natural chemicals. Furthermore, it acts as painkillers and mood boosters. These endorphins reduce pain perception and promote well-being, effectively alleviating menstrual cramps. It also improves your overall mood.
Additionally, exercise promotes better blood circulation throughout your body. It includes the pelvic region. The increased blood flow helps ease muscle tension and reduces cramping. By improving circulation, exercise relieves the discomfort associated with period cramps.
Heat Therapy: A Natural Solution For Menstrual Cramps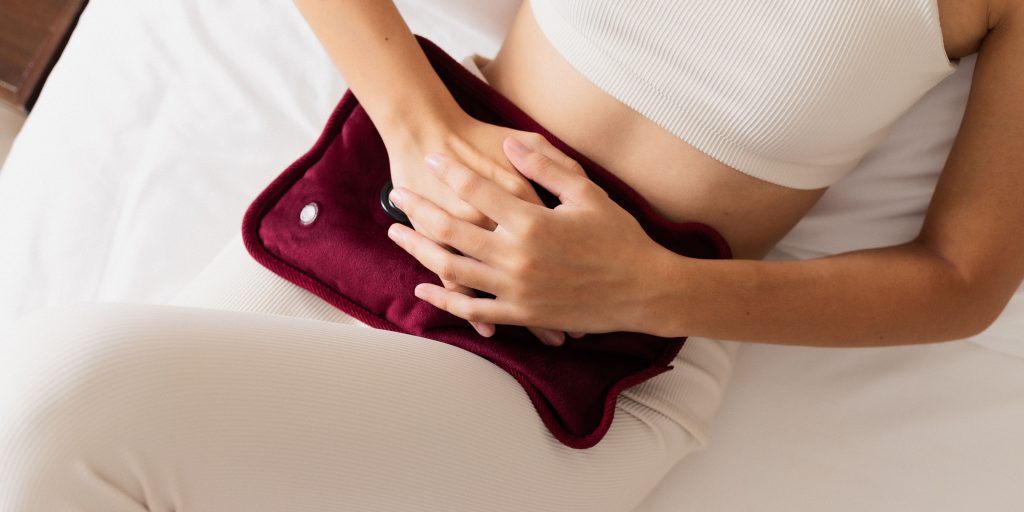 Heat therapy is an effective and convenient home remedy for relieving menstrual cramps. You can get relief by taking easy actions, such as placing a heating pad, hot water bottle, or warm compress on your lower abdomen. Keep it for 15 to 20 minutes at a time. Applying heat promotes relaxation and improves blood flow to the abdominal area. It soothes the muscles of the uterus responsible for the painful cramping during menstruation.
Heat therapy works by increasing circulation and reducing muscle tension, thereby alleviating the intensity of cramps. The relaxation and improved blood flow provided by heat therapy effectively relieve pain and discomfort associated with menstrual cramps. By incorporating heat therapy into your routine, you can enhance your comfort level during your period.
Over-The-Counter Pain Relievers For Menstrual Cramps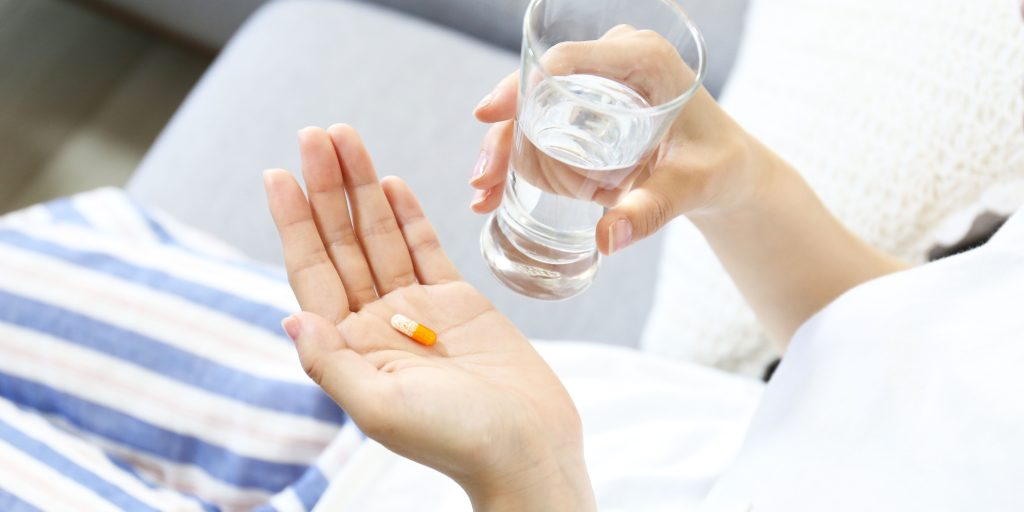 If home remedies alone don't relieve menstrual cramps, consider using over-the-counter pain relievers. These options are readily available in the market and are easily available. Ibuprofen and naproxen are a few instances of nonsteroidal anti-inflammatory medications (NSAIDs). These are beneficial in treating menstruation discomfort. Follow these guidelines:
Consult with a healthcare professional or follow dosage instructions: It's essential to consult with a healthcare professional. In addition, carefully follow the recommended dosage instructions on the packaging. They can guide and advise the correct dosage for you based on your unique requirements and medical background.
Nonsteroidal anti-inflammatory drugs (NSAIDs): NSAIDs work by inhibiting the production of prostaglandins, hormone-like substances. This contributes to uterine contractions and menstrual pain by reducing the levels of prostaglandins. These medications help alleviate cramping and lessen the severity of period pain.
Ibuprofen and naproxen: Ibuprofen and naproxen are common NSAIDs available over the counter. They effectively reduce inflammation and provide relief from menstrual cramps. However, it's important to note that these medications may have side effects or interactions with other medications. Consult a healthcare professional if you have any concerns or specific health conditions.
Suggestion: Use over-the-counter pain relievers as directed and for short-term relief. Seek medical attention if period cramps continue or get worse. This way, you can identify the underlying reason and pursue other treatment options.
Infographic- Period Self-Care Tip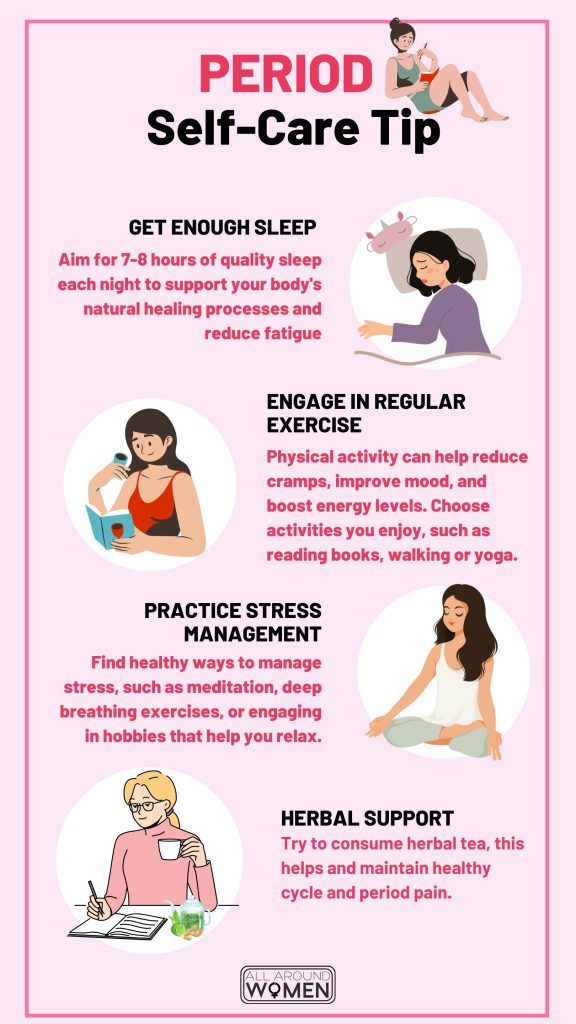 FAQs [Frequently Asked Questions]
Q: What are period cramps?
A: Period cramps are painful sensations experienced in the lower abdomen during menstruation. Furthermore, they are caused by contractions of the uterus as it sheds its lining. From minor to severe, cramps can come with other symptoms. These include bloating, exhaustion, and mood swings.
Q: Are home remedies effective for period cramps?
A: Home remedies can be effective for managing period cramps. Many women find relief through natural methods. However, the effectiveness can vary from person to person. Experimenting with different remedies and finding what works best for you is important. If your cramps are severe or persist despite home remedies. It's advisable to consult with a healthcare professional for further evaluation.
Q: What are some common home remedies for period cramps?
A: There are several common home remedies for period cramps. These include heat therapy (using heating pads or warm compresses) and exercise. Furthermore, herbal teas (such as chamomile or ginger), and dietary adjustments (increasing calcium, magnesium, and omega-3 fatty acid intake). Additionally, some other home remedies are massage, relaxation techniques (deep breathing, meditation), over-the-counter pain relievers (NSAIDs), and staying hydrated.
Q: Can I use multiple home remedies together?
A: Yes, you can combine multiple home remedies for better results. In fact, using a combination of remedies may provide a more comprehensive approach to managing menstrual pain. However, it's important to introduce one remedy at a time. Firstly, observe how your body responds before adding additional ones. This will help you determine which combinations work best for you. Avoid any potential interactions or adverse effects.
Final Words
Menstrual cramps have the potential to impact one's daily life and well-being. But there exist numerous home remedies that can help alleviate the discomfort. These natural remedies from heat therapy and exercise to herbal teas and dietary adjustments. Moreover, they offer accessible and practical options for managing period cramps. It's important to remember that every person's experience with menstrual cramps is different. So it could take some trial and error to find the solutions that work best for you.
If your cramps are severe or persist despite attempting home remedies, seek professional medical advice for further evaluation and guidance. You can attain relief by adopting a holistic approach to self-care and finding suitable remedies. This will enhance your overall quality of life during your menstrual cycle.