There is a new trend on the rise that can just replace the much-loved classic winged eyeliner. Also, if you follow the beauty around, you've definitely seen the fox eye makeup trend all over the internet. The fox eye style was made famous by Bella Hadid, Megan Fox, and Kendall Jenner. This focuses on modifying your eye shape for a lifted appearance while drawing attention to the outer corners for a seductive impression.
Overall, the ultimate look is similar to that of a subtle facelift but with make-up. Continue reading for tips and a brief overview of how to get an effortless fox-eye makeup look.
What Is Fox Eye?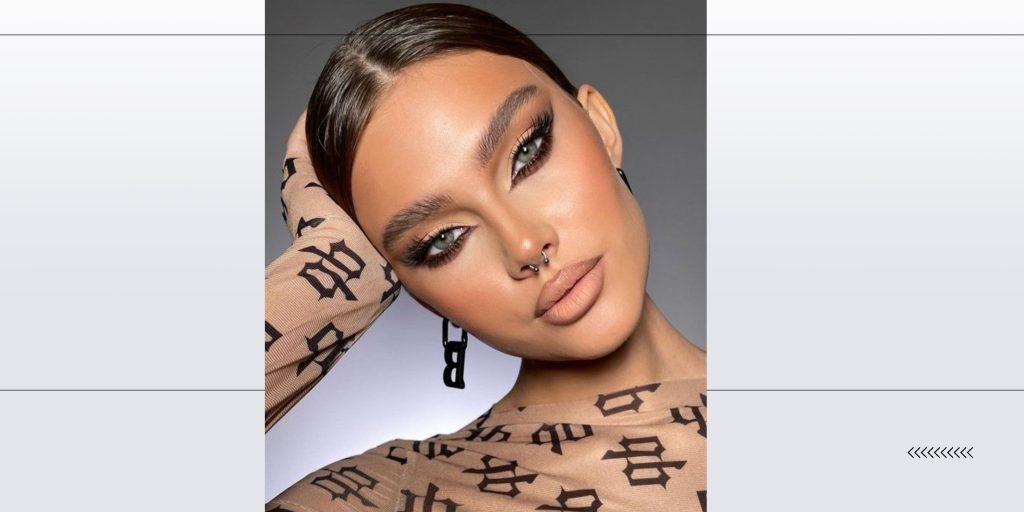 Fox eye makeup gives the appearance of tilted eyes and can influence their overall shape. The fox eye trend's main objective is to replicate the form of narrow and slanted eyes, a facial trait typically observed in Asians. As a result, the practice has caused discussion, and you will read more about it in our article to come to your own conclusion.
The fox eye makeup style is all about enhancing the area surrounding your eyes to get a seductive appearance. Some makeup professionals say that the impact of fox eye makeup is comparable to that of facelifts, with the only difference being the presence of makeup. As previously said, the fox eye trend can have multiple versions. For example, wing length. Some people like a long, pointed wing that extends from the ends of the brow tail. Others favor soft eyeshadow, while others prefer dramatic, black eyeliner.
Whatever you select, the inner and outside lines will be the most difficult to pin down. Getting an accurate, straight line is tough, and doing it again is considerably more difficult. But isn't this something we've done before? Because practice makes perfect, don't be scared to try out new tricks and methods.
Fox Eye: Step-By-Step Guide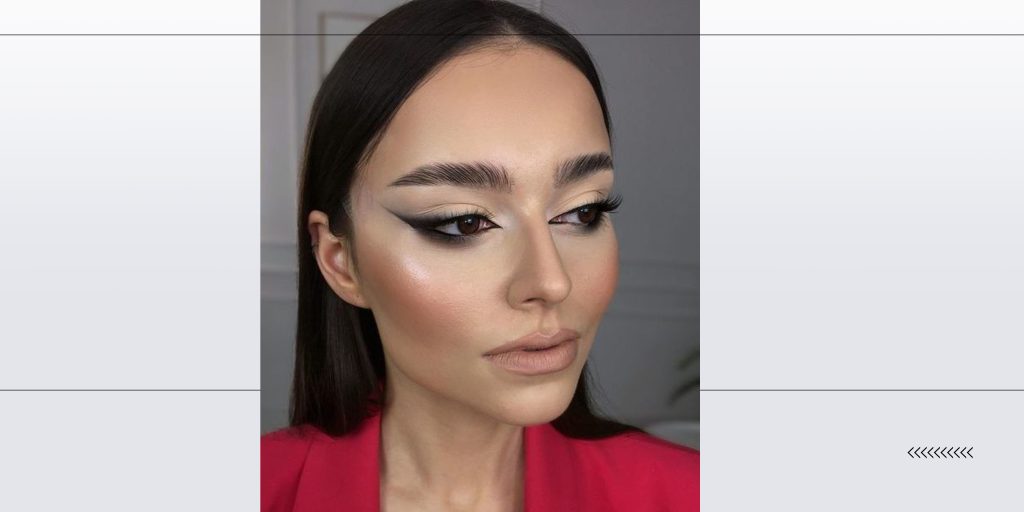 Step 1: Entirely Cover Your Under-Eye Area
Before you begin, you should apply concealer to the under-eye region. Be careful to mix the product upwards so that it reaches the outer corners of your eyes. This will give your wing a more elevated appearance and act as a light foundation for further shaping.
Step 2: Use a primer to clean and prep your lids
After that, prepare your eyelids for eyeshadow. Just like it is important to maintain your face fresh and clean with skincare before applying makeup, your eyes should be completely washed before applying eye makeup.
After removing excess oil and grime, use an eye primer to create a neutral base. This will balance out any discoloration while keeping your eyeshadow and eyeliner in place.
Step 3: Shape Your Eyeshadow Wing With Tape
You can start with your eyeliner, but if you haven't perfected it yet. It's better to start with an outline of eyeshadow. You can get an even sharper wing by using scotch tape, which is a simple and reliable hack. Place the tape on the outside corners, then apply and blend your transition eyeshadow color outwards.
Then, slowly raise the intensity of your wing by placing on darker colors to create an ombre appearance. When you're happy with the look, carefully peel off the skin tape, and your sharp wing is finished.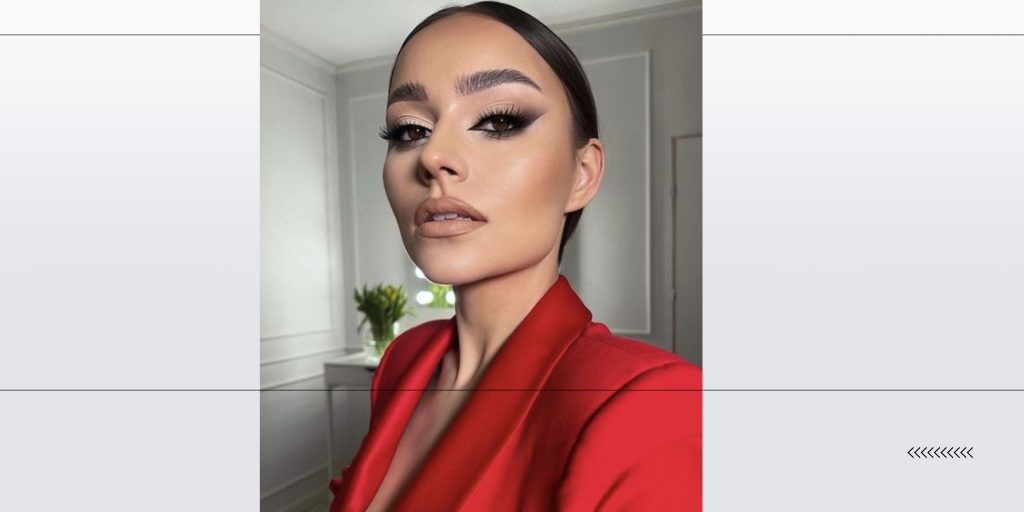 Step 4: Apply Concealer to Clean Up
When you pulled off the tape, you may have seen some shadow fallout and that your makeup was also gone. Don't worry, this is easily fixed with another application of concealer. Remember to pat it up to retain a snatched and lifted appearance.
Step 5: Optional: Extend the inner corners
If you want a more natural look, finish your eye makeup with a layer of mascara. Alternatively, use a fine eyeliner brush to apply a dark color to the inner corners of your eyes before connecting it to the lower lash line. This will help to lengthen your fox eyes even further.
Step 6: Use Mascara and False Eyelashes
Finally, we've arrived at the final stage of fox eye makeup. Your lashes are an important part of this look, and the more fluttery and lengthy they appear, the better. Apply mascara to the outside section of your lashes, pushing them outwards. Similarly, to keep that stretched look, apply your fake lashes to the outer corners.
Tips To Consider While Doing Fox Eyes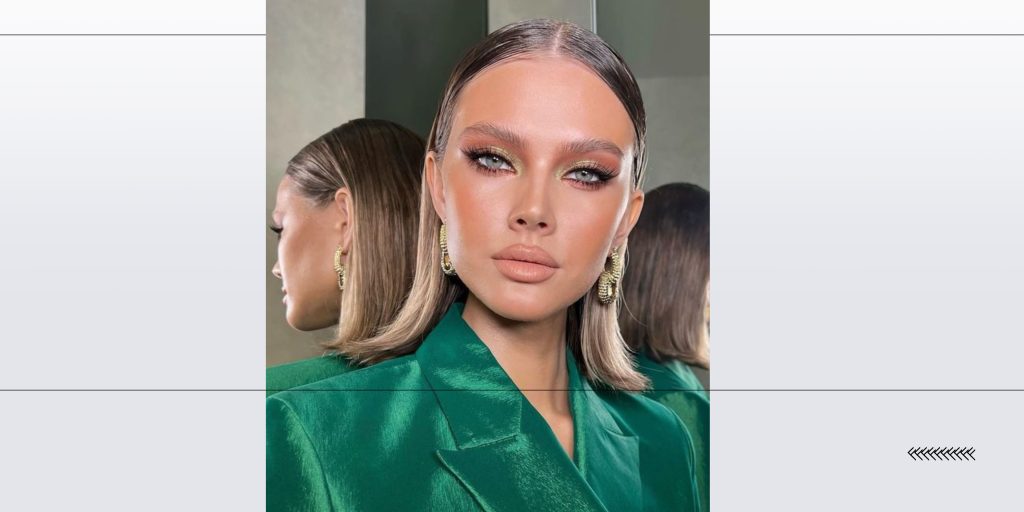 If you're concerned about making your wing absolutely level and tilted, assist it using tape and remove it at the end.
Fox-eye looks great with fake eyelashes, especially if you focus most of the lashes on the outside corner and gradually reduce them as you go in.
If you're not comfortable or don't want to use false lashes, focus your mascara on the outer corners of your eyes.
Experiment with various eyeshadows and liners. Fox eyes can be created or done with eyeshadow for a wing or with eyeliner, as shown in these above two fox eyeliner steps, so explore to figure out what looks best on you.
How Is It Different From Cat Eye?
The foxy eye makes the form of your eyes appear longer by lengthening the outside and inner tip of the eyeliner in order to replicate the shape of a fox's eyes, compared to the cat eye, which is comparable to a winged eyeliner appearance.
Also, for a foxy eye style, the eyeliner is drawn to the required length towards the forehead, and for a cat-eye look, the eyeliner tends to be winged and thicker than usual.
Infographic: Fox Eye: Step By Step Guide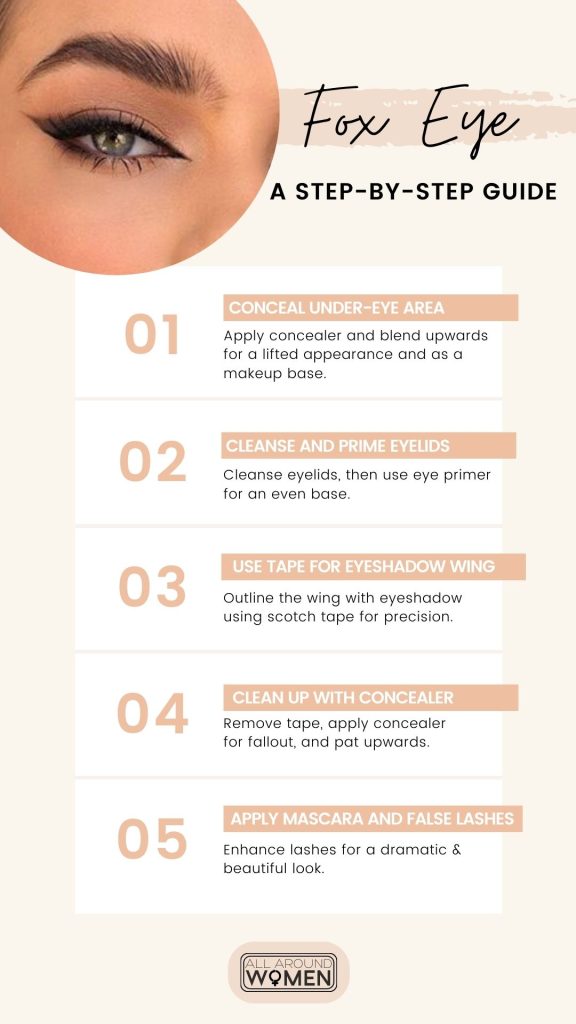 FAQs [frequently asked questions]
Q: What differentiates fox eye from cat eye?
A: Fox-eye makeup uses a straighter wing to get almond eyes, whilst cat eyes curve up to provide a rounder impression. Furthermore, fox eyes have both the outer and inner corner wings, whereas cat eyes only have the outer half.
Q: What exactly is fox eye makeup?
A: The fashion for extended and almond-shaped eyes that resemble foxes is known as "fox eye makeup."
Q: What can I use to make a fox eye?
A: Fox eyes are really easy to achieve. All you need is concealer and powder, brown and black eyeshadow, eyeliner, and either fake or real eyelashes.
Q: How long will the Fox eye lift last?
A: As long as your eye makeup is on. It will continue to draw attention to your face. The lifting effect will disappear after you remove your eye makeup.
Final Words
We learned how to do fox eye makeup in a step-by-step process. It begins by laying out the products you'll need, which include an eyeshadow primer, black liquid liner, and volumizing mascara. Then, start with applying the primer and on to achieve the winged liner appearance.
Finally, apply a couple of coats of mascara to complete the look. All of the ideas in this article will help you get the ideal fox eye look. Enjoy doing Fox-eye makeup by yourself. Have fun!