In an era where skincare transcends mere beauty routines and becomes a testament to self-care, products like AmLactin have sparked considerable interest. With the promise of hydration coupled with potential skin-brightening benefits, AmLactin has carved a niche for itself amidst a plethora of skincare products. Its unique formulation, dominated by lactic acid, has been celebrated by many for reducing blemishes and enhancing skin radiance.
But the underlying question that beckons is: Does it merely rejuvenate and refine, or does it possess the power to genuinely lighten the skin? This comprehensive exploration aims to unravel the layers of AmLactin, delving into its ingredients, user experiences, and the scientific rationale behind its acclaimed benefits.
Understanding Lactic Acid & Its Benefits
Lactic acid, an alpha-hydroxy acid (AHA), is derived from milk and is known for its exfoliating properties. Targeting the skin's superficial dead layers it promotes the revelation of the fresher, underlying skin cells. Over time, this action can lead to the gradual reduction of dark and black spots. Moreover, when combined with ammonium hydroxide, another key component of AmLactin, the results can be amplified. This dynamic duo not only deeply hydrates the skin but also aids in scar and blemish reduction.
Though AmLactin body lotions are versatile enough for both face and body applications, there's a burning question many users have: Can AmLactin genuinely alter and lighten the skin's natural shade? Let's delve deeper.
AmLactin Daily Moist Body Lotion: An In-depth Review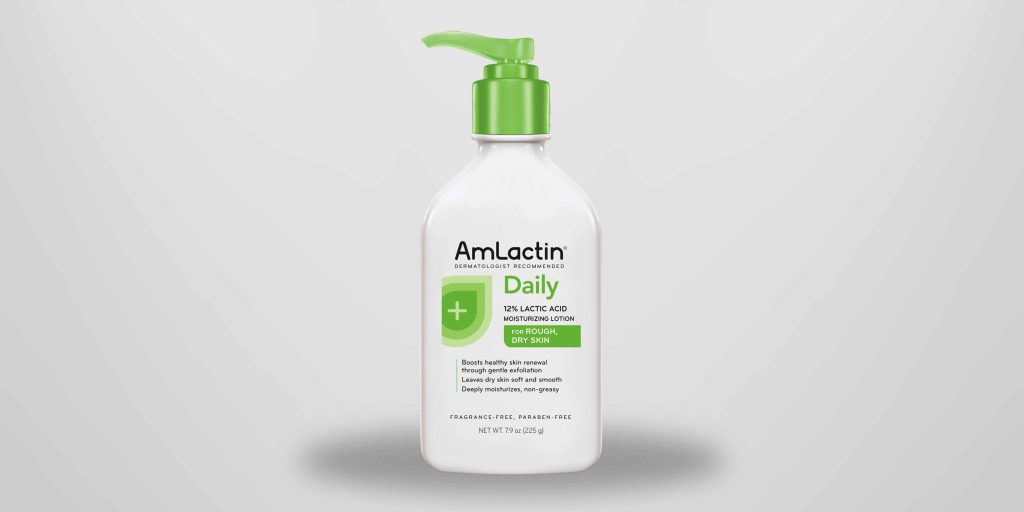 A Multifaceted Skincare Solution:
Endorsed by many dermatologists, AmLactin goes beyond mere moisturization. It's a therapeutic blend that exfoliates while simultaneously moisturizing, thanks to the power of lactic acid. This dual action can stimulate healthy skin renewal, leading to a brighter, more radiant appearance.
Why Concentration is Key:
Skin experts often emphasize the importance of ingredient concentration. Studies reveal that lactic acid concentrations of 10% or above are most effective. With AmLactin Daily packing a concentration of 12%, users can be assured of its potency in skin rejuvenation.
Product Attributes:
Texture: Non-greasy, ensuring comfortable wear throughout the day.
Additives: Free from potentially irritating fragrances and parabens.
Versatility: Suitable for face, hands, and body, and especially beneficial for those with skin conditions like eczema or psoriasis.
Ingredients
Petroleum Liquid: Liquid paraffin is an alternative name for paraffinum liquidum. This kind of mineral oil is very refined. Paraffinum Liquidum possesses emollient qualities, just like other oils. Emollients assist in calming and softening the skin. Emollients help keep your skin moisturized by forming a barrier that traps moisture inside.
Lactic acid: This is an effective ingredient, generally used to cure pigmentation. Lactic acid, an AHA, is a go-to therapy for discoloration. If you are struggling with hyperpigmentation, dry skin, or both. Lactic acid can enhance skin texture in addition to skin tone.
Glycerin: Glycerin brings moisture to the skin, particularly the top layer. Because this is the fourth ingredient on their list, it's safe to assume that this soothing, moisturizing ingredient will provide the skin with the hydration it needs.
Overall Review: A Deep Dive Into AmLactin's Efficacy
AmLactin has consistently garnered praise, standing out in the skincare market for its transformative properties. Its unique formulation, enriched with alpha-hydroxy acids, especially lactic acid, has proven effective against common skin challenges such as keratosis pilaris and rough skin texture.
Users who have integrated AmLactin into their skincare regimen have reported a notable reduction in acne breakouts and a more refined skin texture. A standout feature appreciated by many is the lotion's capability to expedite skin cell turnover. This action not only enhances the skin's overall tone but also revitalizes its texture, giving it a more youthful and radiant appearance.
The lotion's profound moisturizing properties have been a beacon of relief for those grappling with persistent dryness. The hydration it imparts ensures the skin remains supple and luminous.
However, it's important to note that while many have sung its praises, a few users, especially those with sensitive skin, have reported initial redness and mild irritation. As with all potent skincare products, a gradual introduction into one's routine is recommended. In essence, AmLactin's lotion emerges as a powerhouse, adept at tackling skin roughness, dryness, and unevenness. Its dual benefits of hydration and exfoliation make it a favorite among many, but as always, those with sensitive skin types should tread with caution and consider seeking dermatological advice.
Does AmLactin Lotion Lighten Skin?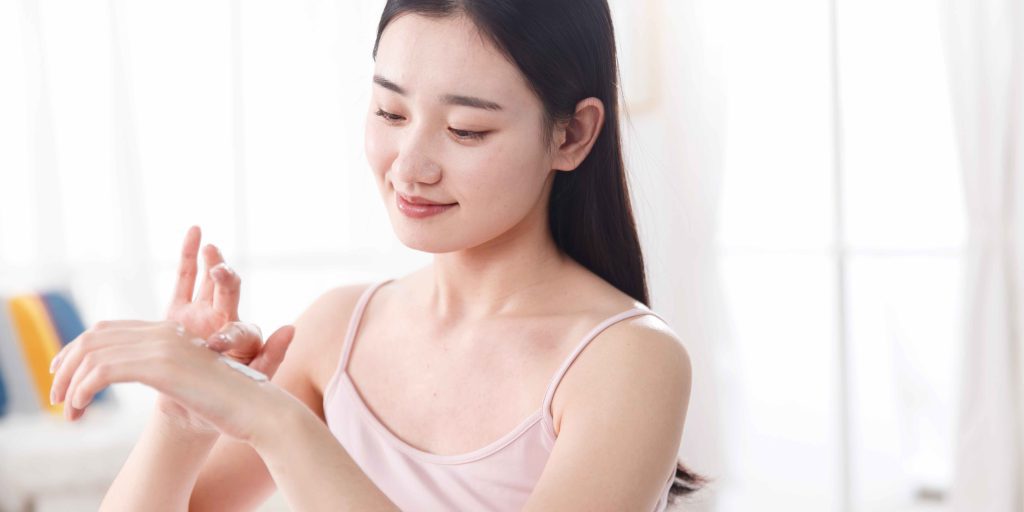 Hyperpigmentation, characterized by dark patches or spots on the skin, can stem from various causes. Predominantly, the culprits behind these discolorations are aging and prolonged sun exposure. Exfoliating agents, like those found in certain skincare products, target hyperpigmentation by shedding the damaged top layer of the skin, revealing the healthier layers underneath. This exfoliation stimulates skin cell renewal and is particularly effective on unevenly pigmented skin.
Several external and internal factors can impact our skin's health and appearance. While aging and sun exposure are the most widely recognized, underlying health conditions, such as liver disorders or hormonal imbalances, can also play a significant role. These factors often compromise the vitality of the skin's surface layer, leading to a dull and uneven complexion.
Enter AmLactin lotion: designed to address and alleviate these dark spots, it aims to restore a radiant and rejuvenated skin appearance. Although available over-the-counter, if intended for hyperpigmentation treatment, a prescription from a dermatologist might be required. An essential component of AmLactin is glycerin, renowned for its ability to soothe and hydrate dry, irritated skin. Given its efficacy in addressing dark spots, the lotion is often labeled as a "brightening lotion."
The transformative power of AmLactin is evident in its results. While it targets and hydrates the darker patches intensively, its consistent use results in a visibly even-toned complexion. User reviews further attest to AmLactin's moisturizing prowess, highlighting the lotion's ability to combat dryness effectively. The skin not only feels hydrated post-application but also looks instantly healthier. This immediate enhancement sets it apart from other products, which might necessitate longer usage for visible improvements.
Other Products You Can Consider
Rapid Relief Restoring Lotion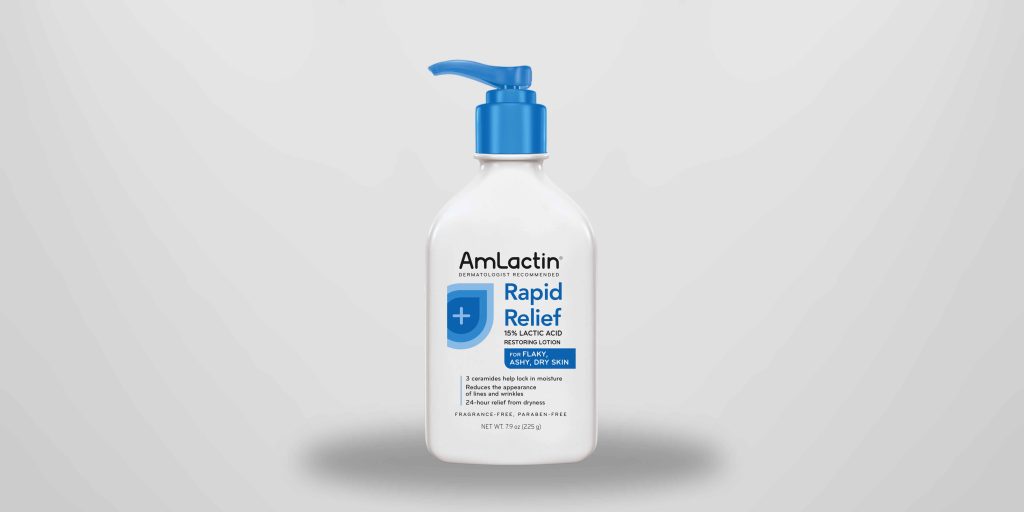 Rapid Relief Restoring Lotion rapidly improves the appearance of your skin by gently exfoliating and intensely hydrating while containing 15% lactic acid and 3 ceramides to help seal in moisture. Experience skin that looks young and supple.
Benefits of Rapid Relief Restoring Lotion include relief from dryness that lasts all day. It is perfect for dry, flaky skin that looks ashy. This cream reduces the visibility of wrinkles and lines. It is also non-greasy, paraben-free, and fragrance-free.
Directions
Apply 1-2 times per day or as prescribed by a doctor. Skin that is delicate or injured may experience mild stinging or discomfort. Stop using it if this continues. Not meant for use on the face.
Ultra Smoothing Intensely Hydrating Cream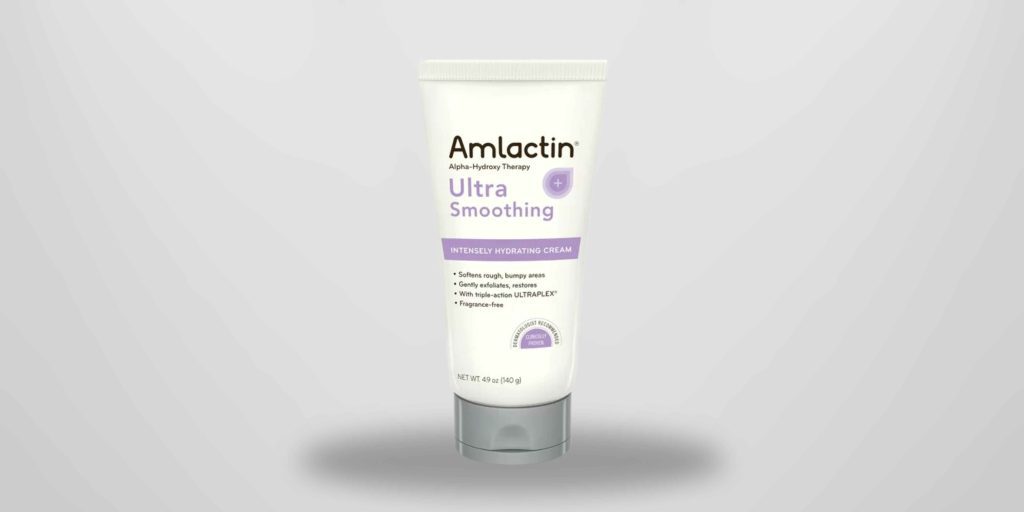 Ultra Smoothing Intensely Hydrating Cream will help you say goodbye to those bothersome, dry areas with regular usage; 15% lactic acid is present in the Ultra Smoothing Intensely Hydrating Cream. This thick, creamy cream helps in reducing the rough, bumpy patches of dry skin that are frequently brought on by Keratosis Pilaris (KP), also known as Chicken Skin.
The benefits of this product are professionally proven to deeply hydrate while gently exfoliating tough, dry areas. Additionally, it makes skin smooth and silky. It helps in removing your Keratosis Pilaris and is non-greasy and fragrance-free.
Directions
Apply twice daily or as advised and concerned by a doctor. Skin that is delicate or injured may experience mild stinging or discomfort. Stop using it if this continues. Not meant for use on the face.
AmLactin KP Bumps Be Gone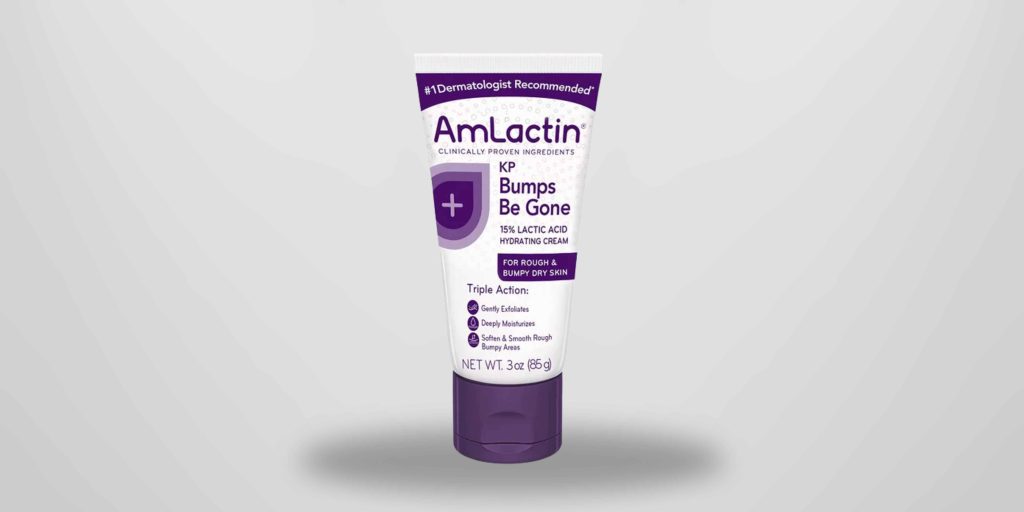 This helps in the treatment of red, dry pimples caused by keratosis pilaris. This body cream's 15% lactic acid blends with the benefits of an exfoliator and moisturizer to remove pimples and hydrate skin deeply. A hydrating moisturizer is a keratosis pilaris treatment that helps soften and smooth out strawberry skin or rough, bumpy skin. Additionally, as part of your skincare routine, this moisturizing cream helps dry skin by obtaining a light exfoliation that is excellent for soothing dry skin on the arms, legs, and back and hydrating.
Directions
Apply twice a day or as advised by a dermatologist. Skin that is delicate or injured may experience mild stinging or discomfort. Stop using it if this continues. It's not meant for use on the face.
FAQs [ Frequently Asked Questions]
What is AmLactin Lotion primarily used for?
AmLactin Lotion is primarily used as a daily moisturizing body lotion with exfoliating properties, thanks to its primary ingredient, lactic acid.
Does AmLactin Lotion actually lighten the skin?
AmLactin Lotion works to improve the skin's complexion, reducing dark spots and blemishes. However, it doesn't alter the skin's natural pigment or 'lighten' it in the traditional sense.
Is AmLactin Lotion suitable for sensitive skin?
Some users with sensitive skin have reported initial redness after using the product. It's advisable to conduct a patch test or consult a dermatologist before using it extensively.
Can I use AmLactin Lotion on my face?
Yes, AmLactin Lotion is versatile and can be applied to both the face and body.
What is the primary active ingredient in AmLactin Lotion?
The primary active ingredient in AmLactin Lotion is lactic acid, an alpha-hydroxy acid known for its exfoliating and skin-renewing properties.
Do I need a prescription to use AmLactin Lotion?
While AmLactin is available over-the-counter, given its potent ingredients, it's often recommended to seek advice from a dermatologist, especially if targeting specific skin concerns.
How often should I use AmLactin Lotion?
For best results, it's recommended to use AmLactin Lotion daily. However, always follow the usage instructions on the product label or as directed by a skincare professional.
Final Words
The key ingredient in AmLactin lotion is ammonium lactate. This has exfoliating qualities that can contribute to a fairer complexion by reducing hyperpigmentation and boosting skin cell turnover. However, it's important to keep in mind that every person can experience results differently. So, it's important to use any skincare product with patience and consistency. It is advised to speak with a dermatologist before including AmLactin lotion in your routine. To find out whether it works for your specific skin type and concerns.
To achieve the best results with your skincare. Remember to use sun protection and be aware of any potential adverse effects. In the end, attaining and preserving healthy, radiant skin. This not only includes the usage of skin care products but also a healthy lifestyle and self-care routines.