Chubby fashion trends are the latest and most popular styles and clothing choices for people with bigger body sizes. These trends include cuts, patterns, colors, and fashionable and flattering shapes for curvy individuals. Moreover, the main focus of the chubby fashion trend is to promote inclusivity, body positivity, and self-expression. This empowers people to embrace their bodies and show off their style. Whether it's bold prints, vibrant colors, well-fitting outfits, or strategic designs, these trends cater to curvy individuals' diverse preferences and fashion needs. It allows them to be both stylish and comfortable with their body size.
As we enter 2023, a range of trendy and stylish options awaits women with different body sizes. This article will explore these fashion trends that are ready for chubby women. Besides, these trends encourage chubby women to express themselves with exceptional style and elegance. It allows them to embrace their unique fashion sense and showcase their individuality.
Chubby Fashion Trends In 2023
Asymmetrical Designs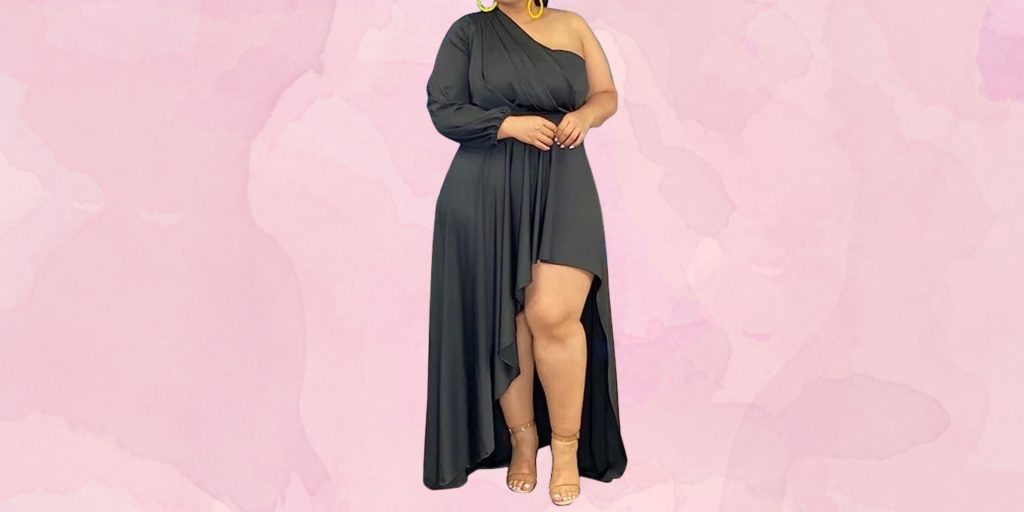 Asymmetrical designs are set to dominate the chubby fashion scene in 2023. These eye-catching designs feature uneven hemlines, necklines, and sleeve details. Moreover, they add a touch of intrigue and create a unique silhouette. Asymmetrical dresses and tops offer a flattering and fashion-forward look, allowing curvy women to showcase their confidence and individuality. Asymmetrical designs are poised to make a statement in 2023. These may include a one-shoulder dress or a blouse with a diagonal hemline.
Midi Skirts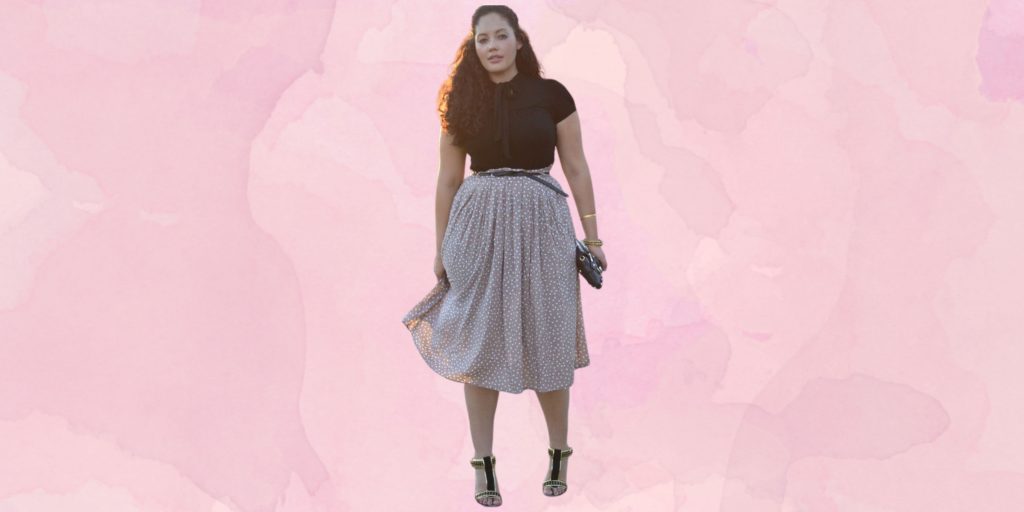 Midi skirts will continue to be a beloved fashion trend for curvy women in 2023. Moreover, these versatile skirts strike a perfect balance between style and comfort. They fall below the knee and above the ankle. Chubby women can opt for A-line or pleated midi skirts that gracefully accentuate their curves. Besides, Midi skirts can be paired with tucked-in blouses or tops to highlight the waistline and create a flattering silhouette. Whether it's floral prints or solid colors, midi skirts offer endless possibilities for curvy women to create chic and sophisticated looks.
Knit Dresses And Maxi Swing Skirts
Knit dresses and maxi swing skirts are go-to options for curvy women seeking both comfort and style in 2023. These dresses with strategic seaming and paneling flatter curves while providing a smooth and figure-enhancing fit. Besides, these dresses come in a range of designs, from wrap-style to ruched. So, there's a perfect option for every body type. Maxi swing skirts, with their flowing and voluminous silhouette, offer a whimsical and feminine touch to any outfit. Moreover, these skirts allow curvy women to showcase their unique style and embrace their body shape with confidence.
Ankle Tie Cargo Pants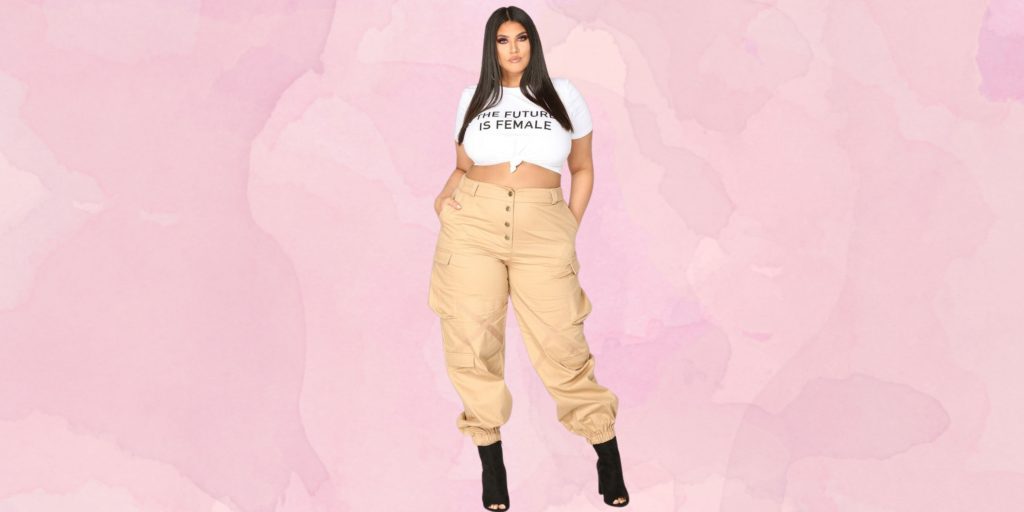 Ankle-tie cargo pants bring a touch of casual chic to chubby fashion trends in 2023. These pants offer a comfortable fit while exuding a stylish and utility-inspired aesthetic. With their adjustable ankle ties, they allow curvy women to customize the fit and create a flattering silhouette. Ankle-tie cargo pants can be paired with a variety of tops, from simple tees to button-up blouses. They create effortlessly trendy and versatile looks for both casual and semi-formal occasions.
Sheer Bomber Jackets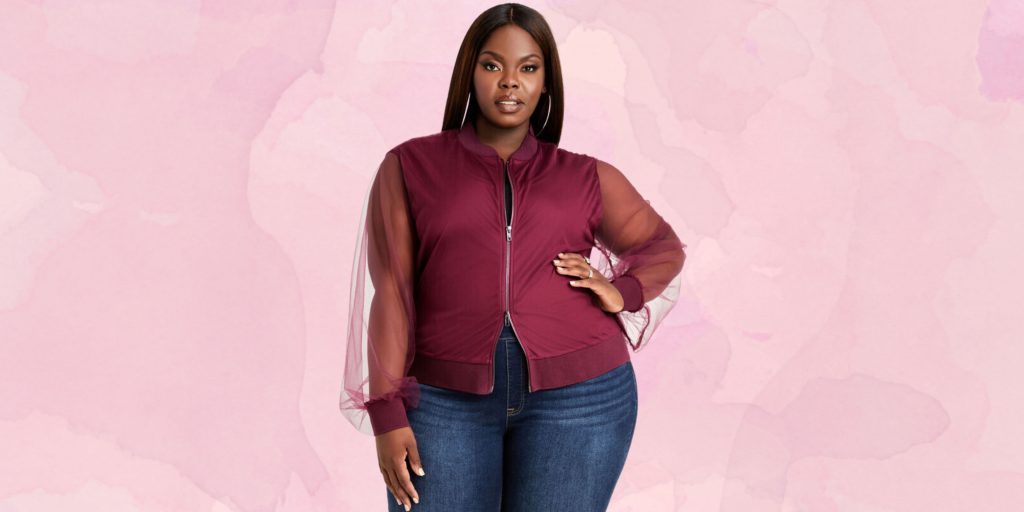 Sheer bomber jackets are set to make a bold fashion statement in 2023. They add a touch of edginess and femininity to chubby fashion. These lightweight jackets offer both style and functionality, providing an extra layer without sacrificing comfort. Sheer fabrics allow for breathability while adding a hint of allure to any outfit. Moreover, curvy women can layer sheer bomber jackets over dresses, tops, or even jumpsuits. These instantly elevate their ensemble and exude confidence.
Knee-Length Boots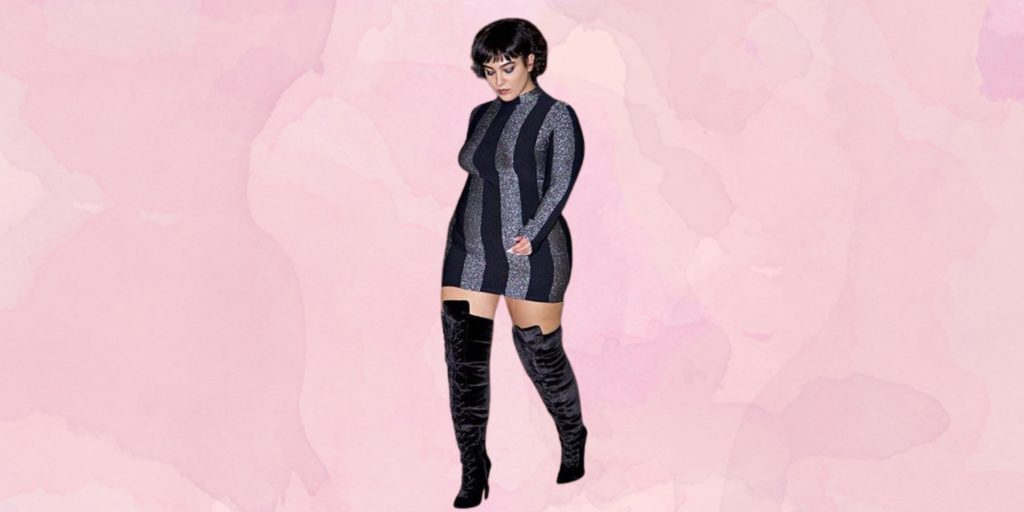 Knee-length boots are a must-have footwear option for curvy women in 2023. These boots provide style, support, and versatility, making them a perfect complement to various outfits. Whether in classic black or trendy colors, knee-length boots elongate the legs. They add a touch of sophistication to any look. You can pair them with midi skirts or wear them over skinny jeans or leggings. Knee-length boots effortlessly elevate chubby fashion to new heights.
Structured Blazers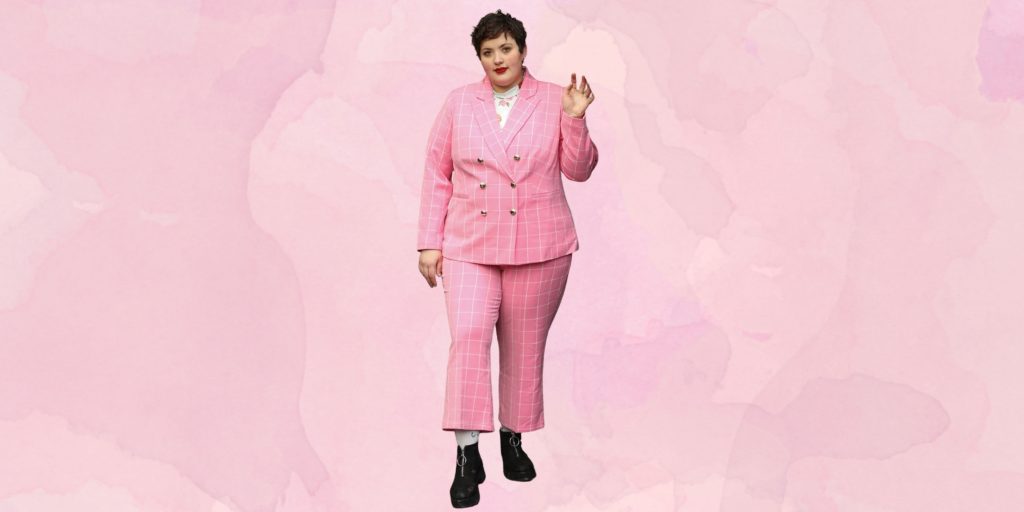 Structured blazers are poised to become a chic and form-fitting staple in chubby fashion trends for 2023. Moreover, these tailored pieces enhance the silhouette, offering a polished and professional aesthetic. Curvy women can opt for blazers with strategic seaming and cuts that accentuate the waist, creating an hourglass shape. Structured blazers can be worn with dresses, skirts, or pants. They instantly add a touch of sophistication and elevate the overall ensemble.
Rainbow Dresses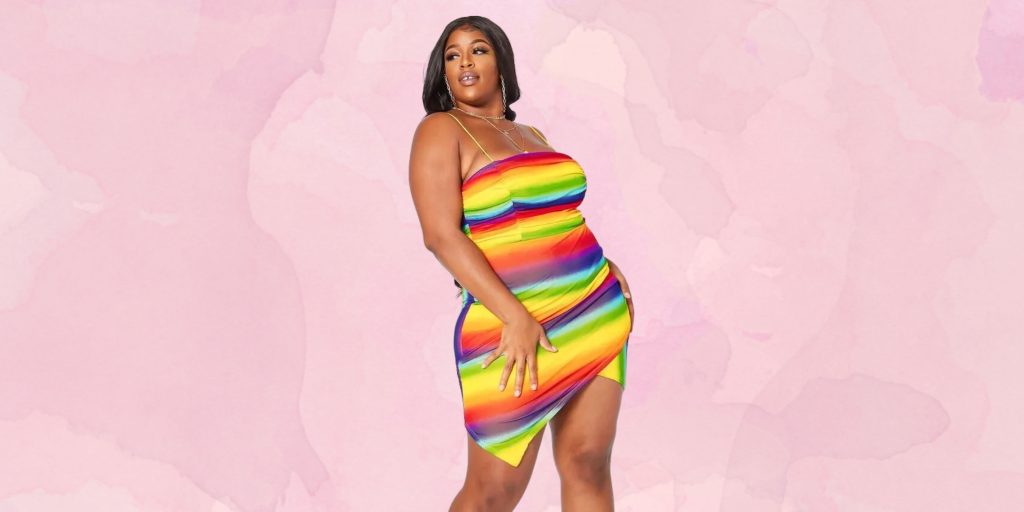 Rainbow dresses have made a vibrant statement in 2023. They bring joy and vibrancy to the world of chubby fashion. Chubby women can embrace this trend by choosing dresses with strategic color placement or captivating patterns that create a visually flattering effect. Additionally, opt for designs featuring color blocking or vertical stripes to elongate the body and create a slimming effect. Additionally, dresses with wrap or empire waistlines accentuate the waist, resulting in a balanced and eye-catching look that celebrates individuality.
The White Shirt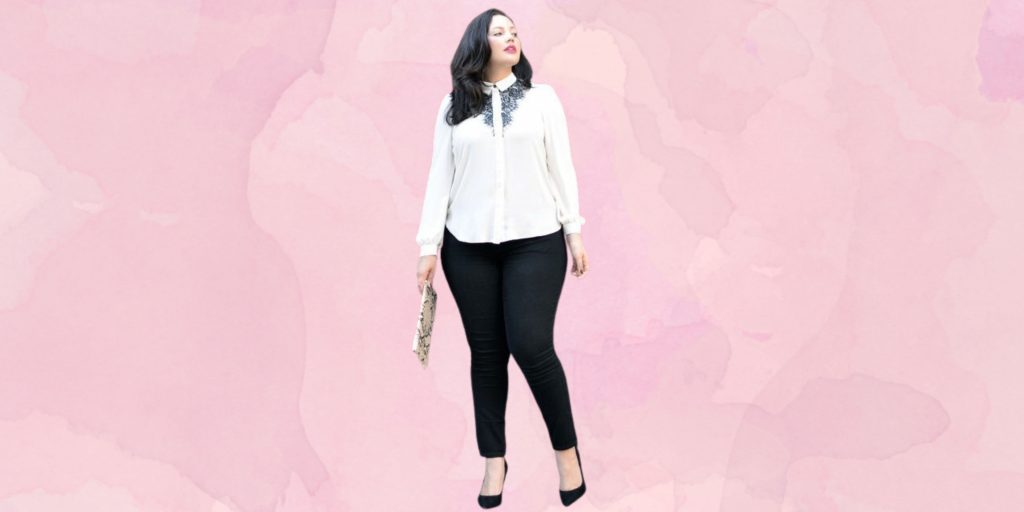 Chubby women can revel in the enduring charm of the white shirt, as it remains a steadfast choice in 2023. Designers are incorporating stretch materials and relaxed cuts, ensuring a comfortable and flattering fit for all body types. Furthermore, expect to find a variety of necklines and sleeve lengths to suit individual preferences. Whether paired with jeans, skirts, or layered under dresses, the white shirt continues to be a versatile and timeless piece. They enhance the chubby fashion aesthetic.
Best Way To Dress If You Are Chubby
Emphasize Your Assets: Highlight your curves by choosing dresses or tops with a cinched waistline. Additionally, opt for fabrics like jersey or ponte knit that stretch and hug your curves comfortably. Showcase your legs with skirts or dresses that fall just above the knee. Also, pair them with heels or wedges to add height.
Wear Well-Fitted Clothing: Avoid baggy clothes and opt for well-fitted garments that flatter your body shape. Look for structured fabrics like cotton, twill, or blends that maintain their shape while providing comfort. Well-tailored clothing enhances your appearance, posture, and confidence.
Opt Dark Colors: Choose dark shades such as black, navy, or charcoal gray in fabrics like matte jersey or crepe. Dark colors create a slimming effect and flatter your figure. Opt for fabrics with a slight drape to avoid clinging too tightly.
Flattering Silhouettes: Consider A-line dresses, wrap dresses, or fit-and-flare styles that enhance your curves. Additionally, look for fabrics with good drapes, like matte jerseys or silk blends. These fabrics gracefully flow over your curves, creating a feminine and flattering silhouette.
Prints and Patterns: Select medium-sized or smaller patterns in fabrics like cotton or silk with a smooth finish. Floral prints, polka dots, and geometric patterns can be flattering options. Choose patterns with darker backgrounds to create a slimming effect.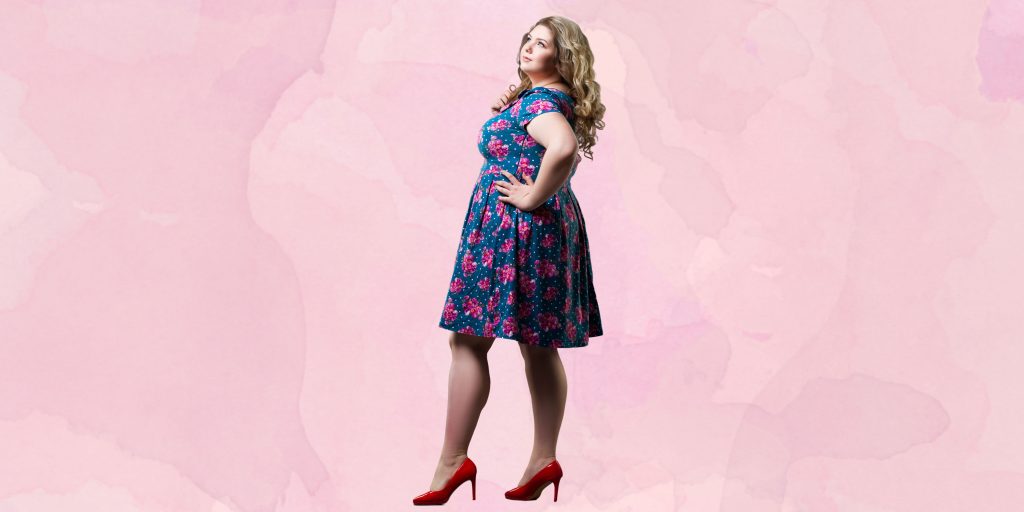 Structured Outerwear: Add structure to your outfits with well-tailored jackets or coats. Moreover, look for fabrics like wool blends or tweed. Opt for structured styles with defined waistlines or belts to accentuate your curves.
Monochrome Outfits: Create visually elongating looks by opting for monochrome outfits with different shades of the same color. Choose fabrics in solid colors that complement each other and have a similar level of sheen or texture.
Accessories and Footwear: Elevate your outfit with statement accessories that complement your chosen fabrics and colors. Additionally, opt for wedges or heels to add height and elongate your legs. Choose comfortable footwear made from materials like leather or suede.
By following these tips, you can dress in a way that flatters your figure, boosts your confidence, and highlights your best features.
Things To Remember
Confidence Is Key: Dressing fashionably as a plus-size woman is all about embracing your body and feeling confident in your skin.
Experiment With Different Styles: Don't be afraid to try new styles and silhouettes to discover what works best for you.
Personalize Your Outfits: Fashion is an opportunity to express your unique personality and style. Choose clothing that reflects your taste and makes you feel comfortable and confident.
Stay Up-To-Date With Trends: Well, classic styles are timeless. But keeping an eye on current fashion trends can help you incorporate fresh elements into your wardrobe.
Celebrate Your Curves: Your curves are beautiful and should be celebrated. Don't hide them—embrace them!
Infographic- Chubby Fashion Pro Tips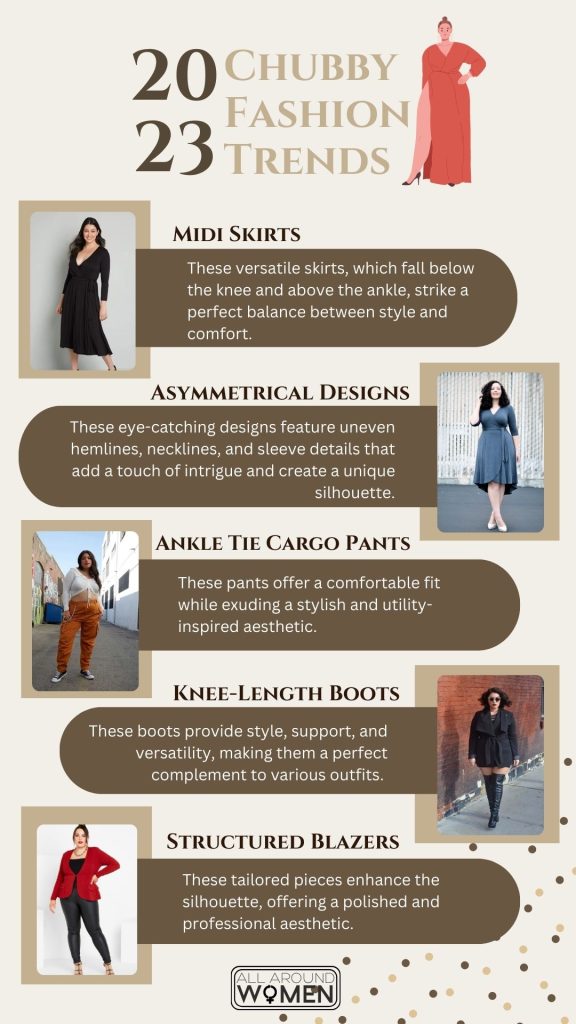 FAQs [Frequently Asked Questions]
Q: What are some recommended clothing styles for chubby women?
A: Flattering styles include those that emphasize assets. These include cinched waistlines or leg-showcasing options like A-line dresses and wrap styles.
Q: Which colors are most flattering for plus-size women?
A: Dark colors like black, navy, and charcoal gray have a slimming effect. But don't be afraid to incorporate pops of color or playful prints.
Q: What types of fabrics work well for chubby women?
A: Fabrics with a slight stretch, good drape, and structure are ideal, such as jersey, silk blends, and structured cotton.
Q: How can I embrace my personal style while dressing as a chubby woman?
A: Choose clothing that reflects your taste and makes you feel comfortable and confident.
Final Words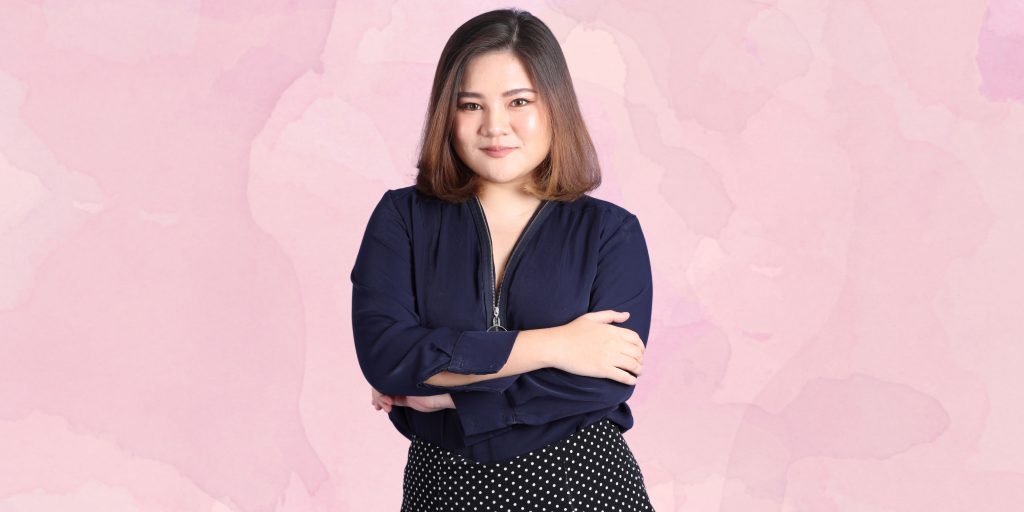 Fashion trends are ever-evolving, and it's essential to embrace your body shape. So, dress in a way that makes you feel confident and stylish. As a plus-size woman, you can accentuate your curves, experiment with flattering silhouettes, and play with colors and prints. Moreover, don't hesitate to play with colors and prints to add excitement and personality to your outfits. Additionally, choosing the right fabrics can enhance your comfort and overall look. Remember, fashion is about self-expression, so embrace your style, celebrate your curves, and confidently rock the latest trends. With these tips and recommendations, you're well on your way to looking fabulous in 2023 and beyond.