Aloe vera gel is a wonderful natural product that offers numerous benefits for your hair. The beneficial plant has a rich blend of vitamins, minerals, and enzymes. These work together to improve the health of your hair. Using aloe vera gel can help address issues like dry scalp and stimulate hair growth. It may also give your hair a beautiful shine. It has become a popular choice among many people as an essential part of their hair care routines.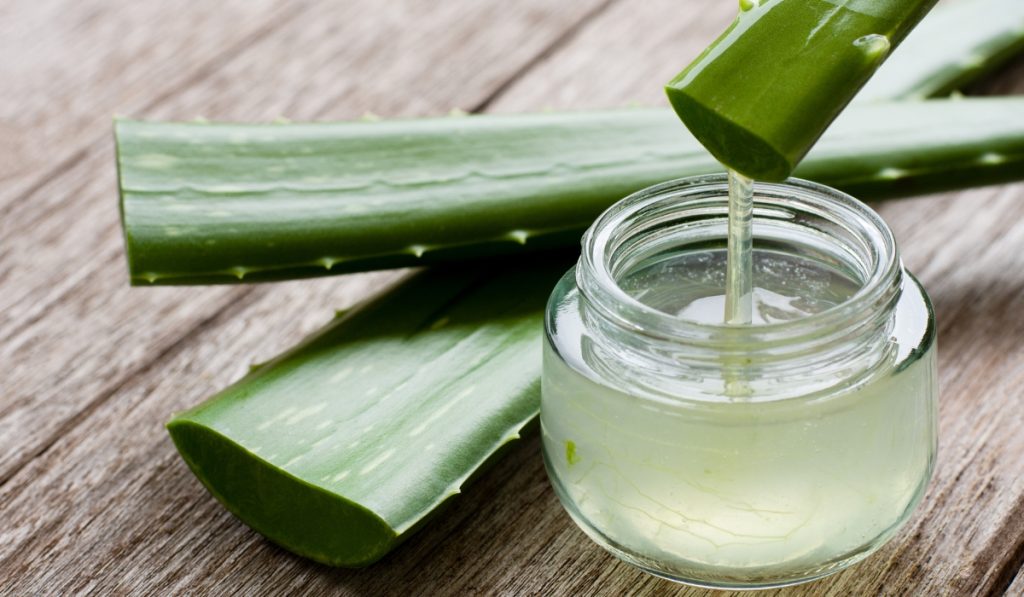 In this article, we will delve into the amazing benefits that aloe vera gel can provide for your hair. We will also take a closer look at any potential risks that you should be aware of. Additionally, we will guide you through a simple method to create your very own aloe vera gel mask at home. By doing so, you can experience the wonderful advantages that aloe vera gel can offer to your hair.
Benefits of Aloe Vera Gel on Different Hair Types
Dry Scalp and Hair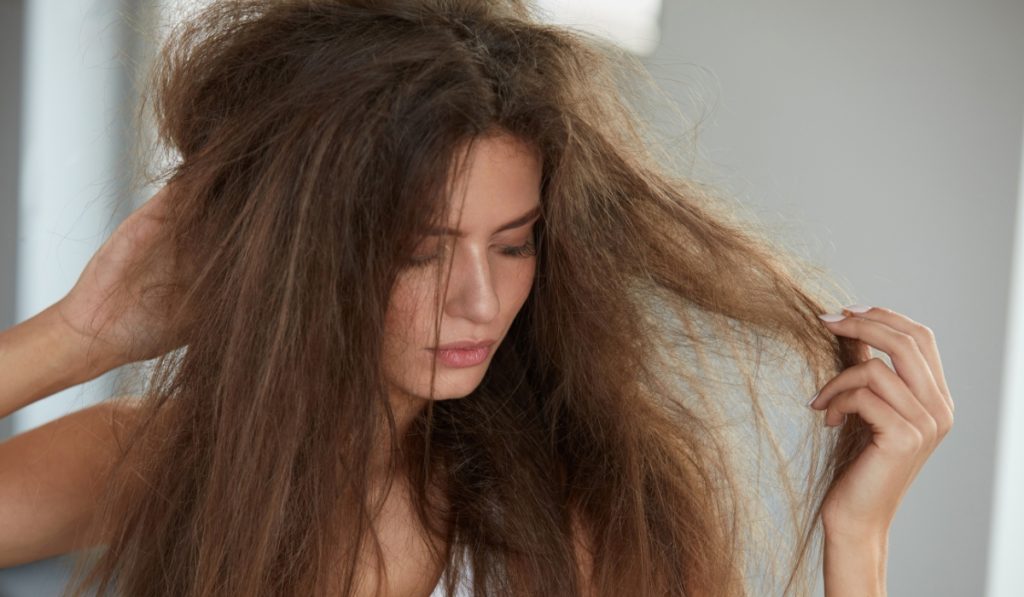 Benefit: Aloe vera gel is a natural powerhouse when it comes to nourishing dry hair and scalp. Its ability to deeply moisturize dry and damaged hair strands is remarkable. By penetrating the hair shaft, aloe vera gel restores the moisture balance. This results in hair that is not only hydrated but also softer, smoother, and more manageable. Say goodbye to the frizz and hello to luscious locks that shine with vitality.
Hair Types: If you have dry hair that lacks moisture and tends to feel rough and brittle, aloe vera gel is your hair's new best friend. It is specifically made and designed to cater to the needs of individuals with dry hair. Moreover, aloe vera helps restore and maintain optimal hydration levels.
Sensitive Scalp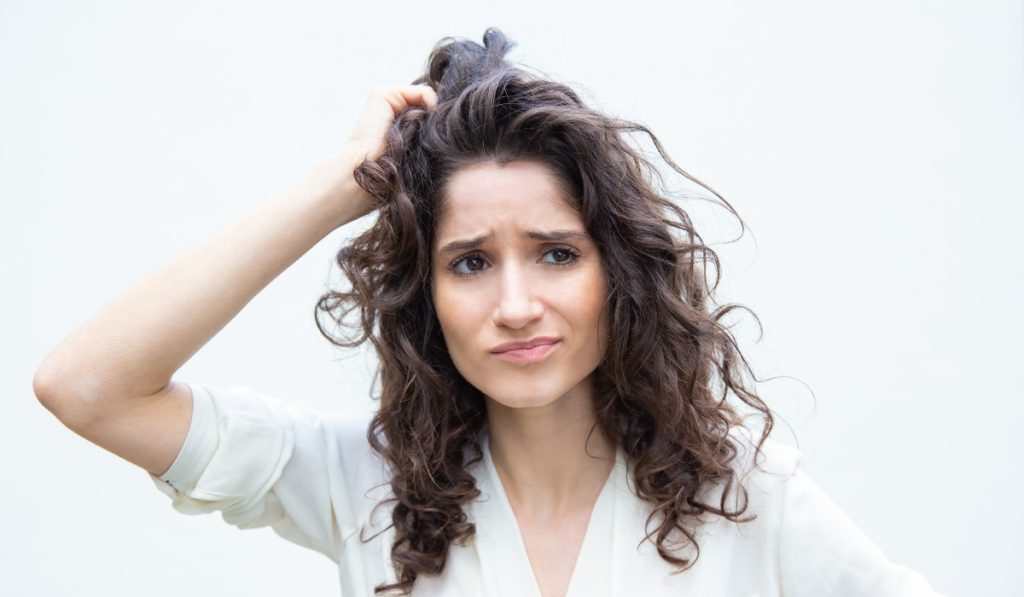 Benefit: If you have a sensitive scalp that often feels itchy and irritated, aloe vera gel can be a soothing elixir for your hair. Its anti-inflammatory properties work wonders in reducing scalp irritation. It even provides much-needed relief. By calming the scalp, aloe vera gel helps alleviate itching. This leaves you with a refreshed and comfortable sensation.
Hair Types: Individuals with a sensitive scalp, prone to itching, redness, and irritation, can benefit greatly from the soothing effects of aloe vera gel. It caters specifically to the needs of those with sensitive scalps. So, it provides gentle care and relief.
Oily Hair & Scalp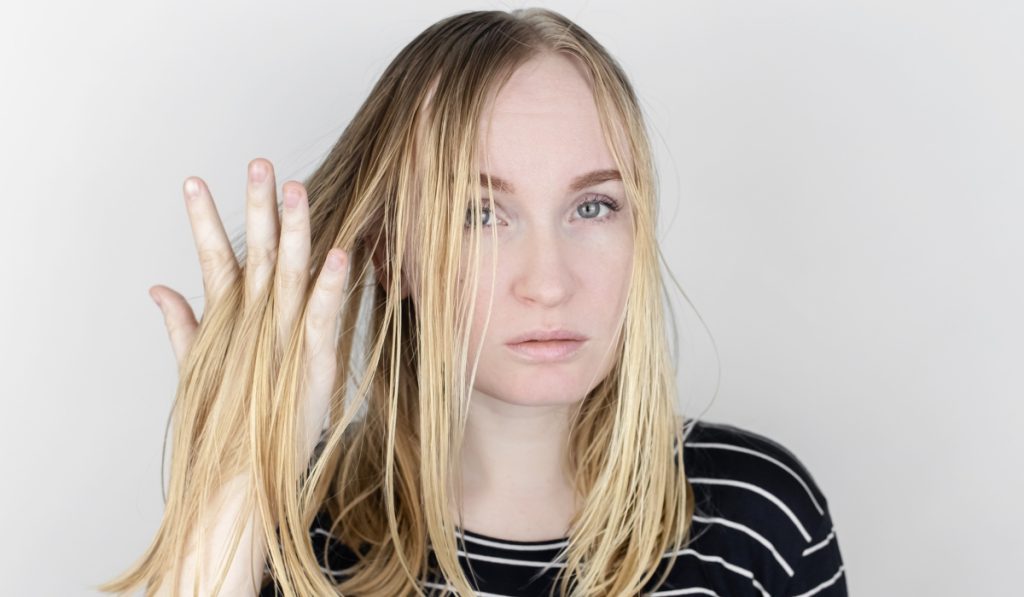 Benefit: Oily scalp can be a challenge to manage, but aloe vera gel comes to the rescue. Apart from its nourishing properties, aloe vera gel also helps regulate excess oil production on the scalp. It balances oil secretion. Also, it promotes a healthier scalp environment, which, in turn, supports healthier hair growth.
Hair Types: An oily scalp is characterized by excessive sebum production. You will find aloe vera gel to be a valuable ally in their hair care routine. It addresses the unique challenges associated with an oily scalp. So, it helps to keep it in balance.
Normal Hair & Scalp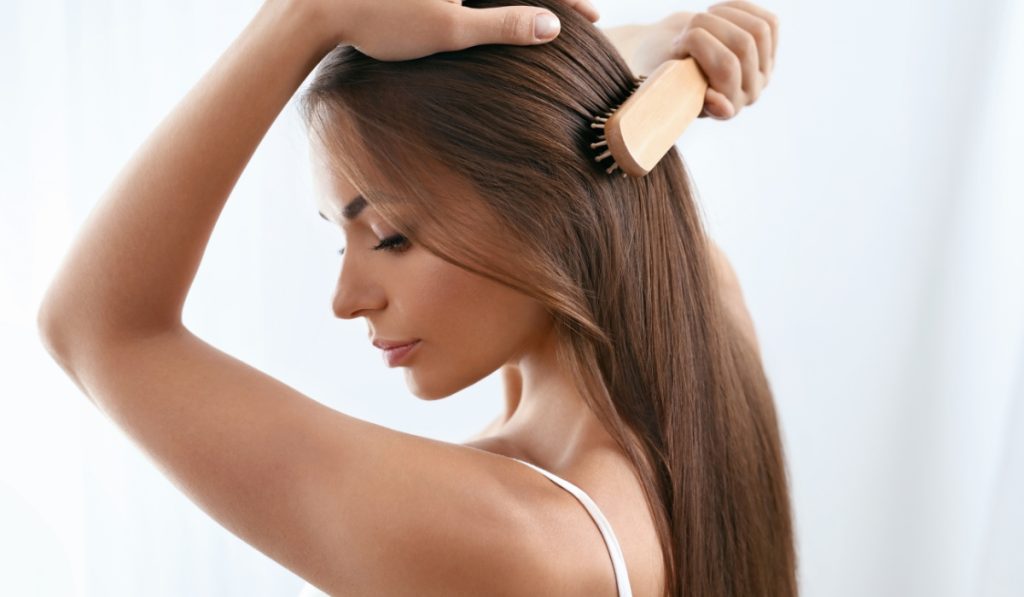 Benefit: Aloe vera gel isn't just reserved for specific hair types. It benefits those with a normal scalp too. In fact, its nourishing properties provide the necessary elements for maintaining a healthy scalp environment. By nourishing the scalp, aloe vera gel supports improved hair growth. It enhances overall hair health and leaves you with locks that are strong, vibrant, and full of life.
Hair Types: Individuals with a normal scalp, not excessively dry or oily, can still enjoy the benefits of aloe vera gel. It caters to the needs of a normal scalp. So, it provides the essential nourishment required for maintaining optimal hair health.
Combination Hair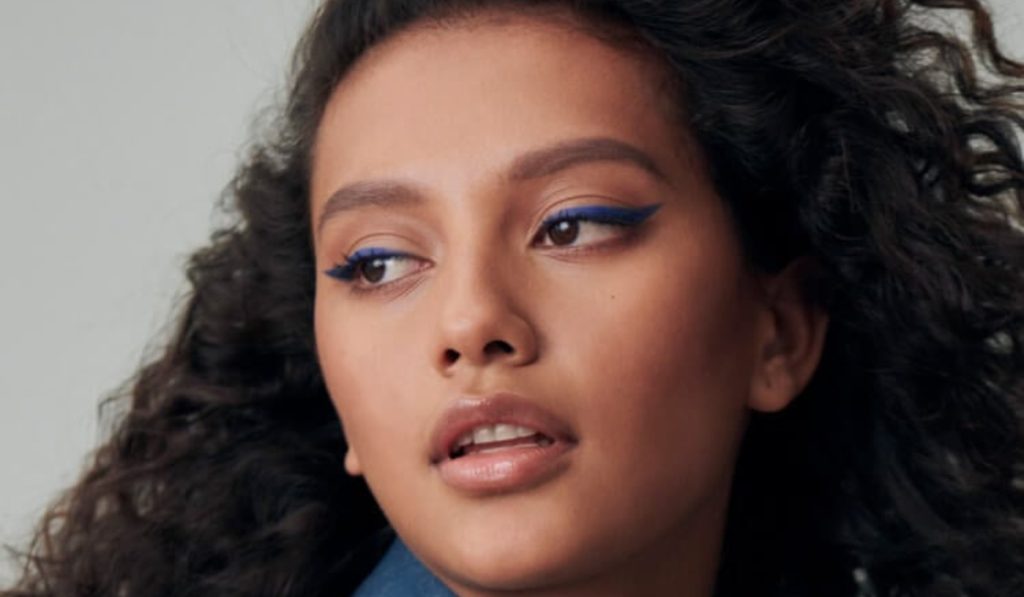 Benefit: Aloe vera gel's benefits extend to all hair types, making it a versatile ingredient in hair care, including combination hair. It maintains blood circulation in the scalp. This promotes hair growth across the board. Additionally, aloe vera gel adds a natural shine and luster to the hair regardless of its type. So, it leaves you with locks that radiate health and vitality.
Hair Types: Whether you have dry, sensitive, oily, or normal hair, aloe vera gel is suitable for all hair types. Its versatility allows it to address the specific needs of each hair type effectively.
Best DIY Aloe Vera Gel Hair Mask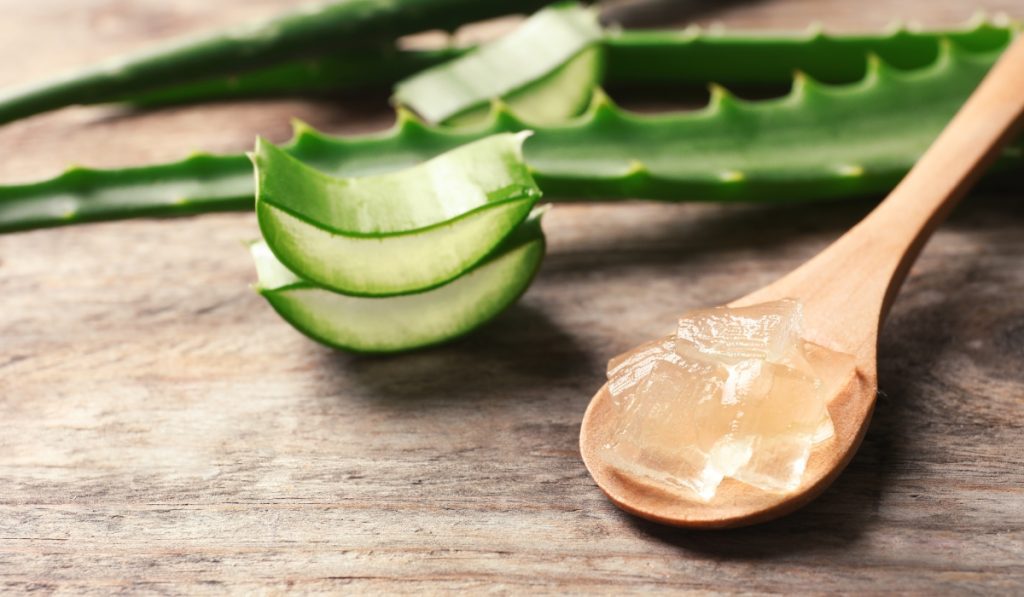 Ingredients
Fresh aloe vera leaf
Optional additional ingredients: honey, yogurt, lemon juice, coconut oil, or essential oils (choose according to your specific needs and preferences)
Instructions
Step1: Prepare the aloe vera gel
To start, select a fresh aloe vera leaf from a mature plant. Look for a leaf that is plump and fleshy, indicating high gel content. Give the leaf a thorough wash under cool water to remove any dirt or impurities. Using a sharp knife, carefully remove the thorny edges of the leaf. Then, slice the leaf lengthwise to expose the gel-like substance inside. Moreover, scoop out the clear and thick aloe vera gel using a spoon and transfer it to a clean bowl. The amount of gel you collect will depend on the area you intend to cover with the mask.
Step 2: Enhance the mask (Optional)
If you want to boost the benefits of your aloe vera hair mask, you can add optional ingredients to the gel. Honey is an excellent choice for added hydration. Meanwhile, yogurt provides a soothing effect. A squeezed few drops of fresh lemon juice can help brighten the hair. On the other hand, incorporating a teaspoon of coconut oil offers additional moisturization. If you prefer a pleasant aroma or want to address specific concerns, consider adding a few drops of extracted essential oils like lavender or rosemary. Mix the ingredients thoroughly to ensure they are well combined.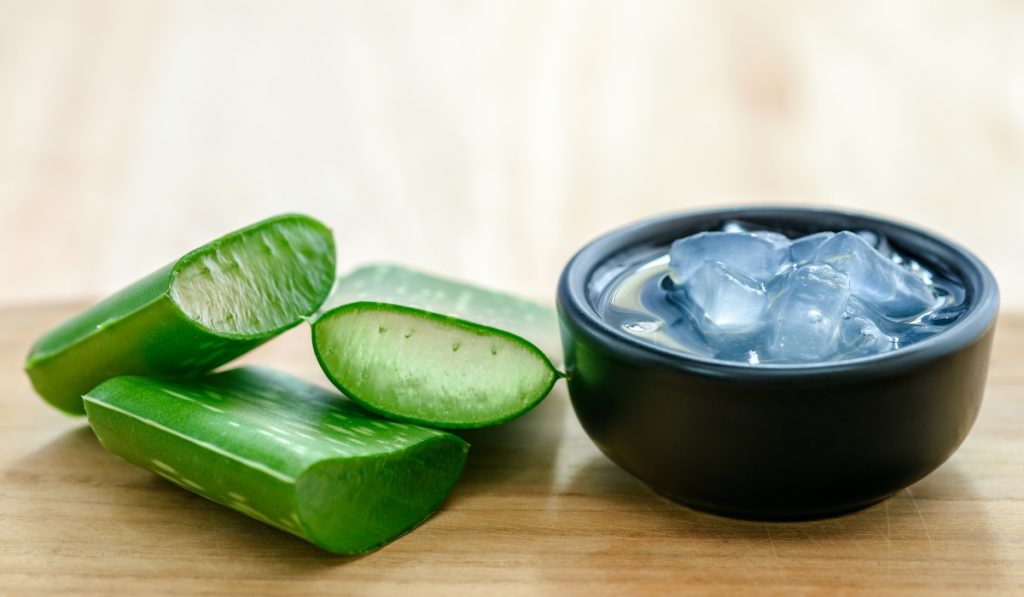 Step 3: Apply the mask
Before applying the mask, make sure your hair is clean and damp. You can wash it with a gentle shampoo and skip the conditioner. Section your hair to ensure even application, and begin applying the aloe vera mask from the roots, working your way down to the tips. Using your fingertips, gently rub and massage the mask into your scalp to stimulate circulation. Moreover, ensure it is evenly distributed. Take a wide-toothed comb and carefully comb through your hair. Remove any tangles and ensure the mask covers all strands.
Step 4: Cover and wait
Once you have applied the mask, wrap your hair with a shower cap or cover it in a warm towel. This step helps to create a warm and moist environment. Also, it allows the mask to penetrate deeply into your hair and scalp. Leave the mask on for approximately 20-30 minutes to give the aloe vera gel and other ingredients enough time to work their magic. During this waiting period, you can relax, read a book, or engage in other activities.
Step 5: Rinse and style
After the recommended time has passed, remove the shower cap or towel and rinse your hair thoroughly with lukewarm water. It is crucial to rinse until all traces of the mask are completely removed from your hair. Use your regular shampoo and conditioner routine to cleanse and condition your hair as usual. Once you have finished washing, gently towel dry your hair or allow it to air dry naturally. Avoid using excessive heat from hair dryers or styling tools immediately after the mask to minimize potential damage.
Note: Conduct a patch test before using the mask to ensure you are not allergic to any of the ingredients. If any adverse reactions occur, discontinue use.
Infographic- Benefits Of Aloe Vera Gel For Different Hair Types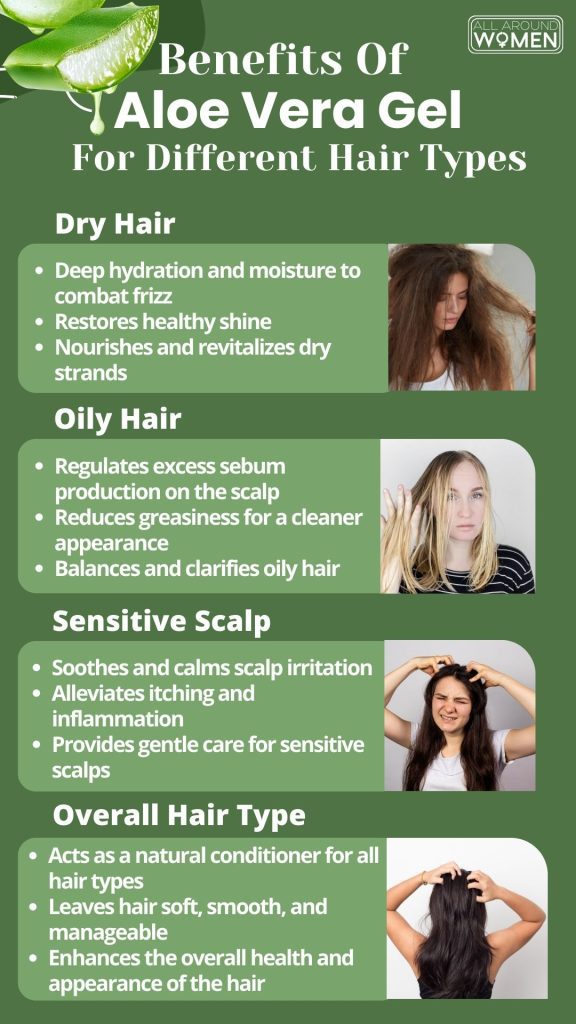 FAQs [frequently asked questions]
Q: What are some benefits of aloe vera gel used on hair?
A: Using aloe vera gel on hair has multiple benefits. It deeply moisturizes the hair, making it softer and more manageable. It soothes dry scalp, reduces irritation, and promotes a healthier scalp environment. Moreover, aloe vera gel also stimulates blood circulation, which can support hair growth. Additionally, it adds a natural shine and luster to the hair.
Q: Can all hair types benefit from aloe vera gel?
A: Yes, aloe vera gel is suitable for all hair types. Aloe vera gel can provide beneficial effects. This applies even if you have dry hair in need of hydration, an oily scalp requiring oil regulation, or a normal scalp seeking overall nourishment. It is versatile and adaptable to various hair needs.
Q: Is there any risks associated with using aloe vera gel on hair?
A: Aloe vera gel is generally safe for use. However, there are some potential risks to be aware of. Some individuals may experience allergic reactions or skin sensitivity to aloe vera. It is advisable to conduct a patch test before application of the gel to your entire hair or scalp. Additionally, excessive use or not following recommended guidelines may result in product build-up or sun sensitivity.
Q: How should I use aloe vera gel on my hair?
A: To use aloe vera gel on your hair, take a small amount and apply it evenly to your hair and scalp. Gently massage it in and leave it on for a few minutes. Allow the gel to penetrate the hair strands and scalp. Then, rinse it out thoroughly with water. You can go with aloe vera gel as a standalone treatment or incorporate it into your regular hair care routine.
Q: Can I make my own aloe vera gel at home?
A: Yes, you can make your own aloe vera gel at home. Start by cutting an aloe vera leaf and scoop out the gel using a spoon. Collect the gel in a container and blend it to achieve a smooth consistency. Your homemade aloe vera gel is now ready to be used on your hair. Remember to store any unused gel in the refrigerator for future use.
Final words
Aloe vera gel is natural and versatile. It offers a multitude of ingredients which is beneficial for your hair. Regardless of your hair type, whether it's dry, oily, or normal, aloe vera gel can work wonders. It deeply nourishes and moisturizes the hair. Moreover, it soothes a sensitive scalp, promotes hair growth, adds a captivating shine, and improves overall hair health. However, it's important to be aware of potential risks associated with aloe vera gel. These include allergic reactions and skin sensitivity.
You can incorporate aloe vera gel into your hair care routine. You can even make a DIY aloe vera gel mask at home. Simply extract the gel from fresh aloe vera leaves and blend it into a smooth consistency. Then, apply it to your hair and scalp. Enjoy the nourishing and revitalizing effects of this homemade treatment. Harness the power of aloe vera gel to transform your hair and experience its many benefits. Explore the natural goodness of aloe vera and unlock a world of healthy, beautiful hair.