Every skincare routine should start with a thorough face wash. The 60-second rule has gained popularity as a technique to ensure a thorough cleanse that effectively removes impurities and promotes healthier skin. By dedicating a full minute to massaging your face with a cleanser, you can enhance the benefits of your skincare routine and achieve a fresh, glowing complexion. In this article, we will walk you through the steps of the 60-second rule. We will explain how it can positively affect your skin and address some commonly asked questions.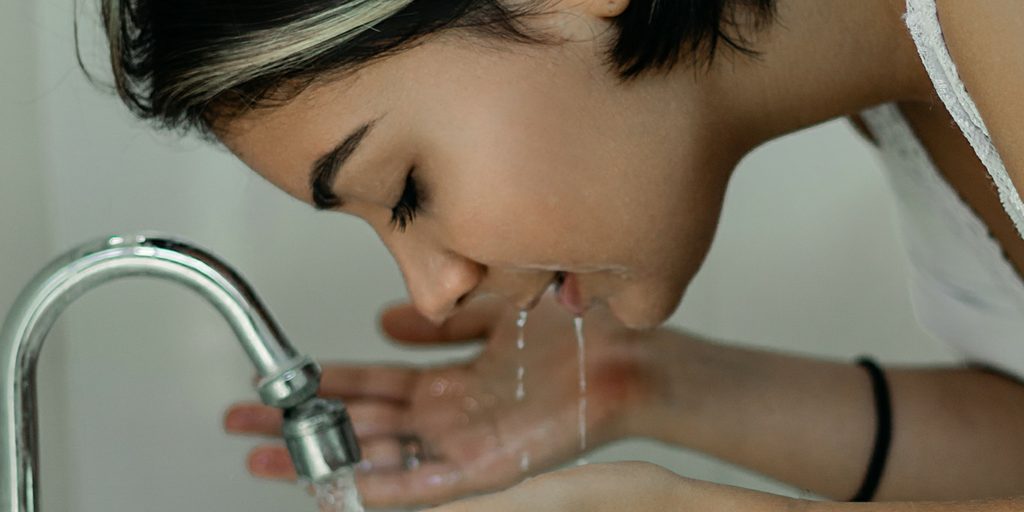 What Exactly Is The 60-Second Rule To Wash Your Face?
The 60-second rule for washing your face is a highly regarded skin care technique. It emphasizes the importance of dedicating a full minute to cleanse your face thoroughly. By adhering to this method, you allow the cleanser to work its magic. It removes accumulated dirt, excess oil, and impurities. In fact, you can get rid of stubborn makeup from your skin.
This rule can offer benefits to many women, irrespective of their skin type or concerns. But, it tends to be particularly helpful for those who wear makeup on a regular basis. This is because by spending a full minute cleansing your face, you provide sufficient time for the cleanser to break down. This also eliminates any traces of makeup effectively. Moreover, this ensures a more thorough cleanse.
Who Should Do It?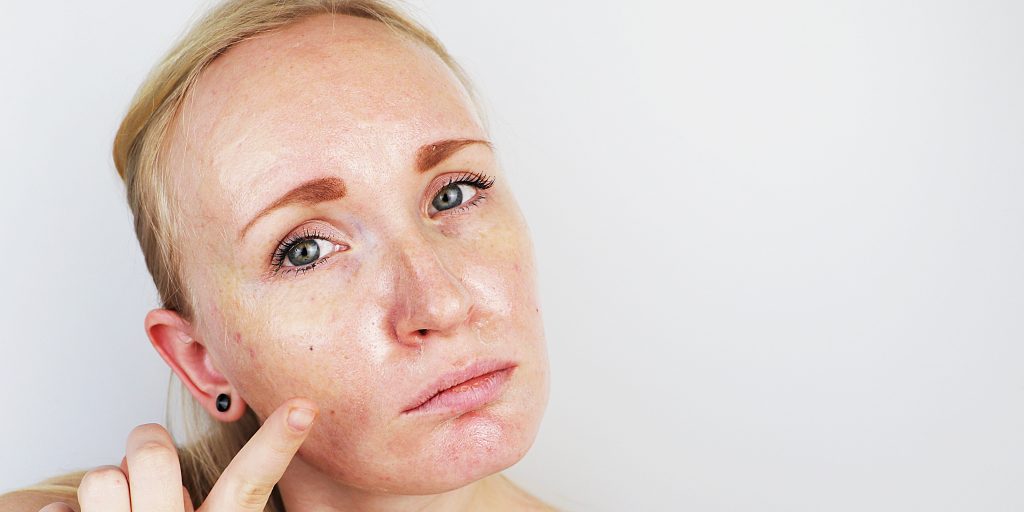 Women with oily or acne-prone skin often find the 60-second rule to be highly beneficial. This extended duration allows for a deeper cleanse. It enables the cleanser to reach into the pores. Also, this removes impurities that contribute to clogged pores and breakouts. By embracing this technique, women with such skin concerns can potentially reduce the likelihood of experiencing acne flare-ups and promote a clearer complexion.
Nevertheless, it is crucial to acknowledge that every person's skin is unique, and not all skincare techniques work universally. Some women may have more sensitive or dry skin that may not tolerate a full minute of cleansing without adverse effects. It is important to pay attention to how your skin reacts and adjust the duration accordingly. If you find that a minute of cleansing feels too harsh or drying, it is perfectly acceptable to reduce the duration to 30 seconds or a length of time that your skin finds comfortable.
In essence, the 60-second rule serves as a helpful guideline to ensure a thorough cleanse. However, it is essential to customize the technique based on your skin's needs and preferences. By actively listening to your skin and making necessary adjustments, you can maintain a healthy balance in your skincare routine and promote the overall well-being of your skin.
Here's The 60-Second Rule To Wash Your Face
Step 1: Wet Your Face
Begin by wetting your face with lukewarm water, either by using your hands or a clean washcloth. Make sure the water is not too hot. This is because too much heat might deplete the skin's natural oils, resulting in dryness or irritation.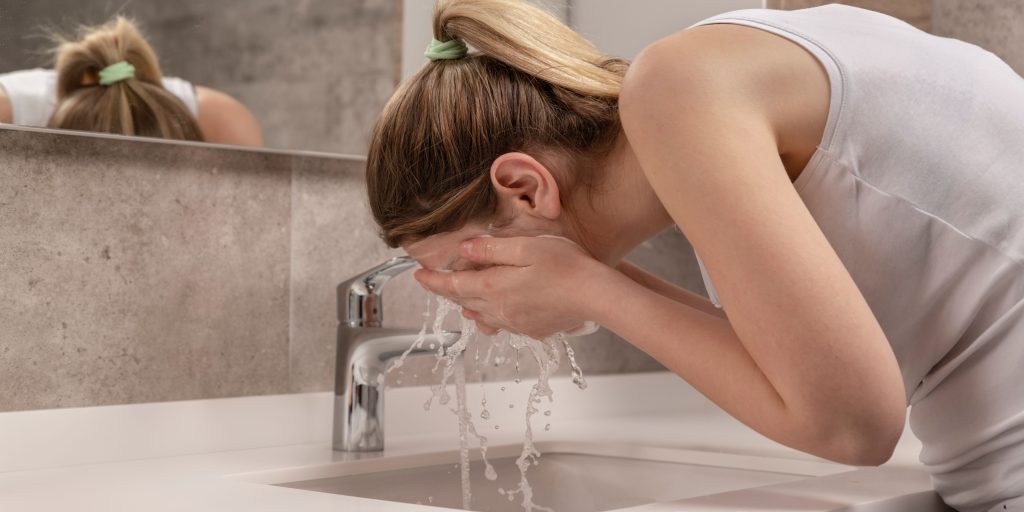 How To Do It: Take a moment to let the water flow over your face. Allow it to penetrate the skin and soften the surface impurities. Gently pat your face with water-soaked hands or press the damp washcloth onto your skin. Ensure that your entire face is moistened.
Effects On The Skin: Wetting the face serves as the initial step to prepare your skin for cleansing. It helps to loosen and hydrate the dirt, oil, sweat, and environmental pollutants that have accumulated on the surface throughout the day. This process softens these impurities, making them easier to remove during the cleansing process.
Step 2: Apply Cleanser
Apply a small amount of the relevant facial cleanser for your skin type to your fingertips.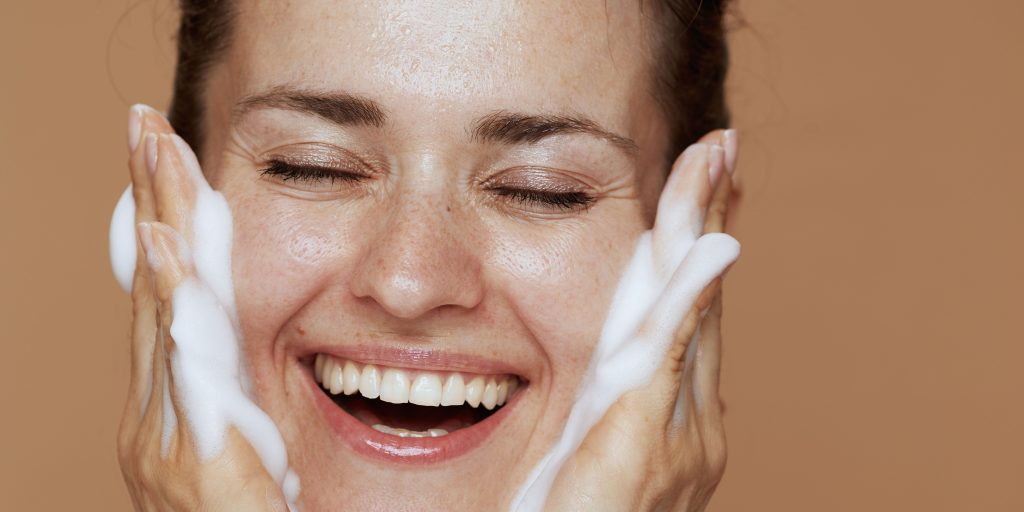 How To Do It: Dispense a pea-sized amount of cleanser onto your fingertips. Gently rub your fingertips together to evenly distribute the cleanser and activate its cleansing properties.
Effects On The Skin: Cleansers are specifically formulated to effectively remove impurities from the skin's surface. By selecting a cleanser tailored to your skin type, you can address specific concerns such as oily skin, dryness, or sensitivity. The cleanser works to dissolve excess sebum, dirt, makeup, and other debris. These may be clogging your pores and affecting the overall appearance of your skin.
Step 3: Massage For 60 Seconds
Massage your face in circular motions with your fingertips. Or, use a gentle massager to cleanse your skin, being sure to cover the forehead, cheeks, nose, and chin.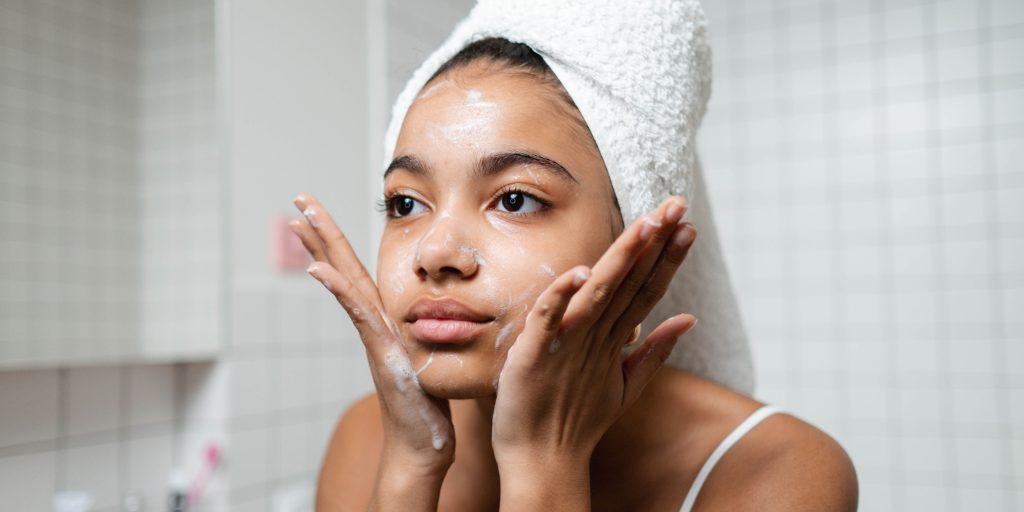 How To Do It: Begin massaging from the center of your face and gradually move outwards. Apply light pressure and maintain a rhythmic circular motion for approximately 60 seconds. Besides, be thorough and make sure to include the hairline, jawline, and other often neglected areas.
Effects On The Skin: Massaging the cleanser for a full 60 seconds allows it to effectively penetrate the skin. It dislodges any deep-seated impurities. The circular motions stimulate blood circulation. Moreover, they promote the delivery of oxygen and nutrients to the skin cells. Eventually, this gives you a healthy and radiant complexion. Dead skin cells are also often removed by the massage motion, producing a smoother and more radiant skin surface.
Step 4: Rinse Thoroughly
After massaging the cleanser for 60 seconds, thoroughly rinse off the cleanser from your face using lukewarm water.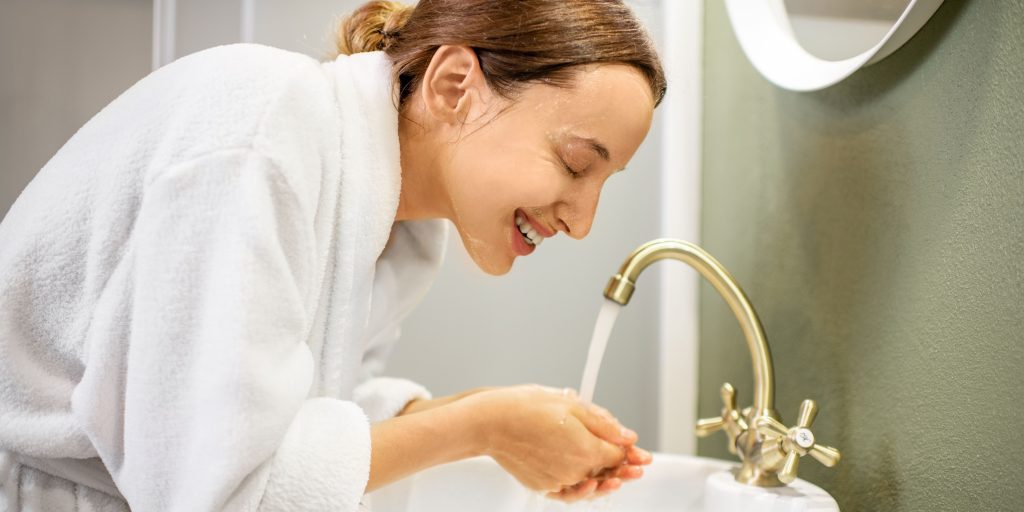 How To Do It: Splash your face with lukewarm water. Allow the water to flow gently over your skin, and rinse away the cleanser. Moreover, ensure that you rinse all areas of your face. Take extra care to remove any traces of cleanser from the hairline, jawline, and other crevices.
Effects On The Skin: Thoroughly rinsing off the cleanser is essential to ensure that no residue remains on the skin's surface. The residue left behind can potentially clog the pores, leading to breakouts or irritation. Proper rinsing ensures that your skin is free from any cleanser or impurities. It provides a fresh canvas for the next steps in your daily skincare routine.
Step 5: Pat Dry
Gently pat your face dry using a clean, soft towel. Using a soft towel is essential, as a harsh one can cause irritation to your skin.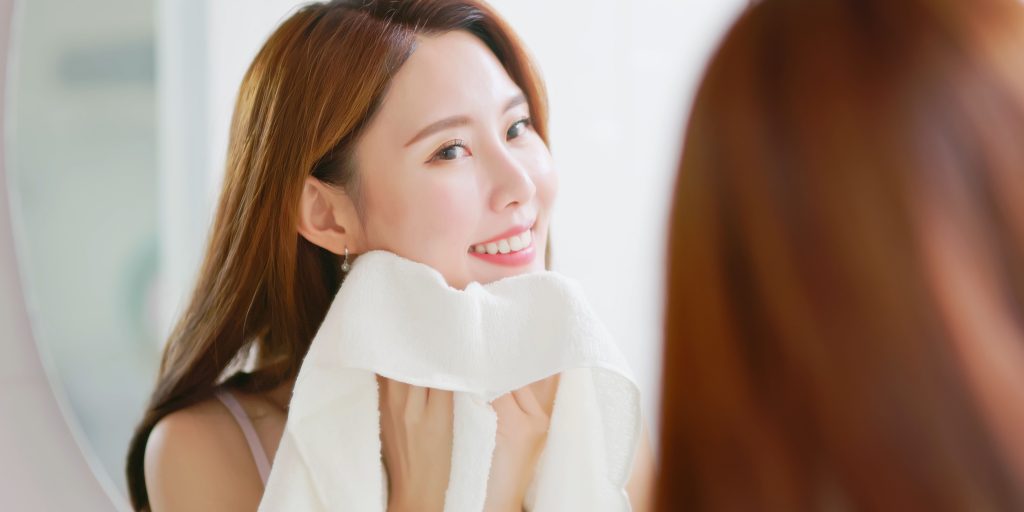 How To Do It: Take a clean towel and softly press it against your face. Lightly pat the skin to absorb excess moisture. Avoid rubbing or tugging at the skin. This can cause irritation and disrupt the skin's natural barrier.
Effects On The Skin: Patting your face dry helps to remove excess moisture. Meanwhile, it preserves some hydration on the skin's surface. Besides, this slight dampness allows for better absorption of subsequent skincare products, such as moisturizers or serums. Gently patting the skin dry. This minimizes the risk of aggravating or sensitizing the skin. Also, it promotes a gentle and nurturing approach to your skincare routine.
Step 6: Follow With A Skincare Routine
Once your face is dry, proceed with your regular skincare routine. This may include applying toner, moisturizer, or any other products you typically use.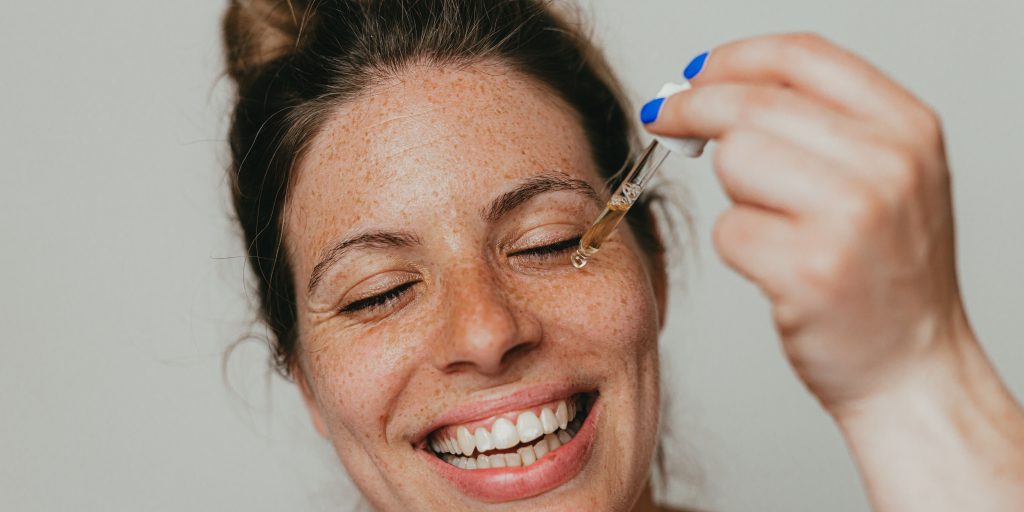 How To Do It: Depending on your skincare routine, apply the appropriate products to your face. Following the specific instructions provided for each product. Ensure that you apply each product with care. This may apply to a toner to balance the pH of your skin, a serum to target specific concerns, or a moisturizer to hydrate and protect. Also, give each step a few moments to absorb before moving on to the next.
Effects On The Skin: It's important to continue using your chosen skincare products to maintain and improve the look and health of your skin. Besides, each product in your routine serves a specific purpose, addressing concerns such as hydration, brightening, or anti-aging. By incorporating these products, you provide your skin with the necessary nourishment, hydration, and protection it needs to thrive.
By following the 60-second rule to wash your face, ensure a thorough cleansing process. It should effectively remove dirt, oil, and impurities from your skin. This rule allows you to take the time necessary to cleanse your face properly. It ensures that your skin is free from any surface-level impurities that may lead to breakouts and clogged pores.
Infographic- 60-Second Face Wash Rule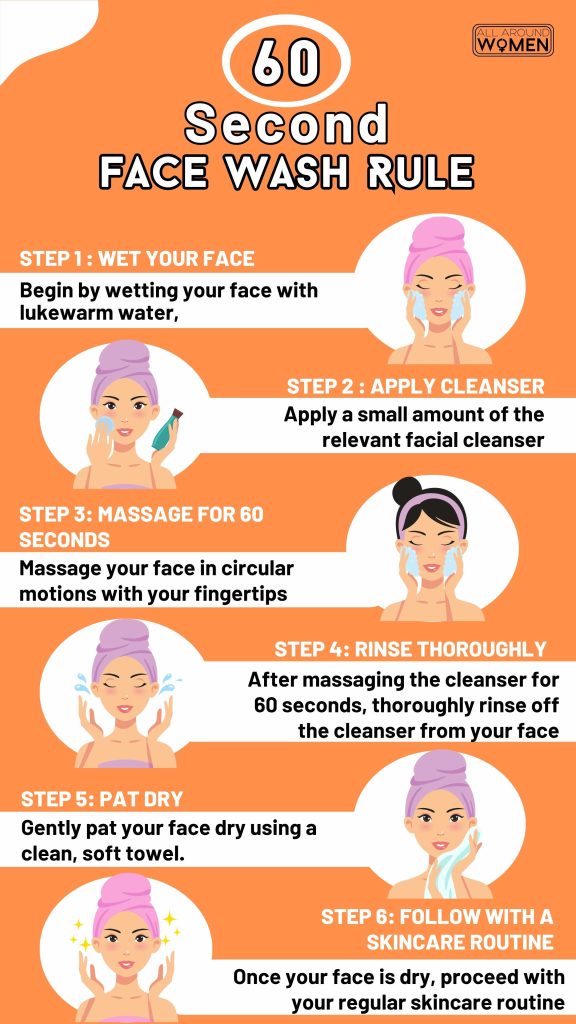 FAQs [Frequently Asked Questions]
Q: Can I adjust the duration of the 60-second rule?
A: Absolutely! While the 60-second rule is a guideline for thorough cleansing, you can adjust the duration to suit your needs. Some women prefer to extend the cleansing time to 2 minutes, while others find 30 seconds sufficient. The key is to ensure you are giving your face adequate massaging time to cleanse the skin thoroughly.
Q: Which cleanser should I use for the 60-second rule?
A: Choose a cleanser that is suitable for your skin type. If your skin is oily or acne-prone, go with a gel or foaming cleanser that helps control excess oil. For dry or sensitive skin, consider a creamy or hydrating cleanser that will not strip away natural moisture. It is important to select a cleanser that suits your specific skin concerns and does not cause irritation.
Q: How often should I follow the 60-second rule?
A: Ideally, you should follow the 60-second rule twice a day. In the morning and evening, as part of your regular skincare routine. Consistency is key to maintaining a healthy complexion. Regardless, if you have particularly dry skin or are sensitive, you may choose to cleanse only once a day. Or, adjust the duration to avoid over-stripping the skin.
Q: Can the 60-second rule replace exfoliation?
A: The 60-second rule provides some gentle exfoliation by massaging the cleanser into the skin. However, it's still beneficial to incorporate a separate exfoliation step into your skincare routine. Exfoliating once or twice a week with a suitable exfoliator can help slough off dead skin cells more effectively. It also promotes smoother and brighter skin.
Q: Can the 60-second rule be used with a cleansing brush or device?
A: Yes, you can incorporate a cleansing brush or device into the 60-second rule if desired. These tools can provide additional cleansing and exfoliation benefits. Follow the steps and instructions provided on your device. Moreover, use it in conjunction with your chosen cleanser to ensure proper usage and avoid any potential skin irritation.
Final Words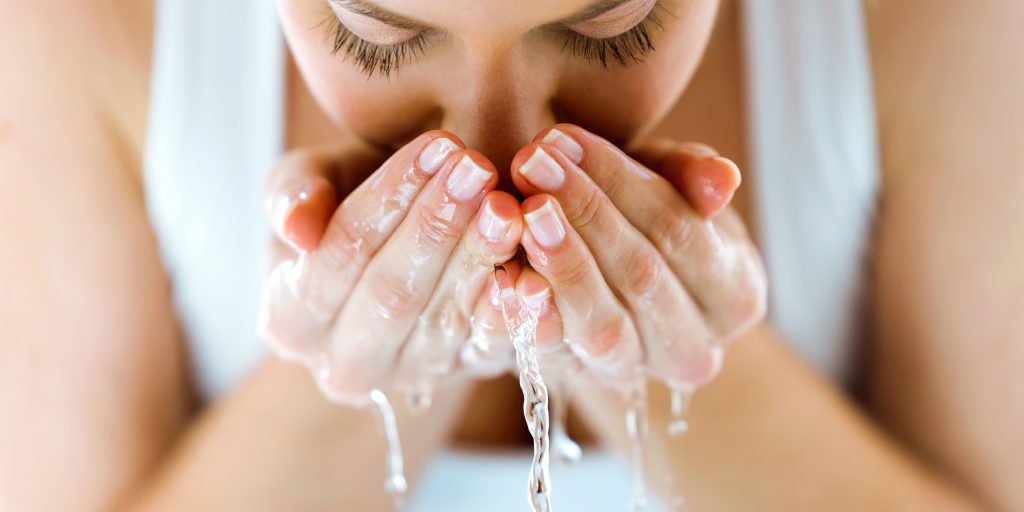 Including the 60-second rule in your daily skincare routine can make a noticeable difference both in the health and appearance of your skin. By taking the time to cleanse and massage your face properly, you can effectively remove dirt, oil, and impurities. Besides, this also enhances blood circulation improves product absorption, and you get to enjoy a moment of relaxation too. However, remember to choose a cleanser suitable for your skin type and adjust the technique based on your preferences. Consistency and patience are key to achieving long-term benefits. So go ahead and give your skin the attention it deserves with the 60-second rule.